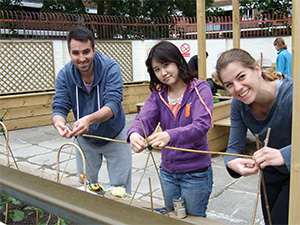 Since 2012, The Conservation Volunteers have been running a project called Green Impacts, which has researched the effects of volunteering on volunteers' health, wellbeing and behaviour. The results of this research have identified four key findings about the impacts of volunteering on those who volunteer:
Volunteering has a greater effect on the most deprived. Volunteers from the most deprived areas in the country, according to the Index of Multiple Deprivation, show the most change as a result of their volunteering experience, which includes making the marked positive change in how those individuals engage with their local community.
Active volunteering has a greater effect on the most unhealthy. Active volunteering (such as doing outdoor activities like planting trees or litter picking) results in those with poorest wellbeing, physical and mental health making the most improvement.

Women change their behaviour 3x more and faster than men.

Positive changes in both attitude and behaviour stemming from volunteering occurred much faster in women than men, with men needing to volunteer for longer periods to achieve positive behaviour changes.

Trained volunteers receive the greatest benefits. Volunteers who are given training and progress into positions of responsibility report greater improvements in their health and wellbeing.
In England alone over 10 million people volunteer each year and without them many aspects of our society would fall apart. But it is not just the work they do that counts it is what they achieve for themselves. It is great to be part of such a movement. Job satisfaction, self-esteem, making new friends and  learning new skills are all part of the rich mix that volunteering brings.

It's easy to try and look at the impact of volunteering from an outputs perspective: how many trees have been planted, how much rubbish has been picked up, how many dogs have been walked, but the benefits that volunteers themselves receive from what they do is just as important, and this study clearly shows that there are many.

One of the most interesting findings is that people from highly deprived areas gain significant personal benefit from volunteering much more so than elsewhere.

Phil Rothwell, TCV Policy and Futures Director
The objectives of the Green Impacts Project
Inspire greener living and environmentally friendly lifestyles
Develop a tool to test if volunteering leads to the development of pro-environmental behaviours
Develop a methodology to test the belief that local volunteer groups can enhance community resilience
Our research included
TCV surveyed 789 volunteers
Recruited 23 Greener Living Champions
Delivered 43 Greener Living Workshops and Events
Worked with 32 community groups to complete 87 Individual Action Plans.
The research took place in London and, for the study of volunteering impacts on pro-environmental behaviour, surveyed volunteers from 8 Action Teams and 8 Green Gyms across the city.
The community resilience component of the research worked with over 20 local community groups to develop an understanding of what made them resilient.
Click here to view a copy of the Volunteering Impacts report as a PDF (1.2MB)
Download a copy of the presentation made at the Volunteering Impacts Conference – 27th March 2014 (PDF – 6MB)
We also have a short video to explain some of our volunteer's stories and the impact volunteering has on them.