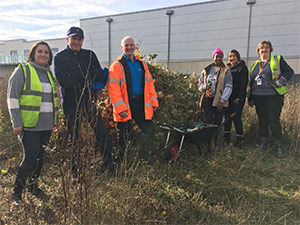 Join our newest London Green Gym in Uxbridge, TCV's latest collaboration with intu Properties.
Volunteering is free, simple and no experience necessary. For more information and to book your first session contact TCV Project Officer Sarah on 07801686014 or email gg-uxbridge@tcv.org.uk
Based on a small strip of land located next to Hillingdon Sports and Leisure Centre Complex, Hillingdon Farm Pond has a large pond, meadows, young woodland, and hedgerows on 3 sides. It provides a diverse range of habitats for wildlife in a small space only 15 minutes walk from Uxbridge town centre. Volunteers will work on improving the quality of habitats, monitoring the wildlife and plant species found here, and learning how to manage this space for future generations of wildlife and people to enjoy!
Upcoming activities with Uxbridge Green Gym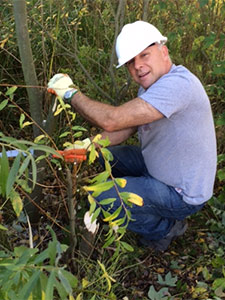 We aim to engage local people from across the community in caring for this previously neglected piece of land. Volunteers can learn how to coppice willow, manage meadows and hedgerows, and survey ponds. We offer a range of activities, suiting many abilities and volunteers work at their own pace, with sessions running throughout the year.
Volunteers meet Sarah at far end of Hillingdon Sports and Leisure Complex car park every Wednesday at 10.45am. This is the vehicle entrance on the far side of the car park, leading on to the access road. TCV provide tea, coffee and light refreshments (you're welcome to bring a packed lunch) as well as gloves, tools and instruction! Please note there are no free parking facilities locally, though the site is accessible by public transport, on foot and by bike.
Volunteers are advised to wear sturdy boots and clothing suitable for outdoor practical work and the day's weather – we're out in rain or sunshine!
The Conservation Volunteers Uxbridge Green Gym is delivered in partnership with intu Uxbridge and London Borough of Hillingdon.