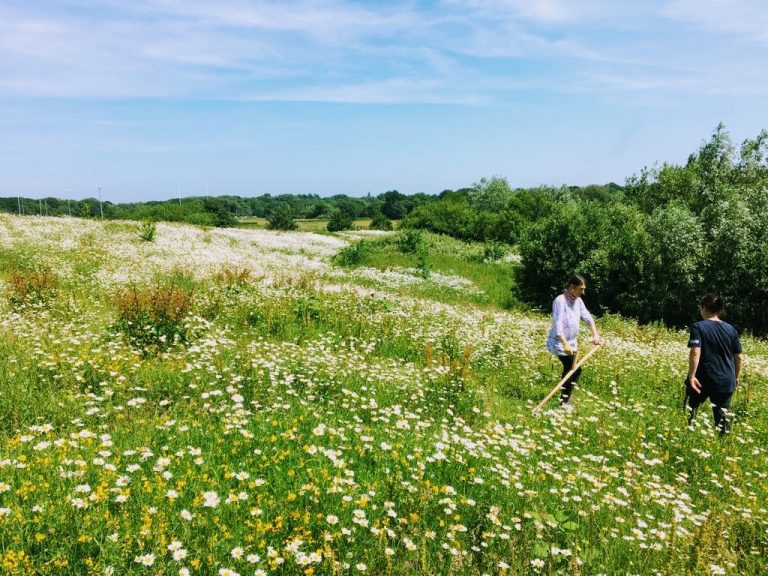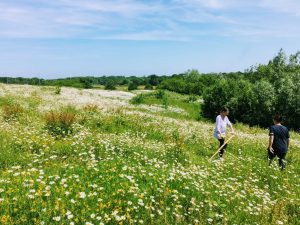 Outdoor exercise that makes a difference.
Thanks to many years of support from The Chimes, our local shopping centre in Uxbridge, we have been able to establish ourselves as a regular weekly group.
We offer fun and free practical nature conservation tasks all year round to care for our local green space at Hillingdon House Farm. We undertake a wide variety of seasonal tasks, including sowing or scything our wildflower meadow; donning waders to remove invasive species like Pennywort and Himalayan Balsam from our rivers; removing the annual quota of reeds from our large pond; or laying hedges and planting tree whips to restore our hedgerows. And, if you like carpentry, there are always improvements that could be made to our tool store.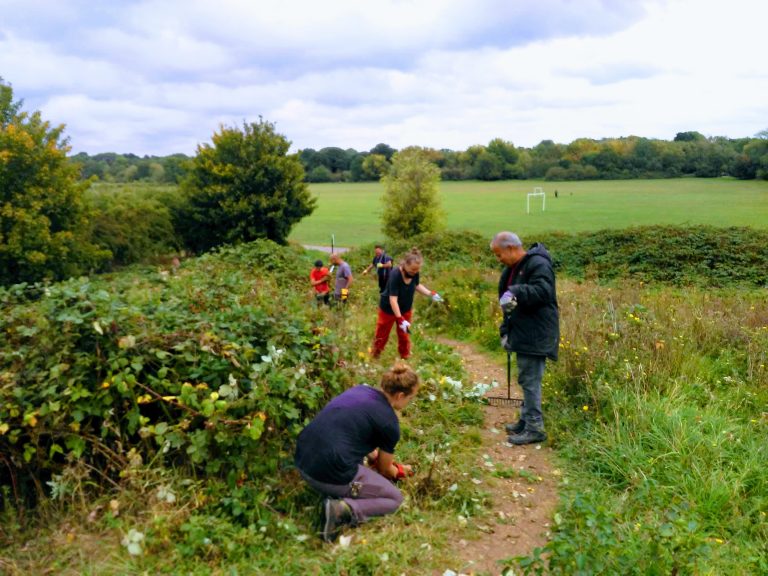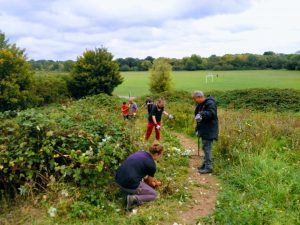 It's a great way to keep fit, feel connected to nature, learn new skills and socialise outdoors whilst also improving and protecting your local green environment.
Uxbridge Green Gym runs weekly on Wednesdays 10.45-2 at Hillingdon House Farm Land. We break at 12.30, for which we bring our own refreshments.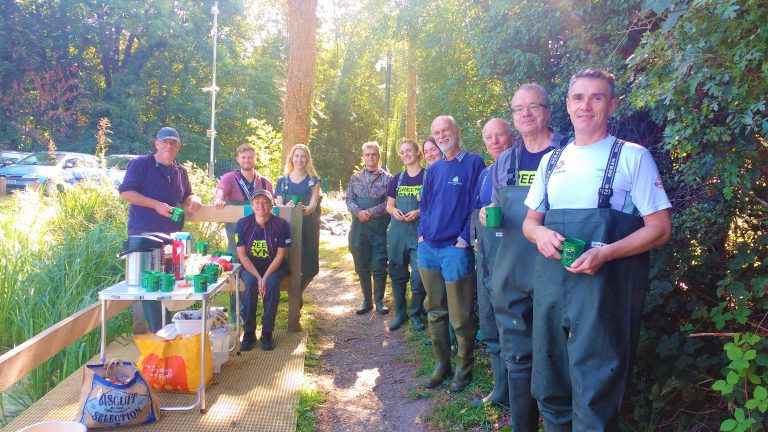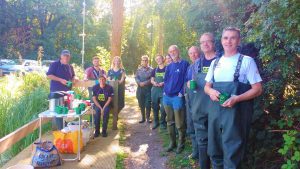 The sessions are free and open to all. Volunteering with us is flexible: you come to sessions as and when you can and for as much of a session as you can. New volunteers are very welcome. No previous experience in conservation work or gardening is necessary: tools and instructions are provided. There are always a range of tasks available to suit all abilities. Volunteers are advised to wear sturdy boots and clothing suitable for outdoor practical work and the day's weather – we're out in rain or sunshine! For more information and to book your first session contact TCV Senior Project Officer Sarah on 07801686014 or email gg-uxbridge@tcv.org.uk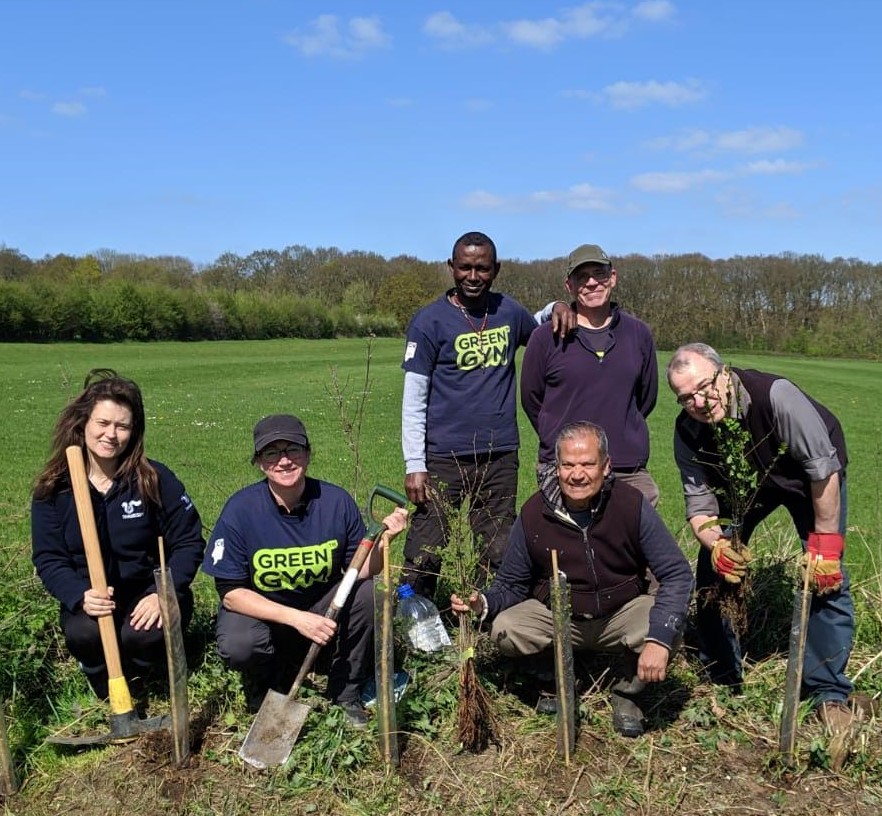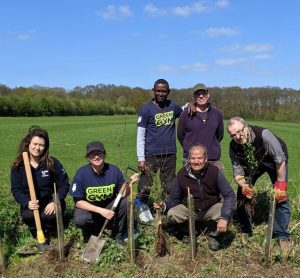 Hillingdon House Farm Land is an extensive, glorious green space (about 50 hectares), located behind Hillingdon Sports and Leisure Centre. Our immediate site is a large wildflower meadow surrounding two ponds, edged by young woodland and hedgerows. It links to a series of amenity playing fields and Uxbridge Common Meadows that stretch all the way to Hillingdon Tube Station, with the River Pinn and Celandine Route running through the site.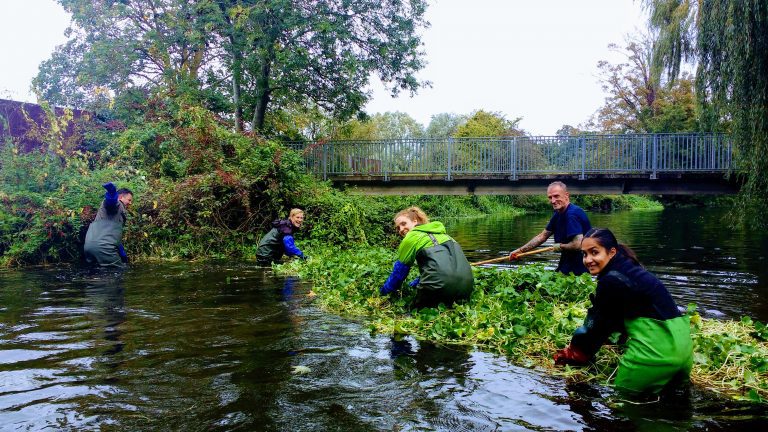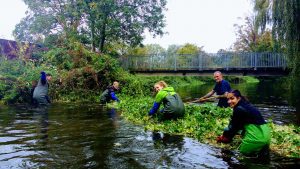 Our pond, and the ponds of nearby Uxbridge Common, Park Road, inside Uxbridge College and on the far side of our site, support metapopulations of newts, including the protected Greater Crested Newt.
Upcoming activities with Uxbridge Green Gym
Our Supporters
TCV Uxbridge Green Gym is delivered with the support of The Chimes shopping centre in Uxbridge. In addition to funding our first four years, The Chimes staff have always been ready to lend a hand. Staff teams formed our first working parties at the site, enabling us to become familiar with the site and to prepare it for regular volunteering. When Uxbridge Green Gym progressed to having our own container/toolshed (big moment!), The Chimes staff turned up to show us how to lay foundations and patio slabs. They have helped us erect our bee hotel, pull reeds from the pond, forage for large trunks for seating (on an extremely wet day). The list goes on and on … Thank you The Chimes!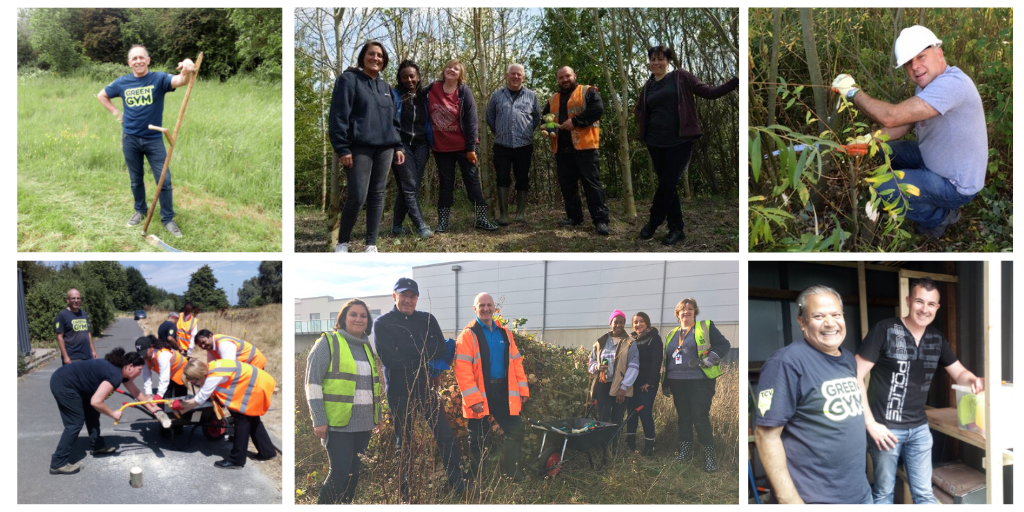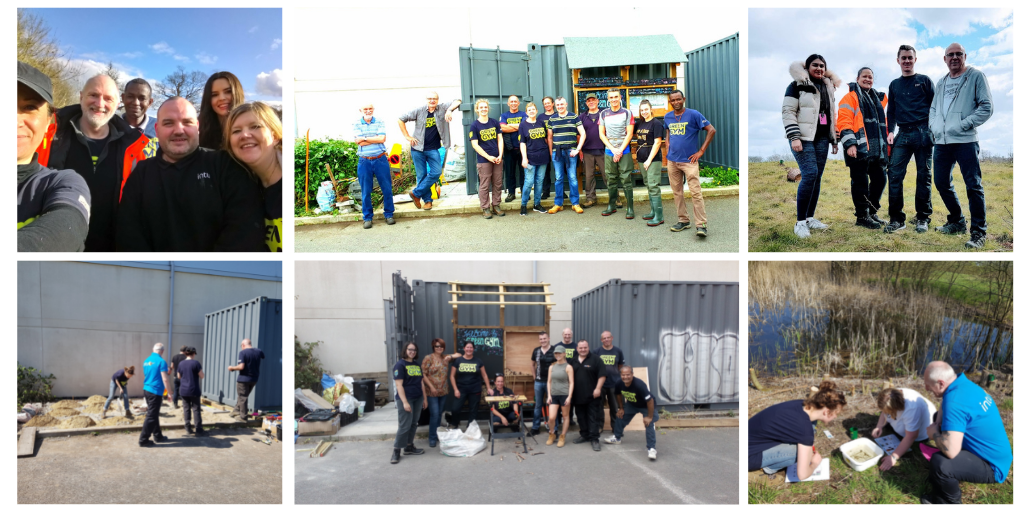 We are also wonderfully supported by the Green Spaces Team at Hillingdon Council, who own the land and let us do all the exciting plans we have for developing the site's biodiversity.