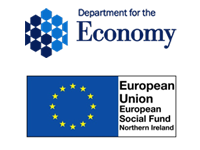 The Conservation Volunteers offer a programme of free training and support to unemployed people, to help them gain skills and qualifications and move on to employment or further training. The Training for Employment Programme is funded by European Social Fund and Department for the Economy.
This programme is free to anyone who is unemployed, economically inactive or working less than 16 hours/week. The Training for Employment programme provides the skills and qualifications needed to move into employment or further training. It is suitable for starting new careers and for securing employment in these challenging times.
Training
We run a number of Level 1 City and Guilds vocational qualifications and many ESF participants undertake Level1 Practical Horticulture, but we can also deliver Level1 Land-based studies and L1 Employability.
We can also offer short accredited course, often taking one day or less to complete and covering a specialist subject area, including:
Fire Safety
Construction Skills Register Card (CSR)
First Aid
Manual Handling
Adult Safeguarding
Basic Food Hygiene
Child Protection
Control of substances hazardous to health (COSHH)
Working at height
Practical work experience
For those interested in land-based subjects such as horticulture, we can provide practical work experience and on-site training from 1 to 3 days per week, helping with environment improvmenst including tree planting, woodland management, vegetable growing, creating community gardens and improvmenst to school grounds. Practical work experience is available at our four main offices in Belfast, Holywood, Coleraine and Derry/Londonderry as well as other locations.
Help with finding a job
We can provide support with job search and securing employment:
Help finding suitable job opportunities.
Help with creating a curriculum vitae (CV).
Support with filling in job application forms.
Interview skills training – help with preparation for an interview, for example, help with common interview questions.
Advice on sources of help with barriers to employment, for example housing issues or benefits advice.
Virtual support during the Covid-19 crisis
We recommenced face-to-face training and support during summer 2021. However we will continue to offer some virtual training courses, available from the comfort of your own home and we have a range of training packages to suit individual needs. We can also provide virtual support with job search, job applications and interview skills. TCV can provide virtual support and training across all of Northern Ireland.
Training for community groups
We deliver the Training for Employment programme to many community groups across Northern Ireland. If you have a suitable venue and a group of unemployed people, we may be able to come to you and this service is free. Typically, we would deliver the programme one day per week for 10 or 12 weeks. To make this option viable we need around 8 to 10 participants.
Contact us to find out more
The North and West of Northern Ireland is covered by our offices in Coleraine and Derry
Barry McCabe; phone 07767 113 138, email b.mccabe@tcv.org.co.uk
Kieran McHugh; phone 07827 310 250; email kieran.mchugh@tcv.org.uk
Kenny Henry; Phone 07801 686 043; email k.henry@tcv.org.uk
Josephine Mulvenna; phone 07483 045 744 email josephine.mulvenna@tcv.org.uk
Belfast and South and East of Northern Ireland is covered by our office in Belfast
Natashia Murray; phone 07483 045 708; email natashia.murray@tcv.org.uk
William Vance; phone07789 928 945; email william.vance@tcv.org.uk
The North Down area is covered by our office near Holywood
Kausalya Gibson; phone 07801 685 995, email kausalya.gibson@tcv.org.uk
Or phone one of our offices:
Belfast: 02890 645169
Holywood: 02891 853570
Coleraine: 028 7035 5352
Derry: 02871262664
This programme is possible due to funding from The European Social Fund and Department for the Economy, with match funding from Department for Communities and Derry City and Strabane District Council.