Take positive action for climate, wildlife, and communities.
I Dig Trees is the UK's largest community led tree planting programme, with over 3 million native trees already planted. Go green, do good and mitigate your environmental footprint by sponsoring tree planting through our committed network of community tree champions.
For just £3 per tree, bring the benefits of pocket forests to thousands of communities across the UK. Fight climate change, improve biodiversity, see the impact of your contribution literally grow into the future. Our tree packs contain 50 trees, so for £150 you could be on your way to sponsoring your own pocket forest right here in the UK. And you'll receive a certificate to thank you for supporting I Dig Trees.
How Many Trees Will You Pledge?
Become a Bronze Planting Supporter
Plant a tree for each of your employees, for every product sold, one for each ticket to your events – whatever the motivation to plant trees, our calculator will give you an accurate cost for the impact you could make across the UK, and you'll get a certificate for your support. 
Become a Silver Planting Supporter
Pledge 2000 trees to create new pocket forests and support those communities planting and caring for your trees. You'll receive a certificate plus an end of season report confirming your trees have been planted and the impact you have made for climate, wildlife and communities across the UK.
Become a Gold Planting Supporter
Pledge 4000 trees or more, and we'll track your trees for you. You'll get an end-of-season report showing the impact you have made, and a map to show where the trees are planted across the UK. Promote your planting support to your customers, we'll share your news on social media! 
I Dig Trees Impact Calculator
Become a Platinum Planting Supporter for I Dig Trees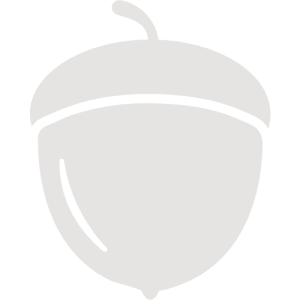 Looking to make a bigger impact? Plant the trees where you do business? Perhaps plant some of them yourself with a fully guided planting event for your colleagues or customers? Get your own special mention in our Platinum Supporters section, and a report to show exactly where your trees have been planted and the impact they're having. If you'd like to explore your budget options, fill out the form below.
Do you host in person events? Why not fund a tree for every person attending. 
Have a new product to promote? Pledge a tree through I Dig Trees for each item sold. 
Is your business going paperless? Encourage your customers to sign up by pledging to plant a tree. 
See What Difference You Could Make
The map below shows where the I Dig Trees pocket forests have been planted so far. Could you pledge more to create wildlife corridors across the UK?
Fund I Dig Trees to reinforce your organisation's sustainability goals, for your customers, for your employees - for the future.
Whether you want to compensate for the impact of your business on the environment, perhaps plant a tree for every employee who travels to work by car, or balance some of the carbon produced by your logistics and supply chains, you can be confident your trees will be planted and cared for by dedicated and engaged community volunteers.
There are so many ways to support I Dig Trees, we would love you to become a part of the largest community planting programme in the UK.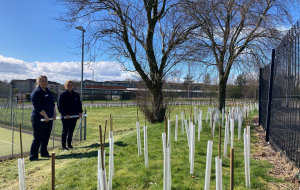 Working with 164 pupils from two schools, we sowed areas of native wildflowers and planted about 200 metres of hedging... We hope that this will help create habitat for wildlife, absorb pollution from nearby roads and act as a wind break for the playgrounds. A massive thank you to all the pupils who helped with planting!
RSPB Glasgow
Glasgow, Scotland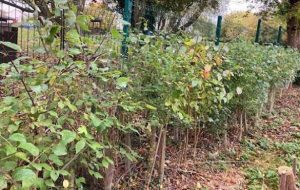 I Dig Trees donated trees in 2019 which we have planted to produce a hedge in our community orchard. We have continued to look after the plants and lost very few ... the hedge is developing well. It provides a good boundary to our orchard whilst also providing improved habitat.
Folksworth Community Orchard
Folksworth, Cambridgeshire, England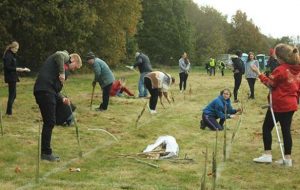 (We) joined together to plant a Memorial Wood in memory of those in the Doncaster borough who have sadly passed away during the pandemic… Crocus corms and bluebells will be planted in the very near future. As well as being a great example of cooperation between the three Rotary clubs, it has established a core of young volunteers who are keen to help in future community projects.
Rotary Clubs of Doncaster
Doncaster, England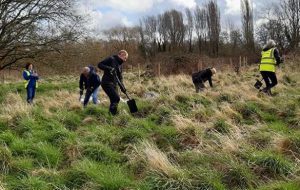 With one of our best number of volunteers for a workday (around 20), we split the group into two to carry out our tasks. The biggest group went off to plant the 100 whips from TCV's I Dig Trees project … Thank you for supplying the trees, we look forward to receiving more next year.
Friends of South Norwood Country Park
Croydon, England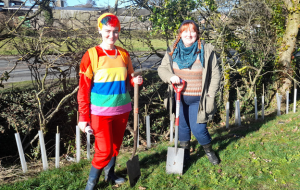 Our groups have done an amazing job, planting over 140 trees with Chorley Council helping to plant up the rest. These saplings will go on to gap up and create new hedgerows and tree boundaries in Chorley for the benefit of wildlife, the climate and people for years to come.
The Wildlife Trust for Lancashire, Manchester & North Merseyside
Chorley, Lancashire, England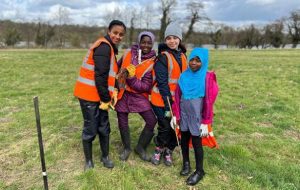 We had day of planting a copse with the amazing New Routes Integration charity, the weather was all over the place but as you can see from our photos, everyone was taking part! We couldn't have done it without the donation of the trees from TCV and OVO Energy!
Whitlingham Country Park Volunteers
Norwich, England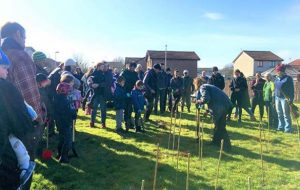 It was a beautiful day of sunshine which brought out over 100 local people of all ages to help us plant! It was a wonderful community event, and just shows the level of support locally for practical action to reduce our carbon emissions. Many thanks to TCV for the trees and great advice on how to plant and look after them.
Action for Climate & Environment Newburgh
Newburgh, Scotland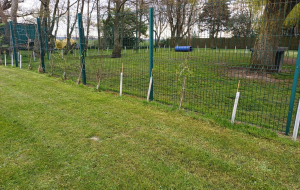 The Trees have been greatly received by everyone at RSPCA Southport, Ormskirk & District Animal Centre. The trees have brought in privacy and security around our dog enclosures and our site as a whole ... It has also been lovely to see that the trees bring in wildlife, from different bugs and birds. Thank you for allowing us to be part of this journey with you.
RSPCA (Southport, Ormskirk and District)
Southport, Merseyside, England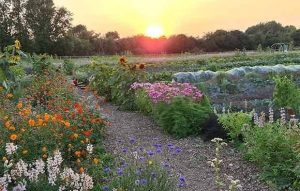 950 saplings have been planted at the CoFarm Cambridge site with help from volunteers … The species-rich hedgerow will act to boost biodiversity within the farm, as well as provide a natural windbreak and prevent soil erosion.
CoFarm
Cambridge, England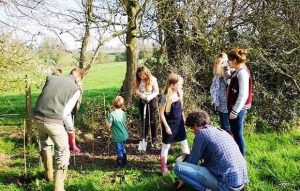 We had our big plant up event Saturday for the Shepton Mallet food forest plot. I have attached some pictures of the very successful day. Over 120 members of the community of all ages came along to plant up and have a slice of cake. Thank you for the tree packs that made this day possible.
The Food Forest Project
Shepton Mallet, England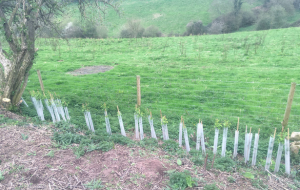 I am delighted to say that all the trees we received from I Dig Trees seem to be thriving. Our volunteers planted two different sections of hedgerow on Tretawdy Farm nature reserve ... This way we hope to increase our wildlife corridors as well as biodiversity. We are very grateful for your kind support.
Herefordshire Wildlife Trust
Ross-on-Wye, Herefordshire, England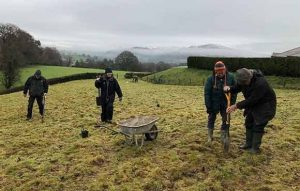 680 young saplings planted in quick time by Llanrhaedr Community Woodland Group at the beginning of the month – all provided by the "I Dig Trees" initiative. Next year we will be planting some wildflowers on the bank to try to return a little glimpse of our much-depleted meadows.
Llanrhaedr Community Woodland
Powys, Wales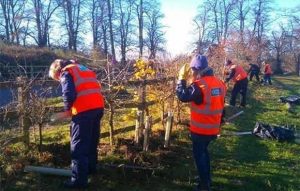 We had a really great day teaching our volunteers how to plant a hedgerow, the importance of rich bio-diverse hedgerows and the key to identifying each of the different trees. It wouldn't have been possible without the donation from The Conservation Volunteers and OVO Energy.
Whitlingham Country Park Volunteers
Norwich, England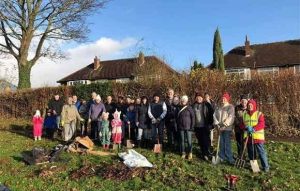 We had a fantastic turnout of around 100 volunteers from our community. All 1000 trees were planted, forming a small copse, in just under 2 hours, a fantastic team effort. Thank you again for donating the trees, I'm sure they will prosper and create a peaceful place where people can go to reflect.
We are Halton
Leeds, England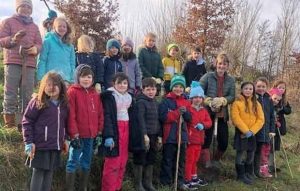 20 pupils and 8 parent volunteers planted around 100 trees. Despite cold and windy weather everyone was enthusiastic about our tree planting day! The Wildlife and Shrub pack helped to create new wildlife habitat, as part of our hedgehog conservation project... It's a great way to encourage teamwork in school and the kids absolutely love getting stuck in.
Hedges for Hogs
Glasgow, Scotland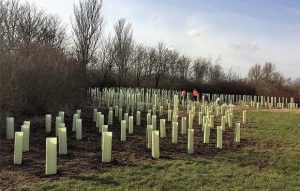 The trees we received were very good quality and transported with care and we are confident that we have planted at the optimum time of year to give these trees the best start … We will be contacting you as soon as you open for I Dig Trees applications!
ComunityTrees: MK
Milton Keynes, England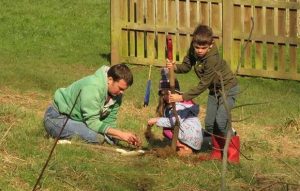 We have had the sad job of felling many Ash trees in our local wood, which is 50% Ash. The saplings are helping to fill the gaps plus natural regeneration... bug hotels and a junior assault course were made with the felled Ash trees.
Allington Hill, Cooper's Wood and Field Community Group
Allington, England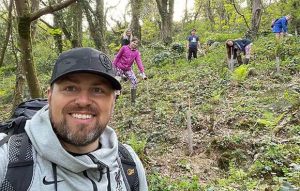 300 trees and shrubs planted, several bags of litter collected as we went … All whilst making a difference on our local patch. We also had one of the team spot a Peacock Butterfly! We have been down a few times since the weekend with a rucksack full of water bottles and flasks to give the trees a water.
Widey Woods Conservation Community
Plymouth, England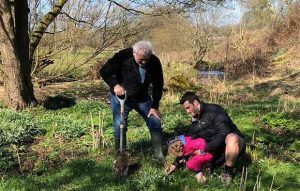 There was a real buzz in our community about the event and people really enjoyed being outside and doing something to enhance our environment. This was such a brilliant thing to be involved in and we are very grateful to OVO and TCV for providing the trees.
Shaw Mills Community Beck Group
Harrogate, England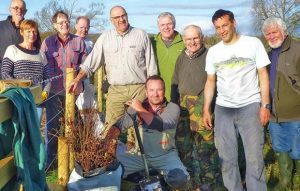 As an aquatic ecologist, I am keenly aware the ecosystem goods and services that trees provide to water courses: shade, bank resilience, cover and diversity, natural flood management, corridors for terrestrial fauna etc. Climate change will have further impacts upon watercourses, so I am keen to get as much riparian planting as possible.
Wild Trout Trust
Lancaster, England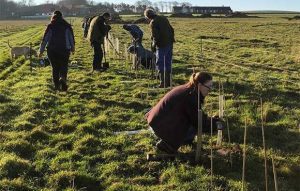 We had a fantastic day for our tree planting event. We planted a new 200m hedgerow. Once again, thanks so much to TCV and I Dig Trees. We really enjoy doing these events, the trees you provide really help us to achieve our aims!
Fife and Kinross Bat Group
Fife and Kinross, Scotland
Your support will allow us to provide free trees to those communities making a difference in their neighbourhoods. It will pay for the trees, delivery, stakes and guards, and most importantly, provides the support and aftercare guidance that our tree volunteers need to ensure success.
Grown in the UK, our native tree packs have been carefully selected with our communities and nature in mind. Trees suited to the environment, bringing maximum benefit for cherished green spaces and the wildlife within. Our ultimate goal is to ensure these trees thrive - for climate, wildlife and our communities!
By supporting I Dig Trees, you'll be taking positive action on climate change, whilst protecting wildlife and enabling communities across the UK to improve their local green spaces. You'll be leaving a lasting green legacy for generations to come. You'll be taking active steps towards your sustainability and social responsibility goals.
You'll receive confirmation at the end of the season! Together, we are making a positive difference year-on-year and truly achieving something phenomenal – that's real people power. You can see where your trees are being planted on the I Dig Trees impact map.
We really hate to say it, but it's highly unlikely and we want to be upfront about that. Trees are living things, and sadly with all the care in the world, we can't guarantee that every one of your saplings will make it. Nature can be tough!
But together, we shall give them the best possible start in life. We provide our tree planters with advice and guidance on quality planting, and the aftercare and maintenance they need to have the very best chance of surviving and thriving.
Good question. We follow our trees from dispatch through to planting, but it shouldn't end there, and it doesn't! We check in with our community groups who've applied in the past to see how the trees are getting on as part of our annual survey.
85% of respondents report visiting their trees at least once a month to check on their progress. We continue to develop our support guides to reflect the changing climate and challenges for aftercare.
Now we have a new audit process to help us better understand the impact these trees are having – the true measure of their legacy. With the help of the wonderful I Dig Trees community we're introducing a programme of surveys to record the impact of our tree planting on biodiversity and benefits to the local environment.
We wish we could, but it's not that simple. In the early years, trees capture only a small amount of carbon. Through photosynthesis, trees convert carbon and store it in their timber.
However, when they are saplings, their size limits the amount they can store. It takes time for trees to mature and reach their full carbon storage potential. Typically, it's around year 10 when trees begin to make a significant impact, and it could take 50 or more years for them to store carbon at scale.
However, at TCV, we don't solely focus on immediate carbon savings because trees are a long-term commitment. They are a legacy for future generations to enjoy, and the carbon savings will accumulate over time. It's similar to the concept of compound interest!
The quick answer is no! The long one is that TCV focuses on planting in our towns and cities. The majority of trees we plant will fall outside of the Woodland Carbon Code – simply because of the volume planted in any one place.
Together, we are creating a network of pocket forests across the UK, linking up corridors for wildlife. Does a tree work harder to capture carbon if it knows it's registered? Of course not! It just doesn't get a certificate for its efforts. 😊
A registered and unregistered tree both sequester the same amount of carbon, they both provide the benefits for climate, wildlife and our communities. And we're proud of them all.
We calculate the carbon your trees can capture based on latest data analysis from the Woodland Carbon Code. But we do make some assumptions as there are many factors at play such as growth, species, location, and topography. With the help of some very clever friends, we have created a formula to give us an average figure per tree that we are confident in. We review this figure every year depending on the species makeup of our tree packs. As science develops, then so will our data, as we continue to improve our understanding and reporting on the truly awesome impact that I Dig Trees is having across the UK – for climate, for wildlife and communities.
We recognise some amazing projects happening across the planet for climate and wildlife, but here at TCV we are focused on the UK and boosting biodiversity in our own back garden! [deliberate pun intended].
Our commitment, working with our amazing volunteers and community groups, is to make the UK greener for us all to enjoy, forever.