Join I Dig Trees and be a part of something phenomenal.
Together, we're taking positive action - planting millions of trees for climate, wildlife and communities!
But this movement has only just begun, and we need YOU to take part. Order your free trees from The Conservation Volunteers today and get planting in your community. Tackle climate change with our carbon-busting trees, plant a pocket forest - create havens for wildlife, and green up your local environment for generations to enjoy.
The right trees for the right places. Grown in the UK, our native tree packs have been carefully selected with  communities and nature in mind. Trees to suit your needs, that provide maximum benefit for our cherished green spaces and the wildlife within. There's a pack for you! Think about what might matter to your local community. More pollinators? Amenity woodland? A pocket forest in your neighbourhood? Have a look at the options below to find a solution and place your order.
Our trees are intended for everyone to benefit, so all trees supplied by I Dig Trees must be planted on publicly accessible land and not on private domestic property.
Short on space? The pocket forest pack crams in all the diversity you'd expect from a forest, just on a smaller scale.
10 Downy Birch
10 Rowan
10 Dogwood
10 Dog Rose
10 Wild Cherry
Mitigate the impacts of climate change in the urban environment with this pack designed to cope with the challenges of urban living.
10 Crab apple
10 Hazel
10 Rowan
10 Elder
10 Dogwood
A mix designed to give our beleaguered bees and bugs a boost with an early and long flowering season.
10 Crab apple
10 Blackthorn
10 Rowan
10 Dog rose
10 Goat willow/ Field Maple/ Alder
Create a beautiful woodland for climate and nature in parks and greenspaces.
10 Common Oak
10 Silver Birch
10 Green Beech
10 Hornbeam
10 Alder
Hawthorn is the backbone of hedgerows in the UK, providing valuable habitat for nesting birds and hedgehogs, boost the benefits by incorporating a wildlife booster pack in your project.
This is a great mix to create a space for wildlife providing habitat and forage for a range of native species. Add it to the hedgerow pack for a diverse wildlife corridor.
10 Hawthorn
10 Blackthorn
5 Hazel
5 Dogwood
5 Elder
5 Dog Rose
5 Silver Birch
5 Spindle
Create a native UK woodland with our traditional woodland mix. Lots of diversity right from the outset.
10 Common Oak
10 Beech
5 Birch
5 Alder
5 Hornbeam
5 Rowan
5 Field Maple
5 Hazel
Each pack will contain two apple and two pear trees from a selection of reliable traditional UK varieties that should be ripening during term time, to create your very own mini fruit orchard in your school!
2 Apple varieties
2 Pear varieties
Apple varieties will be selected from:
Ellison's Orange, Laxton's Fortune, James Grieve, Worcester Pearmain, Greensleeves, Lord Lambourne, Sunset, Egremont Russet, Champion, Cox's Orange Pippin, Fiesta, Pixie, Laxton's Superb, Gala.
Pear varieties will be selected from:
Williams' Bon Chrétien, Beurré Hardy, Concorde, Conference.
*Please note: Fruit tree orders will be processed and dispatched separately from packs 1-7. Our fruit trees will be picked and packed on Monday 4th March and dispatched for delivery during that week. Please arrange availability to accept delivery between the 5th and 8th March. This will not affect the delivery of your native tree packs (1-7) where you can choose a specific date.
If you would like to support your tree planting day by fundraising in your community, take a look at our special I Dig Trees fundraising packs which have information, guidance, ideas, activities and everything you need to get you started.
I Dig Trees communities are planting trees in their millions across the UK – creating thousands of species rich pocket forests, breathing life into their neighbourhoods. You can be a part of this. Take a look at the map to see where trees have already been planted.
This is people power at its very best. With each new planting scheme, we are creating and connecting wildlife corridors that allow nature to flourish in our communities. None of this could happen without YOU, wonderful volunteers and community groups coming together to make a difference.
Where will you plant yours?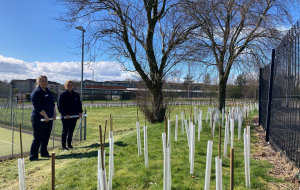 Working with 164 pupils from two schools, we sowed areas of native wildflowers and planted about 200 metres of hedging... We hope that this will help create habitat for wildlife, absorb pollution from nearby roads and act as a wind break for the playgrounds. A massive thank you to all the pupils who helped with planting!
RSPB Glasgow
Glasgow, Scotland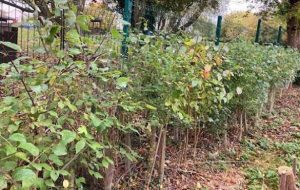 I Dig Trees donated trees in 2019 which we have planted to produce a hedge in our community orchard. We have continued to look after the plants and lost very few ... the hedge is developing well. It provides a good boundary to our orchard whilst also providing improved habitat.
Folksworth Community Orchard
Folksworth, Cambridgeshire, England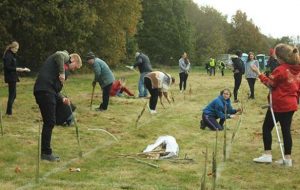 (We) joined together to plant a Memorial Wood in memory of those in the Doncaster borough who have sadly passed away during the pandemic… Crocus corms and bluebells will be planted in the very near future. As well as being a great example of cooperation between the three Rotary clubs, it has established a core of young volunteers who are keen to help in future community projects.
Rotary Clubs of Doncaster
Doncaster, England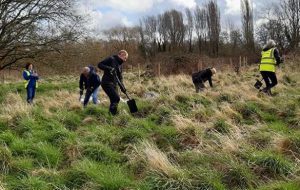 With one of our best number of volunteers for a workday (around 20), we split the group into two to carry out our tasks. The biggest group went off to plant the 100 whips from TCV's I Dig Trees project … Thank you for supplying the trees, we look forward to receiving more next year.
Friends of South Norwood Country Park
Croydon, England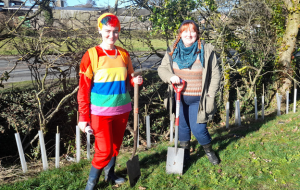 Our groups have done an amazing job, planting over 140 trees with Chorley Council helping to plant up the rest. These saplings will go on to gap up and create new hedgerows and tree boundaries in Chorley for the benefit of wildlife, the climate and people for years to come.
The Wildlife Trust for Lancashire, Manchester & North Merseyside
Chorley, Lancashire, England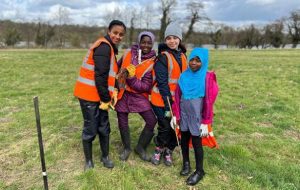 We had day of planting a copse with the amazing New Routes Integration charity, the weather was all over the place but as you can see from our photos, everyone was taking part! We couldn't have done it without the donation of the trees from TCV and OVO Energy!
Whitlingham Country Park Volunteers
Norwich, England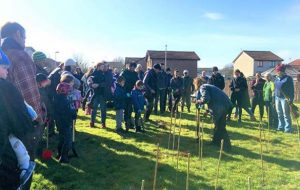 It was a beautiful day of sunshine which brought out over 100 local people of all ages to help us plant! It was a wonderful community event, and just shows the level of support locally for practical action to reduce our carbon emissions. Many thanks to TCV for the trees and great advice on how to plant and look after them.
Action for Climate & Environment Newburgh
Newburgh, Scotland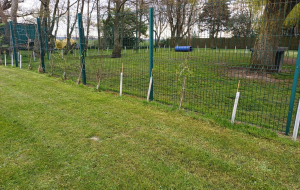 The Trees have been greatly received by everyone at RSPCA Southport, Ormskirk & District Animal Centre. The trees have brought in privacy and security around our dog enclosures and our site as a whole ... It has also been lovely to see that the trees bring in wildlife, from different bugs and birds. Thank you for allowing us to be part of this journey with you.
RSPCA (Southport, Ormskirk and District)
Southport, Merseyside, England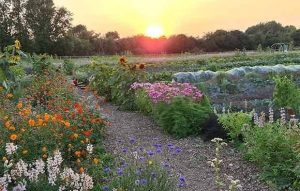 950 saplings have been planted at the CoFarm Cambridge site with help from volunteers … The species-rich hedgerow will act to boost biodiversity within the farm, as well as provide a natural windbreak and prevent soil erosion.
CoFarm
Cambridge, England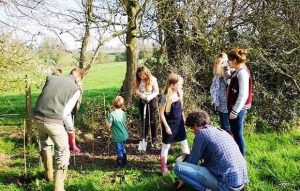 We had our big plant up event Saturday for the Shepton Mallet food forest plot. I have attached some pictures of the very successful day. Over 120 members of the community of all ages came along to plant up and have a slice of cake. Thank you for the tree packs that made this day possible.
The Food Forest Project
Shepton Mallet, England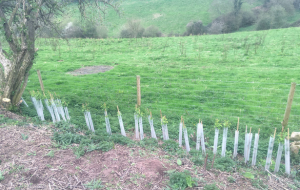 I am delighted to say that all the trees we received from I Dig Trees seem to be thriving. Our volunteers planted two different sections of hedgerow on Tretawdy Farm nature reserve ... This way we hope to increase our wildlife corridors as well as biodiversity. We are very grateful for your kind support.
Herefordshire Wildlife Trust
Ross-on-Wye, Herefordshire, England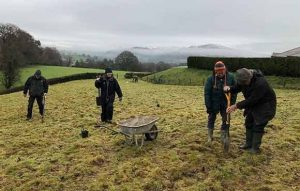 680 young saplings planted in quick time by Llanrhaedr Community Woodland Group at the beginning of the month – all provided by the "I Dig Trees" initiative. Next year we will be planting some wildflowers on the bank to try to return a little glimpse of our much-depleted meadows.
Llanrhaedr Community Woodland
Powys, Wales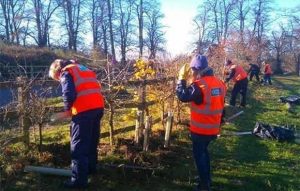 We had a really great day teaching our volunteers how to plant a hedgerow, the importance of rich bio-diverse hedgerows and the key to identifying each of the different trees. It wouldn't have been possible without the donation from The Conservation Volunteers and OVO Energy.
Whitlingham Country Park Volunteers
Norwich, England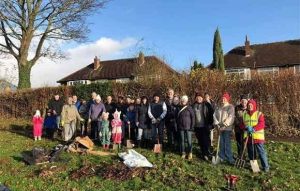 We had a fantastic turnout of around 100 volunteers from our community. All 1000 trees were planted, forming a small copse, in just under 2 hours, a fantastic team effort. Thank you again for donating the trees, I'm sure they will prosper and create a peaceful place where people can go to reflect.
We are Halton
Leeds, England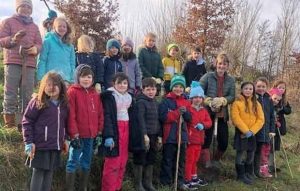 20 pupils and 8 parent volunteers planted around 100 trees. Despite cold and windy weather everyone was enthusiastic about our tree planting day! The Wildlife and Shrub pack helped to create new wildlife habitat, as part of our hedgehog conservation project... It's a great way to encourage teamwork in school and the kids absolutely love getting stuck in.
Hedges for Hogs
Glasgow, Scotland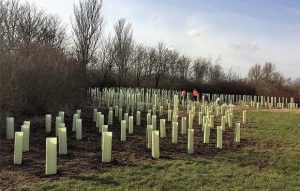 The trees we received were very good quality and transported with care and we are confident that we have planted at the optimum time of year to give these trees the best start … We will be contacting you as soon as you open for I Dig Trees applications!
ComunityTrees: MK
Milton Keynes, England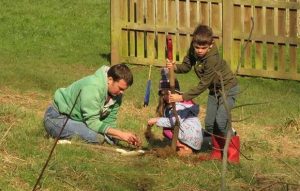 We have had the sad job of felling many Ash trees in our local wood, which is 50% Ash. The saplings are helping to fill the gaps plus natural regeneration... bug hotels and a junior assault course were made with the felled Ash trees.
Allington Hill, Cooper's Wood and Field Community Group
Allington, England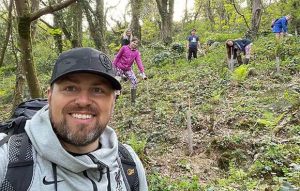 300 trees and shrubs planted, several bags of litter collected as we went … All whilst making a difference on our local patch. We also had one of the team spot a Peacock Butterfly! We have been down a few times since the weekend with a rucksack full of water bottles and flasks to give the trees a water.
Widey Woods Conservation Community
Plymouth, England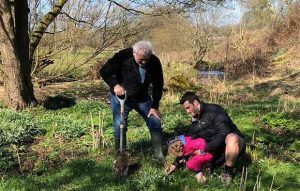 There was a real buzz in our community about the event and people really enjoyed being outside and doing something to enhance our environment. This was such a brilliant thing to be involved in and we are very grateful to OVO and TCV for providing the trees.
Shaw Mills Community Beck Group
Harrogate, England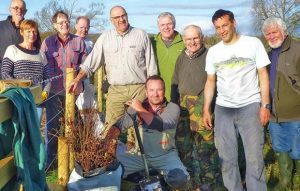 As an aquatic ecologist, I am keenly aware the ecosystem goods and services that trees provide to water courses: shade, bank resilience, cover and diversity, natural flood management, corridors for terrestrial fauna etc. Climate change will have further impacts upon watercourses, so I am keen to get as much riparian planting as possible.
Wild Trout Trust
Lancaster, England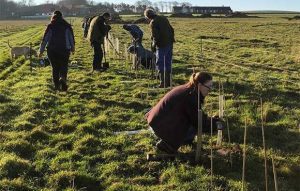 We had a fantastic day for our tree planting event. We planted a new 200m hedgerow. Once again, thanks so much to TCV and I Dig Trees. We really enjoy doing these events, the trees you provide really help us to achieve our aims!
Fife and Kinross Bat Group
Fife and Kinross, Scotland
Tree planting and aftercare
We want your trees to thrive! Good planting and aftercare will give these precious broadleaf trees the best possible start in life, leaving a lasting green legacy for our communities to enjoy throughout the seasons.
Become a plant companion and receive guidance on how to look after your trees in their formative years. From planting, to independence, there are steps you can take to ensure your trees thrive and we're here to help you.
With every order, you'll also receive a tree planting and maintenance guide with all the guidance you need for a successful planting event, and a legacy of trees in the heart of your community.
Tree Planting Questions (FAQs)
Take your tree planting knowledge to the next level. Our tree planting FAQs are designed to give you all the answers you need. If there's anything missing, drop us an email.
The more we all shout about #IDigTrees the more free trees we can get safely in the ground, doing their thing for climate, wildlife and communities!