Every Tuesday and Thursday in the heart of London, you'll find volunteers working in the great outdoors with Camden Green Gym, part of our network of Green Gyms in the UK.
'Ours is just one of many Green Gyms nationwide that people can join,' says Maria. 'We meet up at different green spaces in Camden – parks and resident gardens, public squares and community orchards – and people do practical nature conservation things, such as planting trees and native hedgerows, clearing invasive ivy and thistles, creating paths and even scything.'
Scything, which takes place in several locations including Regent's Park, is an autumn activity, after volunteers have sown wildflower meadows in spring. 'We use old-fashioned scythes – using only manual tools gives us a workout,' Maria explains. 'But it's not like you see in Poldark – they get it quite wrong!'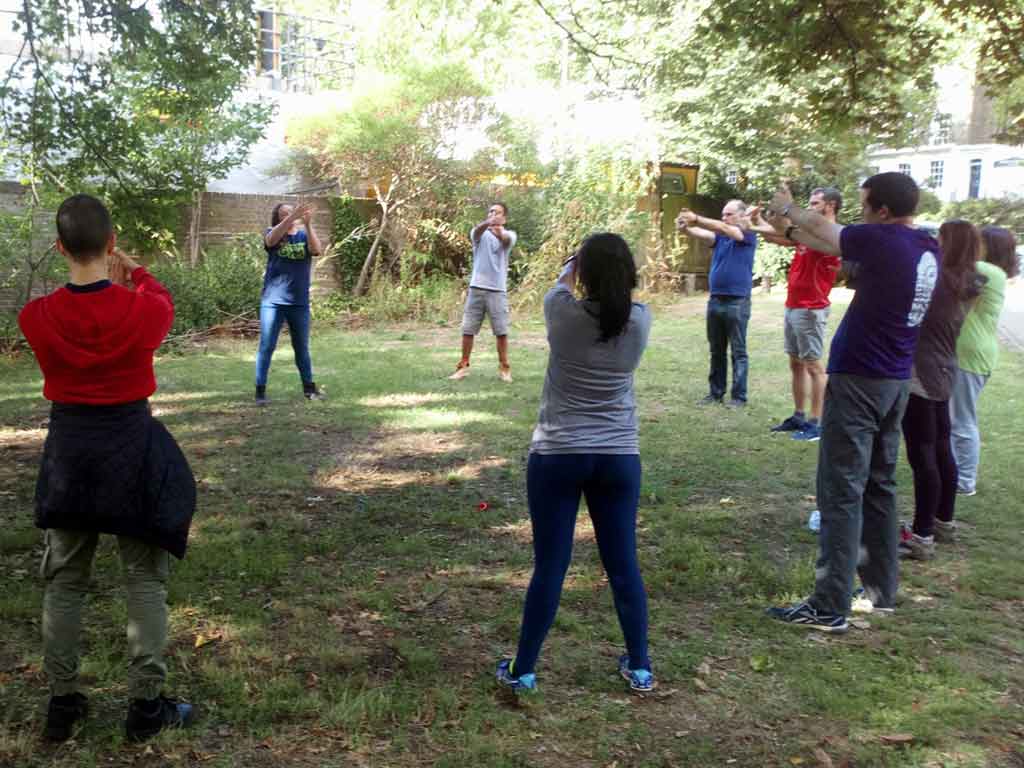 The free three-hour sessions start with some limbering-up exercises to get volunteers ready for the physical tasks. 'The activities use a huge range of muscles in your body, so we also do some stretches at the end to make sure people don't suffer from aches and pains next day,' says Maria. One volunteer is 78-year-old Andrew Hunt.
'The pleasure of scything the wildflower meadow in Hampstead Cemetery is something we look forward to in autumn,' he says, 'and at other times we enjoy the wonderful views of the city from Waterlow Park while we tend the hedgerows, clear the stream or uproot brambles and scrub ready for a fresh covering of wildflower turfs.'
Caroline Steenman-Clark, 70, has been volunteering since 2014 and has completed almost 600 sessions. 'From the beginning – when I was told that no previous experience was required, just a readiness to get stuck into activities to help enhance local green spaces – I knew this was exactly what I wanted,' she says.
After her first session clearing ivy and brambles, Caroline was hooked, and since then she has reaped the health benefits. 'My level of fitness has been maintained since retirement, and even increased to some degree, in that my cholesterol level has dropped, my blood pressure is steady and my bone density has improved thanks to the regular weight-bearing exercise that Green Gym provides – digging, wielding tools, bending and stretching, walking over different levels and textures and so on.'
Caroline is not the only one seeing such improvements. In one study, 83% of Camden Green Gym participants reported that they were more physically active and 67% reported better mental wellbeing. About 10% of volunteers are referred by organisations such as homeless charities and social care providers, and Camden Green Gym also advertises widely. 'We have a lovely group of volunteers of mixed ages and backgrounds,' says Maria. 'We always have a variety of tasks and make it as inclusive as possible.
Some like hard, physical work, such as chopping back vegetation or sawing. When the storms earlier this year brought down trees in our urban woodland, these volunteers happily hacked away to clear a path and then created a wildlife habitat with the logs. Others did gentler exercise, planting little tree whips. Whatever people do they are also getting fresh air in a green environment, which is conducive to stress relief and relaxation.'
For Caroline, being part of Green Gym has been a win-win situation, benefiting both herself and the world around her. 'After retiring I wanted to find a purposeful, congenial, part-time activity, outdoors if possible, and with some aim of "helping". Now I like to think that I am doing something to enhance both the local environment and my own mental and physical health.'