TCV's Annual Report and Financial Statements and Strategic Report with Supplementary Information can be found here.
The most recent annual report appears first, followed by the previous four years. Each report contains an introduction from TCV's Chair and Chief Executive, an overview of projects and achievements throughout the year and case studies that describe our work with partners and funders to achieve our four outcomes of environment, community support, health & wellbeing, and learning & skills.
The full Annual Report includes the trustees' and directors' report incorporating strategic report, overview of TCV trustees and advisors, independent auditor's report, financial statements and schedules of restricted and conditional grants. The Strategic Report is a summary version without the full financial statements.
TCV is committed to making all our communications accessible and inclusive. Our accessibility statement describes what we are doing to make documents more accessible, such as our annual report, which is currently in PDF format and ISSUU page turner.
Annual Report and Financial Statements 2022-2023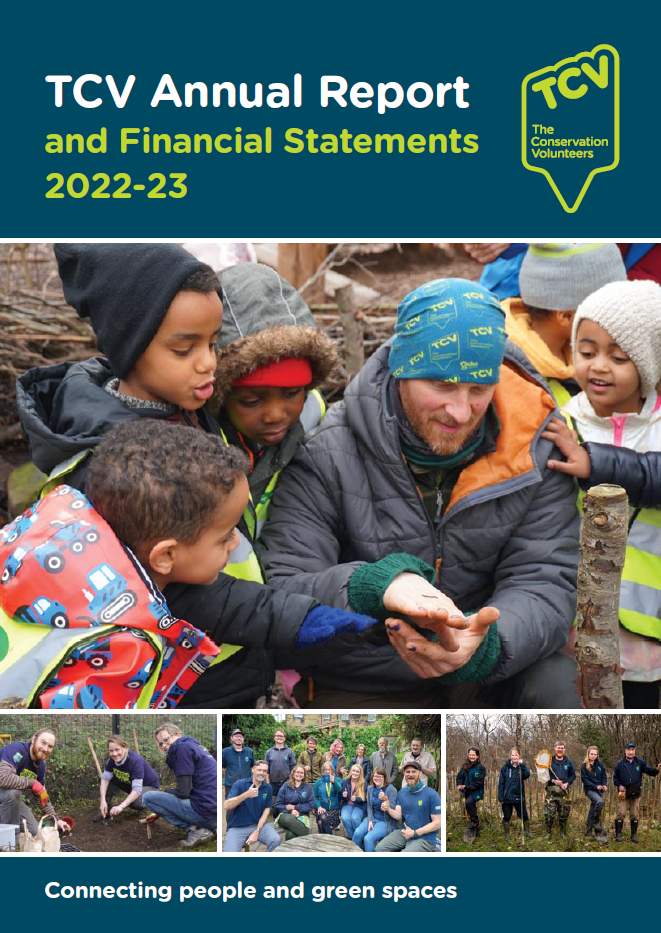 Key highlights 2022-23
Achievements
In the second year of our strategy, we connected 87,413 people with green spaces.
As always, volunteers were at the heart of our work – with 107,765 volunteer workdays.
Which helped to transform 1,376 green spaces.
21% of our registered volunteers are in the top 20% most deprived UK areas
We grew our Community Network to more than 2,000 independent local community groups comprising more than 36,000 volunteers.
We surpassed 3,000,000 trees with our I Dig Trees programme with over 60,000 native tree packs distributed.
21% of registered volunteers are from ethnic minority backgrounds.
16% of our registered volunteers have a disability.
Read more about the impact of TCV's volunteers, Community Groups and staff over the year.
Financial Highlights 2022-2023
TCV reported a deficit of 373k.
The charity closed the year with reserves of £4,015k (2022: £4,388k), with unrestricted reserves of £2,316k (2022: £2,489k), including available unrestricted reserves of £1,373k (2022: £1,577k) and capital reserves of £742k (2022: £711k). This level of reserves is well within the reserves policy of requiring 7-14 weeks of unrestricted expenditure to be available.
Income increased by £1,728k to £11,061k in the year. These was a significant increase in our tree planting activities with both corporate partners and local authorities as part of the Queens Green Canopy and the Northern Forest
Expenditure also by £2,568k to £11,434k in the year. This was primarily driven by the cost of additional trees to plant but also the impact of the cost of inflation on materials, transport, and other operational costs.
The net asset value decreased by £373k in the year (2022: £668k increase) with net assets of £4,015k at 31 March 2023 (2022: £4,388k).
The Charity had a net cash outflow of £721k for the year (2022: £375k outflow).
Annual Report and Financial Statements 2021-2022
Annual Report and Financial Statements 2020-2021
Annual Report and Financial Statements 2019-2020
Annual Report and Financial Statements 2018-2019