For people and green spaces: a thriving network for everyone
We live in challenging times. The climate and ecological emergency grows ever more pressing and the Covid-19 pandemic has had a profound impact on all our lives, exacerbating many pre-pandemic problems including poor mental health, social isolation and inequalities. The interrelated nature of these challenges means that they can't – and shouldn't – be tackled in isolation.
Our refreshed strategy "For people and green spaces: a thriving network for everyone" reflects how we will target TCV's work to connect people and green spaces to provide multiple benefits and address many of the most pressing issues facing society.
TCV's Strategic Goals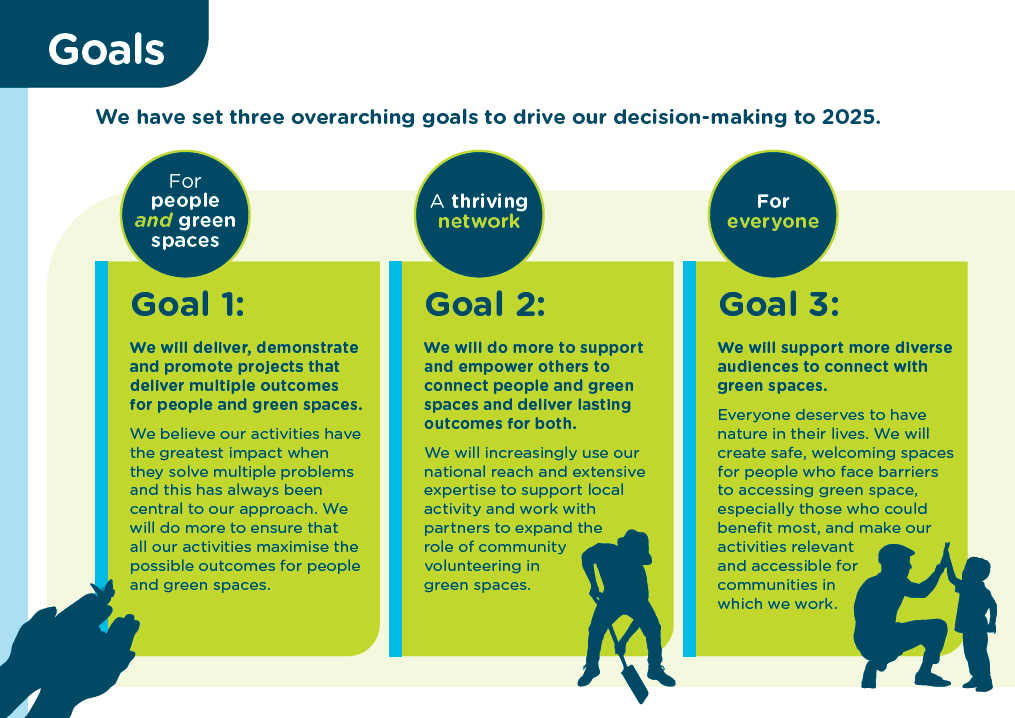 We have set three overarching goals to drive our decision-making to 2025.
For people and greenspaces
Goal 1: We will deliver, demonstrate and promote projects that deliver multiple outcomes for people and green spaces.
We believe our activities have the greatest impact when they solve multiple problems and this has always been central to our approach. We will do more to ensure that all our activities maximise the possible outcomes for people and green spaces.
Goal 2: We will do more to support and empower others to connect people and green spaces and deliver lasting outcomes for both.
We will increasingly use our national reach and extensive expertise to support local activity and work with partners to expand the role of community volunteering in green spaces.
Goal 3: We will support more diverse audiences to connect with green spaces.
Everyone deserves to have nature in their lives. We will create safe, welcoming spaces for people who face barriers to accessing green space, especially those who could benefit most, and make our activities relevant and accessible for communities in which we work.
Volunteering at our core
Volunteering is, and has always been, at the heart of TCV's work and we will only achieve our goals through the engagement, commitment and expertise of our volunteers. Social, outdoor, physical volunteering in nature benefits the health, wellbeing, learning and skills of individuals, while improving the cohesion and resilience of communities and tackling the climate and ecological crisis.
Grounded in our values
Make stuff better: Constantly asking ourselves if we can improve on what we do and how we do it.
Crack on and muck in: Coming to work with a mindset as a team, getting the job done, and achieving what we set out to do.
Make a difference: We have a deep desire to ensure that everything we do leaves a positive and lasting ripple effect.
Be the best we can be: We are committed to role modelling the best of ourselves in all that we do and how we do it.
Make a positive environmental impact: Our commitment to ensuring that everything we do contributes to building a sustainable planet.
We are The Conservation Volunteers
More about who we are (accessible)