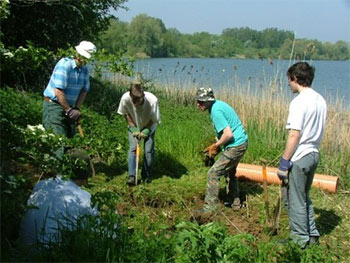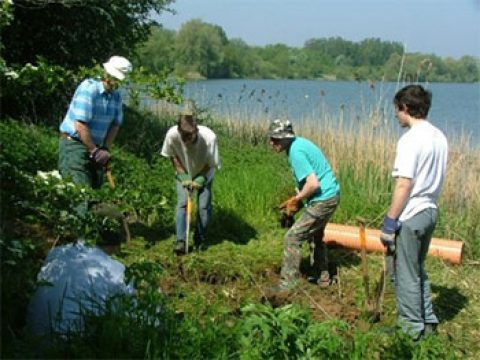 Welcome to The Conservation Volunteers in Bedfordshire – working to protect and enhance the environment across not only our home county, but also areas of Cambridgeshire, Buckinghamshire, Northamptonshire and Hertfordshire.
In the last 12 months our volunteers have completed 712 practical workdays on 37 sites, with tasks ranging from habitat creation to footpath clearance and waterways management to vegetable growing.
Working with local communities, our experienced project leaders provide the tools and expertise to enable volunteers to really make a difference, learning new skills along the way.
Get Involved
Conservation work
The Bedfordshire Environmental Action Team (BEAT) meet on Mondays and Thursdays, and undertake a range of activities at a range of sites in Bedfordshire and beyond. Depending on the time of year we might be clearing ponds, planting trees, scything meadows, hedgelaying, and much more. If you like variety, getting to see a whole range of fascinating sites, and learning new skills then this is the group for you. Transport is provided from Bedford to the sites.
Our Grasslands Group meet on Tuesdays and Fridays and work year round at Great Stukeley SSSI, a fantastic grassland site with orchids, wildflowers and lots of wildlife to see. If you appreciate seeing a site change round the year then this group would suit you well. Transport is provided from Bedford to the site.
The Woodham Volunteer Group meet on a Wednesday and work at the land around the National Grid site in Woodham. With a range of habitats including woodland, grassland and hedgerows this site offers a range of activities including annual wildlife surveys. Transport is provided from Bedford to the site.
The Buckingham Railway Walk Conservation Group meet on the first Saturday of each month and work to look after the Railway Walk by keeping paths open, looking after the wildflower glades, and working in the old orchard area. Transport is provided from Bedford to the site.
The Bletchley Green Gym meet on Thursday mornings at the community allotment site on Pinewood Drive. The group look after the allotment, including a wildlife pond, raised beds and fruit bushes, and share the produce. Please note there is no transport from Bedford to this project.
Everyone is welcome, whatever their age or background. All you need is suitable clothing, stout footwear, lunch and enthusiasm – everything else is provided for you. Check out our programme and email k.miskin@tcv.org.uk if you'd like to join us, or if you would like to receive a weekly email reminder of our upcoming tasks.
Upcoming activities
Want to work with us?
Do you have a plot of land that you would like to manage for wildlife but need some help?
Are you looking for a partnership organisation to work on an environmental project?
Are you looking for placements for volunteers?
Are you looking for activites for groups of volunteers?
We may be able to help! E-mail Katherine on k.miskin@tcv.org.uk to receive weekly e-mail reminders of our upcoming Weekday Conservation Team task programme.
Contact us at the office as detailed below, to see if we can meet your needs.
Contact us
The Conservation Volunteers in Bedfordshire
The Cemetery Gatehouse
Foster Hill Road
Bedford
MK41 7TD
Tel: 01234 217553
Email: k.miskin@tcv.org.uk
Facebook page: The Conservation Volunteers Bedford
Twitter: @TCVBedford