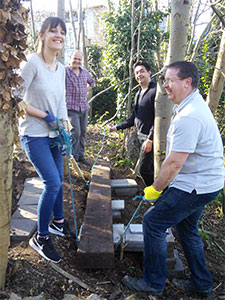 The Team Challenge Programme has been successfully transforming community green spaces for 10 years now across England, Scotland and Northern Ireland.
During the last 10 years over 16,500 bank colleagues have volunteered at hundreds of TCV projects; ensuring green spaces are accessible to all.
Working together you have helped to make green spaces accessible and available which are used every year by thousands of people in local communities.
How has the Team Challenge made a difference?
16,500 volunteer experiences
115,500 volunteering hours generated
120 unique projects supported
Working in partnership with TCV over the last 10 years has really helped us to continue making a difference in our local communities. Our employees always look forward to volunteering with TCV who are experts in the field of conservation volunteering.

Ross McEwan, CEO, RBS
Where has the Team Challenge made a difference?
Your volunteering commitment and enthusiasm has helped 120 different community projects in; Edinburgh, Glasgow, Belfast, Leeds, Liverpool, Manchester, Birmingham, Dudley, South Yorkshire, Derby, London, Southampton, Reading, Southend on Sea and Bristol.
What have you done as volunteers?
As individual teams you have helped to ensure TCV is able to manage and care for projects right across the UK, without your support we simply couldn't achieve all that we do with our regular community volunteers.
Each hour, and each day you spend with TCV comes together deliver one huge national impact for communities, for health and for the environment.
Over the past 10 years you have maintained community buildings, built fencing, created pathways, coppiced woodland, dug and planted wildlife ponds, designed and constructed community food projects, sowed wildflower meadows….this list goes on and on!
Check out our 10 Year Anniversary film to see your colleagues in action at our Stave Hill Ecology Park in London:
TCV would like to say a very big thank you to everyone who has volunteered through the Team Challenge. You should be incredibly proud of yourself for the difference you are making every year to create healthy, happy communities.
On behalf of everyone at TCV I would like to thank NatWest for their commitment to their local communities and enthusiasm for volunteering and dedicating time to look after the environment. The partnership has been a success because of their passion and we hope it will continue to be successful for many years to come.

Darren York, Managing Director of TCV