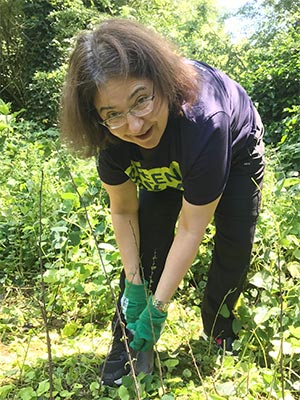 The BBC2 Programme Trust Me I'm a Doctor has completed an insightful new study into the effects of different activities on stress levels.
This follows a survey by the BBC team which found that "how to beat stress" was the top mental health question that people wanted the answer to.
The BBC commissioned this study, undertaken by the University of Westminster, to monitor changes to the level of the stress hormone cortisol in separate groups of participants taking part in Green Gym (structured, group-based conservation activity), Yoga, Mindfulness against a control group.
The BBC chose TCV's Green Gym due to our success in connecting people with the outdoor environment to improve health and wellbeing and tackle social isolation.
The Green Gym took place in Regents Park over an 8-week period and the results were shared on BBC2 on 1st November 2017 at 9pm in a special programme dedicated to mental health.
Results
The University Study showed that Green Gym participants reported higher levels of well-being and lower levels of stress, anxiety and depression.
Participants also collected saliva samples to measure the stress hormone cortisol. As well as being stress-responsive, cortisol is essential for life and a burst of cortisol following awakening (known as the cortisol awakening response) is indicative of good health.
Compared to a similar group of participants (the control group), that did not engage in any extra activity, the participants in the Green Gym group had a 20% improvement in cortisol awakening response and this was increased further in those that reported even more enjoyment with the Green Gym. Green Gym participants showed the greatest reduction in anxiety of all the groups when assessed by a validated questionnaire.
Read more about the study's results


Importantly the Green Gym sessions were also enjoyed by the participants, particularly the social aspect, they enjoyed meeting friendly like-minded people who cared about each other and the local environment. Participants also mentioned a great sense of achievement at the end of each session knowing that they had improved a place to benefit wildlife and to be enjoyed by the local community.
Just 8 weeks of participation in TCV's Green Gym showed clear enhancements in the cortisol awakening response which is beneficial for health and well-being. Participants also reported marked reductions in anxiety, as well as reduced feeling of stress. This study looked at mental health, however, the physical activity and social nature of Green Gym is likely to have many other health benefits that warrant further research.

Professor Angela Clow, University of Westminster
I think the Green Gym made me feel better because of the social aspect and communing with nature. After the 8 weeks I felt noticeably calmer when a couple of crises occurred, I dealt with them in a much better way than I would have before the Green Gym. I will remember the people, the skills I learnt and the people I managed to teach. I made several good friends that I am still in touch with months after the 8 weeks finished.

Gary, a Green Gym participant
TCV Green Gyms – join in, feel good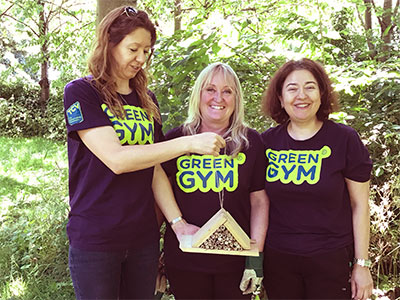 There are Green Gyms across the UK, providing fun and free sessions where you will be guided in practical activities such as planting trees, sowing meadows and establishing wildlife ponds.
Unlike other conservation projects, the emphasis is very much on health and fitness. Participants are led through a structured warm-up in preparation for a range of light to vigorous activities that suit all abilities and cool down at the end of the session.
Green Gym enhances health and wellbeing through increased contact with nature, the social benefits of group activity, sustained increase in physical activity and helping people contribute something positive to their community.
TCV work closely with partners, including mental health charity Mind, to continually innovate Green Gyms to ensure that they maximise the benefits for participants.
Tempted to try it out?
Why not join in with one of TCV's Green Gyms across the country, get fit, meet new people and transform your local environment and community.
Green Gyms are starting all the time but if there is not one near you please register your interest now by completing this simple form.
Register your interest in a Green Gym near you!
Sponsor a Green Gym
Would your organisation like to help the local community by setting up a brand new Green Gym or support one of our established Green Gyms?
If you are interested in finding out more about Green Gyms please contact greengym@tcv.org.uk.
Commission a Green Gym
Many Green Gyms are commissioned by health organisations and/or local authorities as they deliver outcomes which map to both public health and some clinical indicators.
If you are a commissioner looking for an evidence-based health and wellbeing intervention, that has the added benefit of delivering enhanced social cohesion and improved green spaces, please contact greengym@tcv.org.uk or call 07771 942673