People volunteer with The Conservation Volunteers for a huge variety of reasons, take a look at some of our volunteers' stories below.
Louise Gibson – Volunteer Officer with TCV at Skelton Grange Environment Centre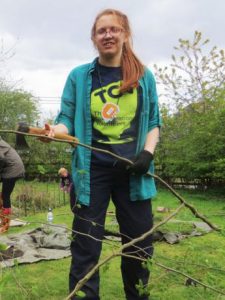 Louise has been volunteering with TCV at Skelton Grange Environment Centre since October 2014. Louise has gained practical skills and experience and confidence through her volunteering with TCV. This has led to her developing new interests in working with young people in the outdoors, and has enabled her to secure part-time employment as an Education Assistant with Leeds City Council, and as a sessional Education Officer at TCV.
What made you choose to volunteer with TCV on the access2nature project?
After I graduated from University I found myself unable to get a job in any of the area I wanted to work in. When I did get feedback it was usually that I needed more experience.
I'd done a lot of volunteering at University and I knew that it was a great way to meet people and gain skills so as soon as I moved to Leeds I searched for "Conservation Volunteering Leeds" and TCV came up. I applied, got through an interview and haven't looked back.
What do you feel you have got from your time volunteering so far?
I've learnt a huge array of practical skills like carpentry, food growing and how to cut down trees, but as well as that I've learnt a lot about working with people, especially children. Working outside so much and being encouraged to cycle in means that I'm physically fitter than I have been for years.
As well as the physical fitness gains it has definitely helped my mental wellbeing. Before starting at Skelton Grange I spent about a year job searching with no success, and that kind of thing can get you down. Skelton Grange has given me the confidence to pick myself up and shown me what I am good at.
I've also learnt a lot about what I'm capable of when given the opportunity. I've always been quite shy, but volunteering has helped me learn to control that shyness. I've learnt that when I have a job to do, be it greeting at an open day, or teaching a group of children, I can be as confident as anybody else.
How have the team at Skelton Grange supported you with your volunteering?
The staff and volunteers at Skelton are some of the most supportive and encouraging people I have ever met. They have worked with volunteers of every conceivable experience level and background so they are completely un-judgemental and helpful. I think the important thing is that everybody really wants to help you succeed and go on to other things.
Has your volunteering helped you progress onto anything else – and how?
I've been able to use the skills I have learnt at Skelton improve my CV drastically. I now have ample experience to go with my academic background and working with kids has opened up a whole new area of work that I hadn't really considered before.
I now work as an education assistant with Leeds City Council and I'm a sessional staff member for Skelton Grange. I get to plan my own activities and get paid for it, but I still come back and volunteer on my days off, they can't get rid of me that easily.
If someone else was thinking about volunteering – would you have any messages for them?
Go ahead and give it a go. If you don't think you're good enough then people will show you how to improve. You'll be surprised about what you'll learn and the amazing people you'll meet.