Our annual awards recognise and celebrate the achievements of the volunteers, groups and organisations we work with.
Meet our winners for 2012!
Feel inspired by their stories? Next year, it could be you! Volunteer now. Or donate to support their hard work.
Award Categories
VOLUNTEER OF THE YEAR
For the volunteer who has shown outstanding commitment, innovation or achievement in their volunteering, with demonstrable returns for both the individual and their local community and environment.
Pam Evans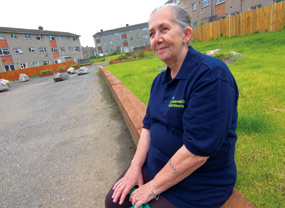 Pam, 70, from North Cornelly, South Wales, is the winner of the national Green Heroes Volunteer of Year award. She has been instrumental in transforming her neglected local estate into the thriving green community space it is today.
Pam was inspired to join The Conservation Volunteers three and half years ago when she was looking for new opportunities to challenge herself. Being part of The Conservation Volunteers was a way for Pam to broaden her skills, particularly as she had never tried environmental work before. Her first project was ambitious and involved turning a disused car park into a safe and inviting community space. After dedicating boundless time and energy, Pam achieved her goal and is now an active member of many other local conservation projects.
There are many personal benefits Pam has gained as a result of volunteering with The Conservation Volunteers, including the diverse range of skills she has learnt and the opportunity to be physically and mentally active.
I wanted to try something completely different and with The Conservation Volunteers there's a lot to learn: planting, building nest boxes and digging for a start! I'm not getting any younger and volunteering helps keep my mind alert.

Pam
The sense of 'giving back' to the community is especially important for Pam. Her work in rejuvenating the estate in North Cornelly has helped instil pride in the community and inspire local children and young people to take care of their green spaces.
Pam says: 'The estate used to be an old dumping ground, but people now really appreciate how it looks. We're helping create a space and a legacy that can be passed on to the next generation and it's great that the little children of the estate now have somewhere safe to play.'
Pam is enthusiastic about encouraging others to start volunteering, already enrolling her daughters, granddaughters and friends in local volunteering projects.
Pam said: 'The Conservation Volunteers can benefit everyone and I encourage as many people as I can to join in. As long as I can keep going I will!'
COMMUNITY AWARD sponsored by DEFRA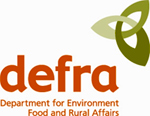 For the community group that has shown the most outstanding commitment, innovation or achievement in working towards a better environment where people feel valued, included and involved.
Sefton Green Gym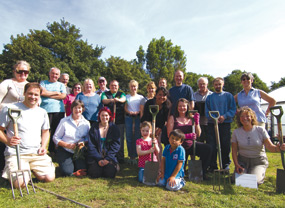 Since its formation nearly ten years ago, Sefton Green Gym has gone from strength to strength, building its membership from four recruits to a 40-strong volunteer team managing a successful community allotment. The group works on the Queensway Green Gym Allotment in Crosby, Merseyside, and offers the local community, including schools, the chance to experience organic allotment growing and benefit from regular social interaction and exercise.
Originally a partnership between The Conservation Volunteers, Sefton PCT and Sefton Council, it is now supported by Sefton PCT and The Conservation Volunteers, who continue to provide practical help to strengthen the project.
The group is diverse, with some members with learning disabilities, older people, children and people from minority ethnic backgrounds. Local charities, including Barnardo's, have also referred clients to the group to improve emotional and physical wellbeing for some of the area's most disadvantaged groups.
It's about realising you live within the community and we should all pay attention to what the community needs. Sefton Green Gym is open to all; members get company and their volunteering has a positive impact on their physical health too. It isn't just an allotment; it's a vital part of the local community which makes people feel useful.

Madeleine Litchfield, volunteer at Sefton Green Gym
Over the past year the group has completely rejuvenated the allotment site, through developing more paved areas to provide better access for people with disabilities, recovering an old polytunnel and constructing 34 raised plant beds. More recently, a beehive has been introduced alongside a wildlife fence which has been planted with climbers, including honeysuckle climbing fuschia and clematis to attract bees and butterflies. Future plans for the project include building bird and insect boxes to be placed onto the fence to provide habitats for different species, helping to grow vegetables in a wildlife friendly manner, and constructing a wormery.
Madeleine continues: "Winning this award means everything to us at Sefton Green Gym. It's a huge accolade to our work".
PARTNERSHIP AWARD
For the council, company, trust, charity or other group that best works in partnership with The Conservation Volunteers at a local level.
Camden Council Parks and Open Spaces department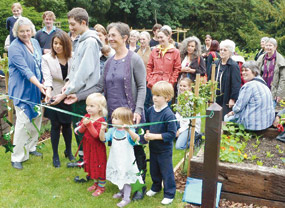 Camden Council Parks and Open Spaces department has won the Green Heroes Partnership award.
Camden Council relaunched their partnership with The Conservation Volunteers in 2008, working together on the Camden Green Gym, a scheme which aims to boost people's physical health through outdoor activity. Since then the department has offered funding and practical support to reclaim green spaces and make The Conservation Volunteers projects an ongoing success. Key partnership projects include reclaiming Camden's Ingestre woods and creating the Waterlow Park Kitchen Garden, which was completed after the input of 3,600 volunteer hours.
Chris Speirs, who nominated Camden Council Parks and Open Spaces department, said:
'Camden Council has always gone the extra mile to support us, helping to set-up and run large events for The Conservation Volunteers such as the Carbon Army Launch in 2009, provide venues for national and local training and volunteer celebrations, recognising our group and volunteers at 'Camden in Bloom' and making us feel part of their team.'
Through its involvement in local conservation projects, Camden Council Parks and Open Spaces has provided a range of benefits for local people, helping them take more pride in their local area by transforming green spaces, increasing biodiversity, and providing access to nature for local schools. A key achievement in the partnership has been working with other departments and programmes, including housing, sustainability and sport. This cross department working demonstrates the breadth of The Conservation Volunteers' work.
Another key benefit has been the boost to volunteering in the area.
The work of The Conservation Volunteers and the Green Gym is vital to our engagement with local communities. It's great that these are open to everyone, especially in such a diverse environment like Camden. Thousands of volunteers have signed up and now meet regularly to deliver over 12,000 volunteer hours in the borough every year.

Kate Mitchell, Camden Council
Councillor Tulip Siddiq, Cabinet Member for Communities and Culture said: "We are incredibly proud to have won this award, especially because partnership working and volunteering is so important to us. We are looking forward to working with The Conservation Volunteers in future."
Chris Speirs said: 'Their approach and support have been a great motivation and what we have collectively achieved has been an inspiration to everyone involved.'
GREEN SKILLS AWARD
For the individual who has made significant changes to their life as a result of skills, qualifications and experience acquired through involvement with The Conservation Volunteers.
William Clarke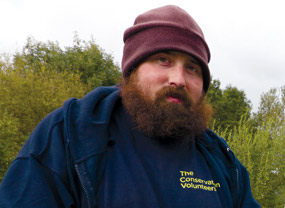 William Clarke has won the Green Heroes Green Skills award. During his time with The Conservation Volunteers William has developed skills and self confidence to now co-lead groups, mentor new volunteers and support a range of practical conservation projects.
William joined The Conservation Volunteers in Belfast over 18 months ago through the New Deal programme, a six month initiative designed to increase employability. As he has become more involved in conservation projects, his enthusiasm and personal confidence has grown, with William now working to engage some of the most disadvantaged groups in Belfast in conservation volunteering.
With a variety of work experience now behind him, William has significantly improved his chances of securing full time employment. He continues to be an active member of The Conservation Volunteers leading environment and community projects and his new found confidence is inspiring others to get involved.
EUROPEAN AWARD supported by the Stavros Niarchos Foundation

For the volunteer or group that has inspired others, shown outstanding commitment, innovation or achievement in their volunteering, with demonstrable returns for both the individual and their local community, organisation and environment. This is open to nominations from the members of CVA (Conservation Volunteers Alliance), Eurosite (European network of nature reserves) and Europarc (Umbrella organisation for protected areas of Europe).
La Team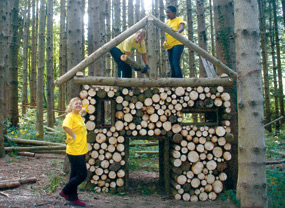 Two years ago the concept of the La Team programme was developed by five organisations from The Conservation Volunteers Alliance. The aim was to provide opportunities for volunteer teams to work together on environmental projects throughout Europe.
The programme was officially launched in 2012, running from May to October and enabling 20 volunteers aged between18-26 to make a difference across Estonia, France, Italy, Greece and the UK by using their conservation skills collaboratively.
The volunteers carry out conservation tasks including everything from habitat management to school wildlife gardens. In the course of their work they develop their conservation skills and benefit local communities, the environment and biodiversity across Europe. The team approach also encourages the sharing of ideas and skills, and builds capacity through practical conservation on the ground.
This award is a fantastic way to recognise the work of five different countries who have worked in partnership on vital environmental projects. It's amazing to have won.

Francois Ribaud, La Team
For more information visit: conservationvolunteers.eu/la-team
PROJECT LEADER AWARD supported by the Stavros Niarchos Foundation

For the individual who has shown commitment, innovation or achievement in leading environmental volunteering projects. They will have provided others with the inspiration and knowledge to engage with practical projects and grow and develop as individuals and a team.
Max Roclawski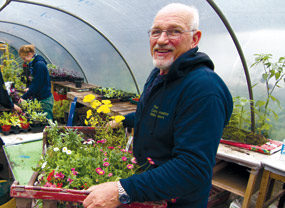 Max Roclawski has won the Green Heroes Project Leader award. For over 10 years Max has played a vital role in leading projects with The Conservation Volunteers, passing on his knowledge and experience but also supporting less experienced members of the team to try new skills and crafts.
After retiring from the police in 2011 and being used to regular interaction with the local community, Max decided to join The Conservation Volunteers' Hollybush Conservation Centre in Leeds to take part in meaningful physical work and meet new people.
Today Max is an invaluable member of the team at Hollybush, passing on traditional skills such as hedge laying and green wood working, as well as more general conservation skills such as walling and fencing. Through his passion for hedge laying, Max has become a member of the National Hedgelaying Society and is always keen to pass on his enthusiasm to others.
I've really enjoyed volunteering personally, but it's great to be able to pass on these skills to younger generations too. There is a lot people can gain from The Conservation Volunteers.

Max
Max has also been active in sharing his knowledge with the wider community, including creating 'green classrooms', which involves him going into local schools and teaching traditional conservation skills to students and teachers.
Max said: 'It's great that children have the chance to be taught outside, and it's important that we give these resources to teachers so they can pass green skills down through generations.'