The TCV Heroes Awards are a celebration of the people who go above and beyond to support the work of The Conservation Volunteers in communities across the UK. Whether they're groups, individual volunteers or TCV employees, they deserve to be recognised as heroes as they strive to help others every day and put in so much effort and enthusiasm to succeed.
The 2015 awards were held in a spectacular location at the Houses of Parliament and attended by MPs from across the country, together with our Trustees and many of our Funders and Partners. All were keen to support and celebrate TCV Heroes as they collected their awards.
The Award Ceremony was hosted by Rosie Winterton MP. TCV's President Jonathon Porritt CBE gave an opening address and both Rita Clifton CBE and Jonathon presented the awards to the worthy winners.
Award Categories
Meet TCV's Heroes 2015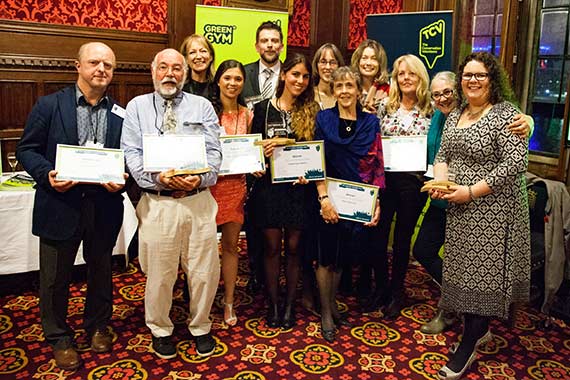 TCV Star of the Future
This award recognises the achievements and future potential of special TCV people who believe in TCV's purpose to create healthy, happy communities for everyone – and have the talent to help us do just that.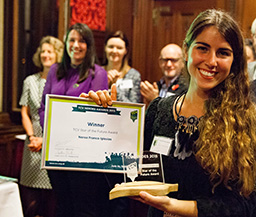 Winner: Nerea Franco Iglesias
Nerea assists the Northern Ireland Training Unit and the team felt she deserves recognition for her determination to deliver everything she does to an impeccable standard. She impresses with her willingness and drive to go further than ever expected. For example, she delivers courses and designs all of the accompanying materials herself.
Take a look why she is the winner of the TCV Star of the Future Award 2015.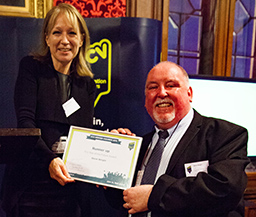 Runner up: Steve Wright
Steve is the employability, support and enrichment tutor for the Washington centre on our Employment and Training Services' Study Programme contract.
He works with young people aged 16-19 years who are often hard to reach. Through his hard work, belief in his learners, and an ability to inspire the young people he works with, Steve has managed to build the confidence in so many learners. His positivity and genuine caring nature has been instrumental in making Washington such a successful TCV centre.
TCV Outdoors and Active Award
The Outdoors and Active Award recognises the contribution Green Gyms make to communities across the UK by enhancing health and mental wellbeing.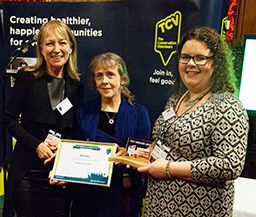 Winner: Mater Green Gym
This winning Green Gym is Northern Ireland's longest running Natural Health project, which TCV delivers in partnership with the Psychiatric Department of the Mater Hospital.
Mater Green Gym engages both ward and outpatients as part of their treatment and rehabilitation and feedback gathered from medical staff cites improved sleeping patterns, reduced medication, reduced smoking levels, and enhanced moods of all those who participate in the weekly Green Gym sessions.
Find out more about them in this video.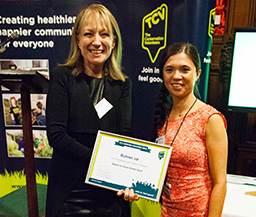 Runner up: Space to Grow Green Gym
The Space to Grow Green Gym is a partnership between TCV Scotland, Cube Housing Association and the Wheatley Group. It was launched in November 2014 to improve the health and environment of residents living in the Wyndford Estate in Maryhill, Glasgow.
Space to Grow was nominated because of the wide impact it has on the local area. Participants have increased their physical ability and learnt about healthy eating, whilst also helping to improve local wildlife. St Mary's Primary School in Maryhill also got the growing bug and 60 pupils joined in. This partnership has created 2 new food growing spaces – a legacy from this innovative Green Gym.
TCV Volunteer of the Year
The winners of this award are volunteers who encourage other volunteers to join in and feel good, and ensure everyone in their team is supported and are having fun.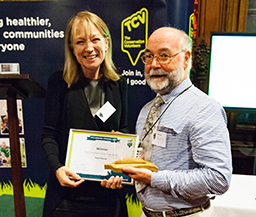 Winner: Paul Moore
Paul is a professional entomologist and is known affectingly in the Belfast office as 'Bug Man'. His full time job is to provide a country-wide service of insect ID, pest control advice and training. But he also dedicates a lot of his free time and annual leave to volunteering with TCV.
He is a great role model to other team members, sharing his vast environmental knowledge and encouraging new volunteers to join the team.
See how he does it all.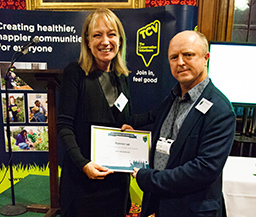 Runner up: Neil Woodcock
In the words of his team leader, Neil is "TCV through and through". He has been volunteering at our Head Office, Sedum House, in the Customer Service team for 7 years. He takes a bus, train and taxi to get to the office and home every week, rain or shine, and he has barely missed a week in that time.
His dedication and loyalty is an asset to our organisation. His help is invaluable, but it's his personality that's the biggest contribution to the team – he raises the spirits of everyone he meets. Nothing is too much trouble – as well as administrative tasks, he has even turned his green fingers to the garden and car park at Sedum House.
TCV Heart of the Community Award
This award goes to teams of TCV people and volunteers who are making a huge difference in their local area, with the effect of their work felt right in the heart of the community.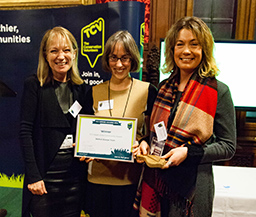 Winner: Skelton Grange Team
The Friday morning team of volunteers at TCV's Skelton Grange Environment Centre has been described as "its own little community". So it's fitting that they should win the Heart of the Community award for 2015.
Skelton Grange is a fantastic centre, covering 10 acres of land with raised vegetable growing gardens, dipping platforms, seating areas and outdoor classrooms. And it's this volunteer group that maintain the land. They're made up of retirees, those gaining new skills for employment, individuals with additional needs, and people who just want to get out in the outdoors and give something back.
See the team in action at a recent community open day as part of our Big Green Weekend celebrations.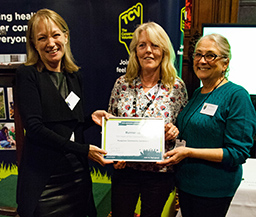 Runner up: Musgrave Community Gardeners
The Musgrave Community Gardeners have shown what can happen to a local community when individuals are brought together by their desire to transform a local outdoor space for the benefit of others.
The team is an eclectic mix with backgrounds diverse in ethnicity, political beliefs, economic status and health. Yet they work as one team: weeding, planting and harvesting to make the garden a success and in the process, improving the health and wellbeing of the community as a whole.
They started working together in 2012 on TCV's Musgrave Community Garden, Belfast City Council's flagship community food growing project situated within the grounds of Musgrave Hospital.
The President's Award
The President's Award is to recognise an individual who makes an outstanding contribution to TCV.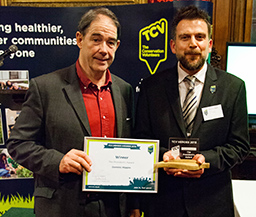 Winner: Dominic Higgins
Dom is the inaugural winner of this award, as he lives and breathes all that is great about TCV. He delivers fantastic results and does this in a way that inspires and engages others. When people were asked to sum Dom up in one word, they said: Inspirational, Enabling, Energising, Passionate, Thoughtful, Kind.
Our president Jonathan Porritt said that he makes people smile and everyone's day much better.
Next year
Next year, we'll see another group of volunteers and employees and their hard work be celebrated. How can you get involved?