Many of TCV's activities in Leeds provide opportunities to improve physical and mental health & wellbeing by being outdoors, active and connected with others.
Green Gym
Green Gyms are fun and free outdoor sessions, with an emphasis on physical and mental wellbeing and learning new skills.

Typically, Our Green Gyms consist of 2 to 3 hours of activity in the local community. We run regular sessions on sites across Leeds, including maintaining community gardens, allotment growing, wildlife walks and community litter picks.
Guided by an experienced group leader, all sessions are free and allow you to work at your own pace. So whether you are new to gardening or have knowledge and experience to share, Green Gym is for you. A chance to get outdoors, stretch your legs and refresh your mind, and we always make time for a brew and a biscuit!
What people say about their Green Gym experiences
"No matter how I am feeling, when I come here I feel better."
Julie, gardening group volunteer
"I feel proud of my achievements and putting back into the community."
Steve, gardening group volunteer
"We talk about the trees and the birds and it just makes me feel happy."
Elaine, walking group member
Green Gyms connect people with nature and each other, to do meaningful work and help you feel fantastic inside!
Contact
Green Gym Leeds
The Conservation Volunteers,
Hollybush Conservation Centre,
Broad Lane, Leeds LS5 3BP
Tel: 0113 274 2335
Email: hollybush@tcv.org.uk
Twitter: @TCVGreenGymLeeds
Supported by

Time to Shine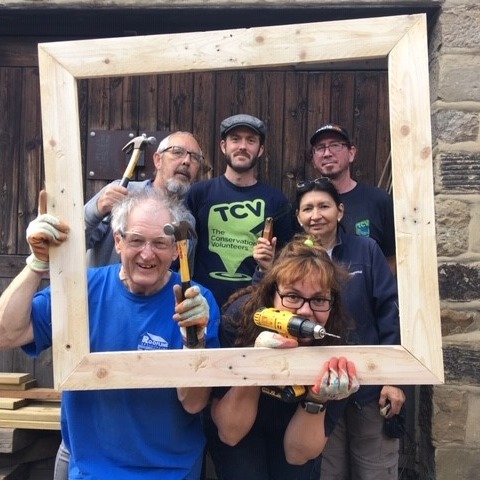 Time to Shine – The Great Outdoors is a programme aimed at people over 50 and include practical activities such as wood work, gardening and natural crafts, as well as wildlife walking groups. We value the skills and experience participants have to offer and can share with the wider community at Hollybush.
Time to Shine is a Leeds-wide ptroject and part of Ageing Better, a programme set up by The National Lottery Community Fund, the largest funder of community activity in the UK. Ageing Better aims to develop creative ways for older people to be actively involved in their local communities, helping to combat social isolation and loneliness.
Contact
Aine Welsh
Tel: 07801 686 040
Email: a.welsh@tcv.org.uk