Come and get involved with TCV's BAT teams!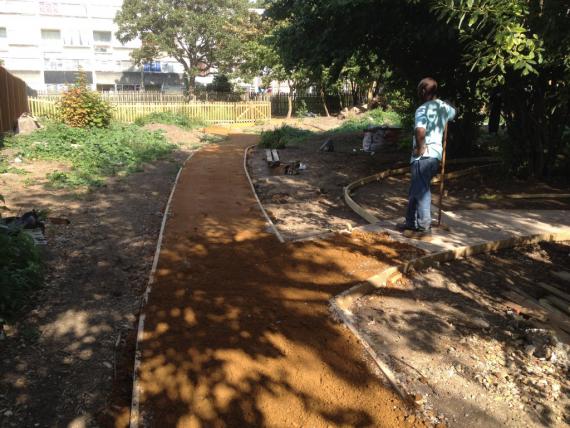 Our established Biodiversity Action Teams help manage some of London's most beautiful and vibrant sites for nature conservation, as well as creating new nature gardens for communities and schools.
The BAT teams offer a full day volunteering experience working on some fairly large projects so if you're looking for a great feeling of achievement, to meet new people and the opportunity to learn some new skills in the process this could be the project for you.
Projects can include woodland management, habitat creation, pond maintenance and invasive species control as well as some environmental construction activities including building ponds and dipping platforms, boardwalks, fencing, paths, natural play equipment and a range of habitats.
All training and instruction is given on the day so no previous experience is required.
Where we work
With four teams covering each point of the London compass we cover almost the whole capital. Individual work sites vary so meet at your local office for free transport in our minibuses to the project.
Typical sites include parks, nature reserves, schools, community gardens and heritage sites.
TCV BAT North: Mathieu Pendergast on 07823 444 325 or at m.pendergast@tcv.org.uk
TCV BAT East: Dave Allen on 07917 267 573 or at david.allen@tcv.org.uk
TCV BAT South: Richard Jedrzejczak on 07764 655 694 or at r.jedrzejczak@tcv.org.uk
TCV BAT West: Judith Ressler on 07483 050 759 or at j.ressler@tcv.org.uk

Ben Hill Road project – before and after
Site owners
If you have a project idea you would like to develop please contact your local Biodiversity Action Team Project Officer. We can help with design, funding options, a full itemised quotation, delivery of the project and ongoing maintenance plans. Community involvement is at the heart of what TCV does so local residents are always more than welcome to get involved with any of our projects.
Employee Action Days
If you are looking for a team-building or community activity for your work colleagues, then please check out our Employee Action Days information.