Children and nature is always a winning combination. From exciting and educational school sessions to fun-filled family learning days TCV London offers something for everyone. TCV currently have learning projects in Waltham Forest, Greenwich and Haringey.
Lloyd Park (E17) and Leyton Jubilee Park (E10)
Our Project Officers work across both parks connecting communities with local nature through a variety of regular groups and free public events.
Family Events
Our family events programme runs throughout the year, celebrating seasonal wildlife and getting communities close to nature whatever the weather! From pond dipping to African drumming, bat walks to nature trails, pumpkin carving to Christmas crafts… we challenge you to get involved.
Adult Learning
We have seasonal learning events for adults to contribute towards improving and sharing knowledge about nature in our community, including early morning bird walks and citizen science surveys.
Spaces for upcoming family and adult events can be found on our Eventbrite page.
Nature Explorers (Under 5s)
Our Under 5s sessions are all about connecting even the smallest among us with nature! Nature Explorers meet on the second Monday (Leyton Jubilee Park) and second Wednesday (Lloyd Park) of the month where we explore the park, create nature crafts, tell stories and enjoy some messy play.
Spaces for upcoming sessions can be found on our Eventbrite page.
Or email walthamforestlearning@tcv.org.uk to join our mailing list
Over 50's Groups
Sharing Nature (Leyton Jubilee Park) and Sharing Heritage (Lloyd Park)
We support groups across each park especially for the over 50's to exchange knowledge and experience about the nature we love. Weekly meetings occur on Monday afternoons (Sharing Nature – Leyton Jubilee Park) and Wednesday mornings (Sharing Heritage – Lloyd Park) where the group may carry out wildlife surveys, or take part in handicrafts over a cuppa.
To join one of our over 50s groups, email us at walthamforestlearning@tcv.org.uk
Schools Sessions (Lloyd Park only)
The Conservation Volunteers believes that every child and young person should have the opportunity to participate in regular, sustained and inspiring outdoor learning and play.
Our Learning Programme at Lloyd Park offers creative, engaging and practical outdoor education for EYFS, KS1 and KS2. Activities such as pond dipping, bird watching and habitat exploration complement the national curriculum for each year group and help to raise attainment in core areas. We support teachers in the delivery of learning outcomes, particularly animals and their habitats, plants, lifecycles, food chains and classification. All activities promote hands-on learning through nature, working together and having fun in the park safely.
If you have any questions or would like to book a session please contact Project Officers Hannah and Becky.
Email: walthamforestlearning@tcv.org.uk
Phone: 07976 296439 or 07483 050 749
Greenwich Ecology Park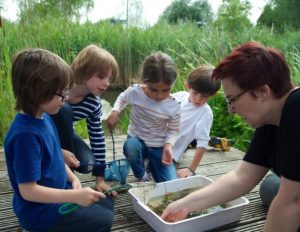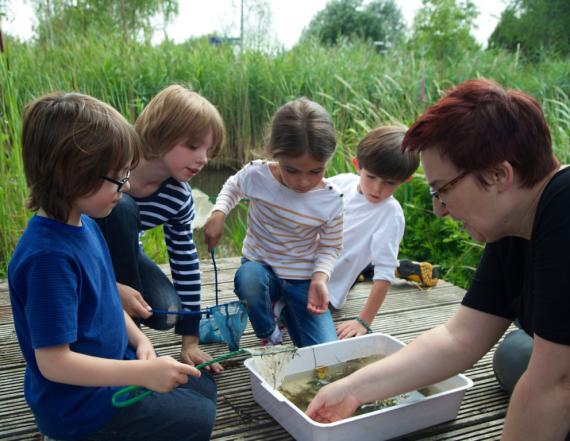 When the park is closed to the public on Mondays and Tuesdays, schools can book visits and enjoy an inspiring hands-on experience of nature, which is closely tied to the National Curriculum. We make sure that every class experience a wide range of plants and animals (mostly minibeast size) but there are seasonal highlights!
There are also family events in holiday so to find out more please see our Greenwich Peninsula Ecology Park pages.
Or contact Joanne or Tony on 0208 293 1904 or email gpep@tcv.org.uk for more information.
Railway Fields
Railway Fields is a small, 2 acre Local Nature Reserve in the heart of the urban neighbourhood of Haringey and offers a full spring and summer schools programme. Please see here for more information about education at Railway Fields.
The visit to Railway Fields inspired the children to get excited about nature and wildlife.
For more information get in contact with the education officer on 020 8348 6005 or haringey@tcv.org.uk