Join the TCV Biodiversity Action Team Richmond and Hounslow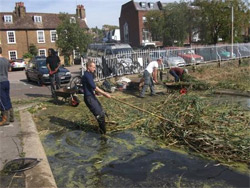 Despite knowing that we could continue to deliver many volunteering programmes in a COVID-secure way, we decided to suspend them early last month in order to avoid putting further strain on health systems which, in some places, were in danger of becoming overwhelmed.
Since then, conditions have improved considerably. Across the UK, the average number of new daily cases is down to levels comparable with late early October, while the daily number of people in hospital who have tested positive for COVID has fallen to levels similar to before Christmas. Lockdown began to ease in Scotland this week with the reopening of schools, and England and Northern Ireland are planning to follow suit, to different extents, from 8th March.
With so many people and communities depending upon green spaces for free access to nature, exercise and recreation – and let's not forget that climate and ecological emergency, of course – it is, therefore, TCV's intention to resume all volunteering activities at the earliest opportunity from 8th of March in Richmond.
All activities will be risk assessed and follow our COVID-19-secure guidance.
If there are any questions, please don't hesitate to get in touch.
Upcoming activities
Who can volunteer with us
Our projects are open to all ages (minimum age 16 with adult supervision , or 18+ if you want to attend by yourself) You don't need to have have any practical skills – we'll help you learn. And if you want to get more involved you can become a volunteer officer – and help run the project.
Why should I get involved?
Our volunteers get as much out of it as the local environment! Here are some of the many benefits they enjoy.
Contribute to a better local environment
Get fit the eco friendly way
Meet new people
Have fun and learn new skills
Enjoy beautiful surroundings
Contact
For more information please contact:
Holly Weber
Biodiversity Action Team West London Project Officer

The Conservation Volunteers
ETNA Community Centre
13 Rosslyn Road
Twickenham
TW1 2AR
Mobile: 07764 655 667
Email: Holly.Weber@tcv.org.uk