Join the TCV Biodiversity Action Team Richmond and Hounslow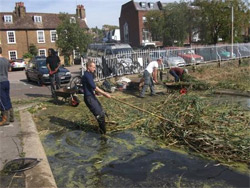 Fancy getting involved in practical conservation projects and being outdoors? We have projects Tuesdays, Wednesdays and Thursdays. Meeting at The Embankment, Twickenham, TW1 3DU at the garage almost opposite the footbridge to Eel Pie Island at 9.55am or at 10.20ish at the site, returning by around 4pm.
Upcoming activities
Our projects are open to all ages – you don't have have any practical skills – we'll help you learn. And if you want to get more involved you can become a volunteer officer – and help run the project.
Why should I get involved?
Our volunteers get as much out of it as the local environment! Here are some of the many benefits they enjoy.
Contribute to a better local environment
Get fit the eco friendly way
Meet new people
Have fun and learn new skills
Enjoy beautiful surroundings
Contact
For more information please contact:
Laura Brackenbury
The Conservation Volunteers
ETNA Community Centre
13 Rosslyn Road
Twickenham
TW1 2AR
Tel: 020 8607 9890
Mobile: 07764 655 667
Email: laura.brackenbury@tcv.org.uk