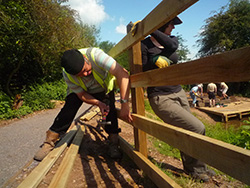 Welcome to The Conservation Volunteers in The National Forest.
We work in partnership with the National Forest Company to deliver community volunteering projects within the National Forest, offering a wide range of opportunities for people of all ages and abilities to become involved and make a positive contribution to their local environment.
How you could get involved
Conservation Volunteering
Join our practical conservation projects in the National Forest every Tuesday and Thursday throughout the year. Minibus transport is available for volunteers and no experience is required. Learn a new skill and try something different to enhance your local wildlfe areas.
Community projects
We support a wide range of projects involving local communities in various parts of the National Forest. We are currently focussing our efforts at Swadlincote Woods and Pick Triange in Albert Village, giving the local community the chance to make a real contribution to the management of these sites so if you live nearby, find out how you can get involved!
Training
From short courses in practical skills such as hedgelaying, dry stone walling, and woodland management to long courses that can lead to a career in the environmental sector, we offer a great chance to try something different whether you are thinking of a career change or simply just fancy having a go.
Key Volunteer Programme
We offer regular opportunities to get more involved with The Conservation Volunteers in The National Forest by becoming a Key Volunteer. Playing a key role in our organisation, this is an excellent chance to gain valuable work experience. See the Key Volunteer opportunities list for current vacancies.
Contact the office for details of all the opportunities listed above.
Contact
Kay Thompson
TCV National Forest Project Officer
The Conservation Volunteers
National Forest Office
Measham Business Centre
56 High Street
Measham
Swadlincote
DE12 7HZ
Work days: Monday, Tuesday, Friday
Tel: 01283 215882
Mob: 07740 899 693
Facebook: facebook.com/TCVnationalforest
Twitter: twitter.com/tcv_nat_forest
Email: kay.thompson@tcv.org.uk