It was with great sadness that we learned of the recent passing of George MacQuarrie, a long-standing friend and supporter of TCV and its predecessor organisations – the British Trust for Conservation Volunteers, and Scottish Conservation Projects.

George was originally employed by BTCV in the early 1980s to help develop volunteer projects and environmental job training schemes in Glasgow and South West Scotland. In the years that followed George worked for, and led, a number of organisations – the Tarbat Discovery Centre in Easter Ross, Solway Heritage in Dumfries, and the Kilpatricks Project near Glasgow, plus some time working in Yorkshire.
Before retiring on health grounds, George was National Secretary for the ScotWays charity, whose aim is to protect and develop access to the Scottish countryside. This was an ideal fit for George given his own love for the outdoors and the hills, including Scotland's Munros, many of which he climbed in the company of his Border Collie, Beinn (Gaelic for mountain).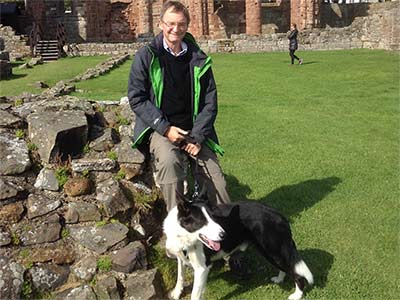 Despite working for several other organisations, George maintained his support for and involvement with TCV. In a purely voluntary capacity he freely gave his time and experience to TCV over many years. Even after retiring George maintained his involvement up until the present day, as a trustee of the Chestnut Fund, the TCV-backed charity which provides essential grants to help volunteer groups protect their local environment.

His son Alan writes:
George had a passion for the outdoors, the environment and its conservation from an early age. Following his M.A. from Glasgow University and a brief foray into teaching his career in conservation, his lifelong connection with TCV began in 1980 when he took up a post as BTCV Scotland development officer.
Subsequently he became an active volunteer. As a child, I recall his trips to London as a member and then as chair of the board. Both my sister Jane, and I, fondly remember many childhood weekends spent on guided walks and other events George was running or family walks in the countryside where George loved to spend his free time.
George spent the rest of his career in conservation most recently as national secretary of the Scottish Rights of Ways and Access Society. After retiring, and fully aware of his illness, George continued as a trustee of the Chestnut Fund and was still working on the Fund's constitution until his final trip to hospital. Conserving the environment was never far from George's mind, whether he was converting his car to run on LPG, supporting ethical investment for his baby grandson or in his choice of a woodland burial complete with environmentally friendly coffin.
George devoted his working life and much of his personal time and energy to the protection and enhancement of the environment, particularly in his native Scotland. His legacy is the hundreds of green spaces, habitats, heritage sites and pathways that he helped to create, protect and maintain for the benefit of us all.