TCV's Green Gym initiative has been awarded almost half a million pound (£475,000) investment by the Cabinet Office and innovation foundation Nesta.
Recognised by the Department of Health and GPs as having a significant impact on the health and wellbeing of those who take part, Green Gyms are outdoors sessions during which instructors guide individuals through activities such as tree planting, food growing, creating footpaths and maintaining woodlands. Improving the health and wellbeing of the individual and creating improved community spaces for all to enjoy.
Unlike other conservation projects, the emphasis of Green Gyms is very much on health and fitness – volunteers warm up and cool down in preparation for what can be quite vigorous exercise. Almost a third more calories can be burnt in Green Gym sessions than in an average aerobics class. This innovative way of getting people active and healthy whilst benefiting their local communities was the reason why TCV was awarded funding.
The funding will be used to support the growth of dedicated Green Gym staff, both nationally and locally. This will enable the charity to grow the Green Gym movement to improve the health of communities across the country and develop outdoor spaces for those communities to enjoy.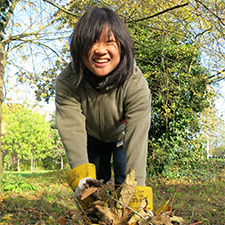 Green Gyms are free to join, and are currently run in over 130 locations across the UK. TCV plan to grow and support over 600 sustainable Green Gyms over the next 5 years. This will enable more than 15,000 people to improve their health and the places where they live.
The funds awarded to TCV are part of the wider Centre for Social Action Innovation Fund set up by Nesta and the Cabinet Office. This forms part of an exciting cohort of programmes supporting the scaling up of innovative and impactful social action initiatives nationally.
We are delighted to have the opportunity to grow our Green Gym offering as a result of the funding awarded by the Cabinet Office and Nesta. Green Gyms are free, fun and help people get fit at the same time as improving their community space. The funding will enable more people, and more communities, to benefit from this brilliant resource.

As the new year begins, people up and down the country will look to make good on their resolutions to get fitter and healthier. Thanks to the funding, TCV will be in a position to help Britain get healthy.

Julie Hopes, Chief Executive of The Conservation Volunteers
Rob Wilson, Minister for Civil Society, said "I'm delighted to announce our investment in Green Gyms through the Centre for Social Action. Thanks to the Cabinet Office and Nesta, this funding will create over 600 sustainable Green Gyms nationally supported by a network of dedicated staff, helping to create fitter, healthier communities."
Vicki Sellick, Director at Nesta, adds "The Centre for Social Action Innovation Fund is supporting an exciting and novel range of programmes that are helping to tackle some of our biggest social challenges; from helping young people find work to making sure we age well. We know that when people are generous with their time, helping others alongside public services, outcomes are improved – patients get better faster, children who've fallen behind at school catch up quicker, isolated older people feel less lonely and much more."