The Conservation Volunteers (TCV) are pleased to announce that this National Tree Week, the largest Miyawaki mini urban forest project in Europe to date begun with 32,000 native trees planted to create the Forest of Thanks in Parsloes Park, Dagenham.
The 32,000 native trees have been donated by the NatWest Group, which includes Coutts, and the project with TCV is also partnered with Barking & Dagenham Council, Thames Chase Community Forest, SUGI and Wild Urban Spaces.
The Forest of Thanks will become a permanent urban oasis to thank all our key front-line workers and NHS staff that have done so much for their communities during the COVID pandemic.
The Conservation Volunteers is a UK charity that connects people and green spaces, through activities such as tree planting, to tackle the climate and ecological emergency and provide lasting outcomes for people, communities and nature.

We're proud to be a part of this fantastic partnership which will employ both traditional and innovative new tree planting methods and Parsloes Park, a valuable local green space." 

Darren York, CEO of The Conservation Volunteers
The urban forest has the potential to absorb 24,000 tonnes of CO2 over the trees' lifetime and the project kickstarts a green network of urban forests throughout the UK creating biodiversity highways across our cities for wildlife and nature.
The first 10,000 trees have been planted on behalf of Coutts, the wealth manager and private banking arm of NatWest Group, and is part of its wider plan to plant a tree for every customer that signs up to 'go paperless'.
At NatWest Group, our aim is to be a leading UK bank addressing the climate change challenge. We have committed to our operations being climate positive by 2025 and with our partners at The Conservation Volunteers charity, we want to plant 100,000 more trees in the next 12 months which will benefit the environment and give communities natural environments that they can enjoy."

Kirsty Britz, Director of Sustainable Banking at NatWest Group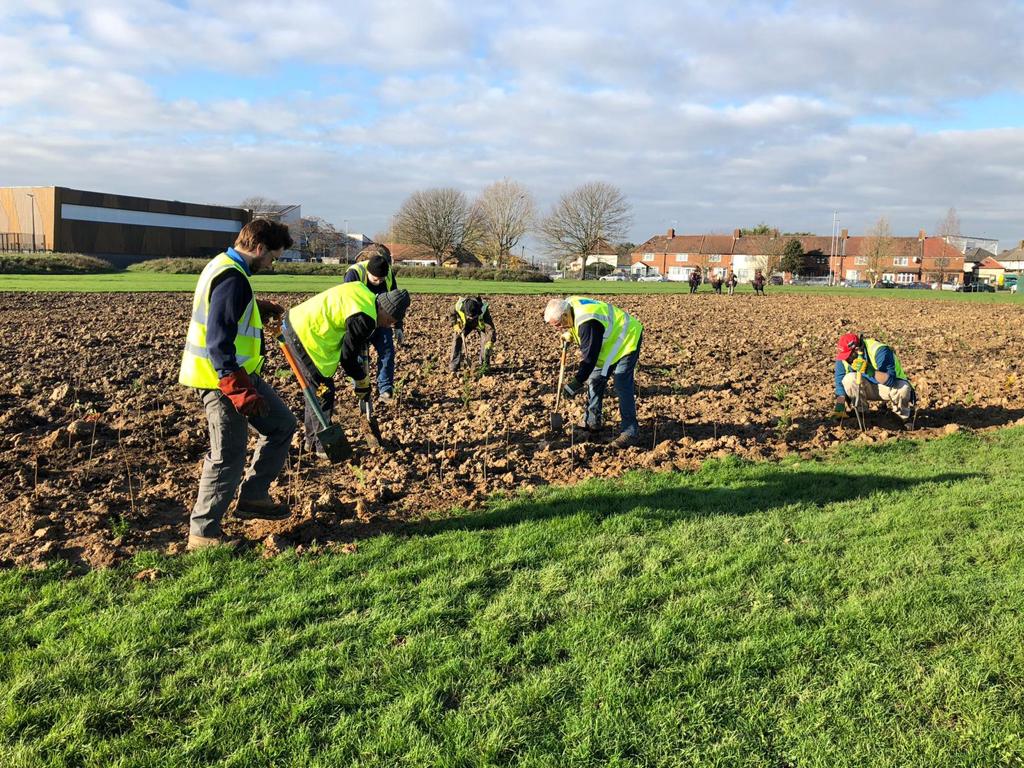 With what has been extremely difficult times for residents in the borough and everyone else in the world, we must recognise those who especially went above and beyond to help those who needed it most. This is for every worker, whether that is a retail worker, council staff member or anyone else that during this time, has been keeping our community going and keeping people safe. But also, to remember those who sadly passed away during this pandemic. 
 
We wanted to recognise those individuals in a very special way and one that would benefit the local community and The 'Forest of Thanks' will be there to show our appreciation for all the incredible work they continue to do."

Cllr Darren Rodwell, Leader of Barking and Dagenham Council
The Miyawaki Method was pioneered by Japanese botanist Dr Akira Miyawaki. The process helps build dense, native forests and the approach is designed to encourage tree growth that is up to 10 times faster, resulting in a plantation 30 times denser than usual.
The Miyawaki Method is regarded as one of the most effective tree planting methods for creating forest cover at speed, on land that has been used for other purposes, such as agriculture or construction.