Lorna Slater, Minister for Green Skills, Circular Economy and Biodiversity, visited us to understand more about people's connection to nature and the biodiversity crisis.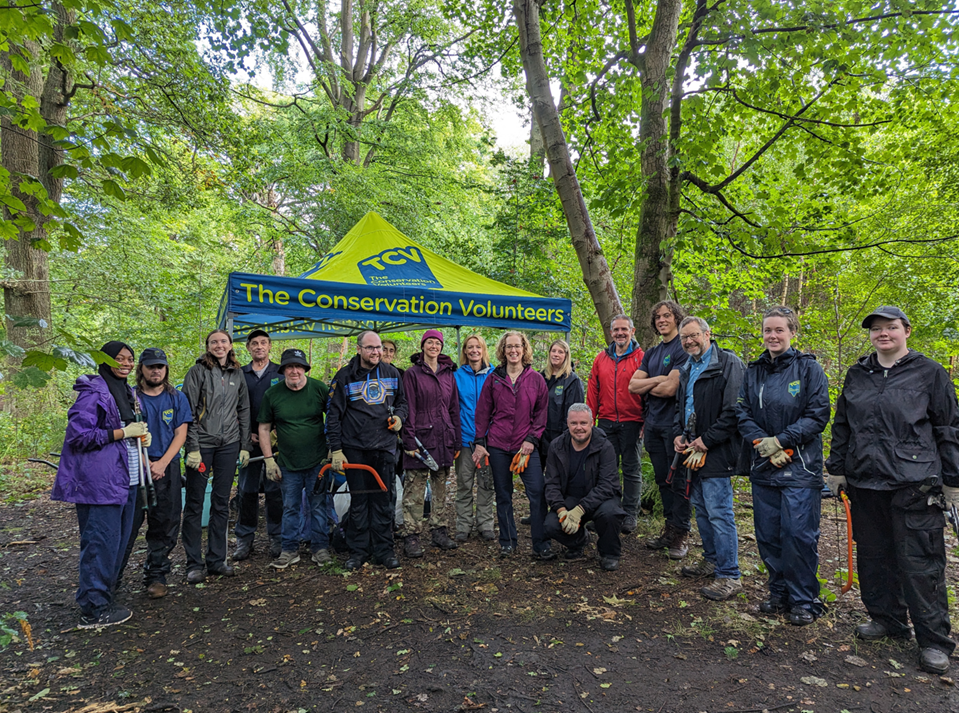 The Conservation Volunteers in Scotland with Minister for Green Skills, Circular Economy and Biodiversity Lorna Slater (8th from right), TCV Acting Chief Executive Debbie Adams (9th from right), TCV Trustee Keith Connal (3rd from right) and TCV staff and volunteers.
Ms Slater visited one of our sites at Maryhill in Glasgow, where she met with the volunteers who enrich the area's biodiversity and make it accessible for local people.
Our project at Dawsholm Park and the River Kelvin walkway that Ms Slater visited provides an opportunity for people to experience hands-on connection to nature and to come together to make a difference to their green space.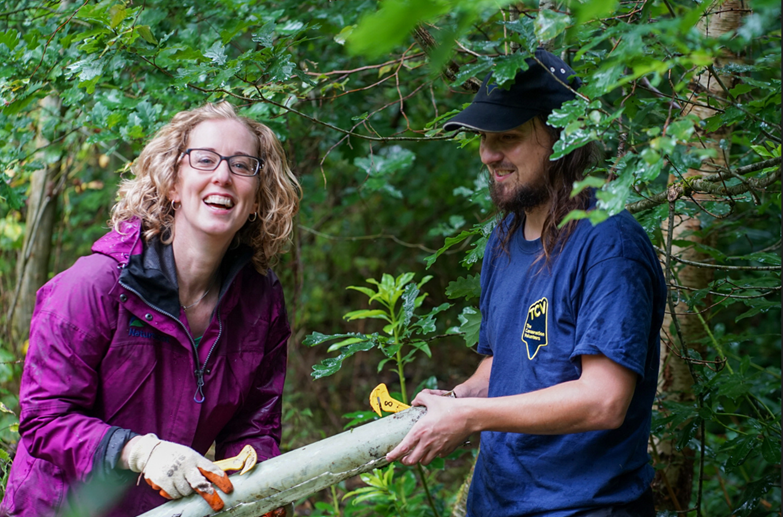 By completing tasks such as removing invasive species and clearing paths so they are safe for the public, TCV volunteers facilitate local people's access to and enjoyment of an important green space in Glasgow. This in turn assists their connection to nature: raising awareness of biodiversity loss.
This is particularly important in urban communities such as Maryhill, which Ms Slater saw first-hand during her visit to the TCV project. Community volunteers are essential to the achievement of the Scottish Biodiversity Strategy Delivery Plan's ambitions for urban nature, as a sense of ownership of local and national nature reserves encourages communities to protect them.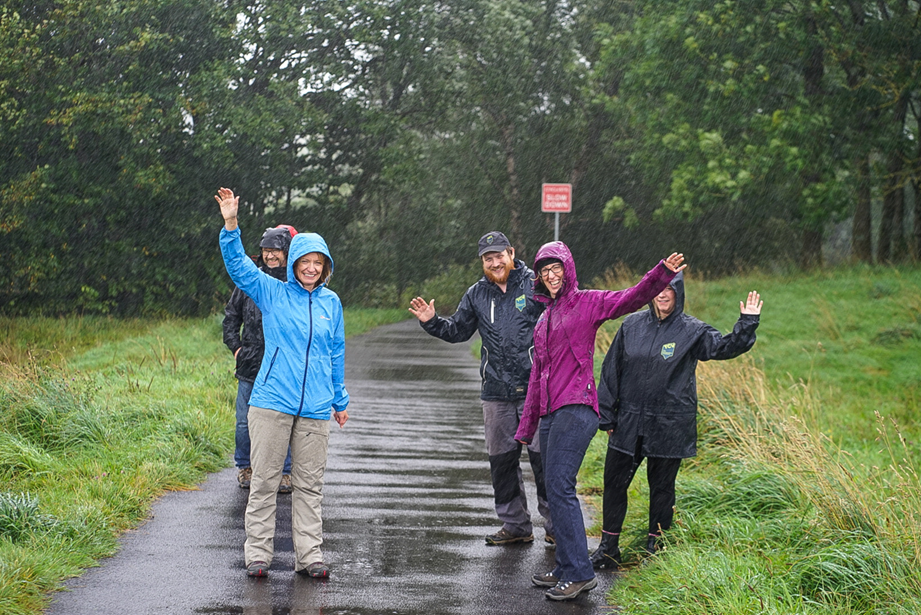 TCV's community engagement and volunteering projects in green spaces results in multiple outcomes. Volunteers see an improvement in their physical and mental health and wellbeing and develop their skills alongside the environment and community gains. This is an important contribution to Scottish Government's agendas for Equality, Diversity and Inclusion; health; education and skills.
Work on key sites at Glasgow has been made possible by our partnership with Glasgow City Council and NatureScot.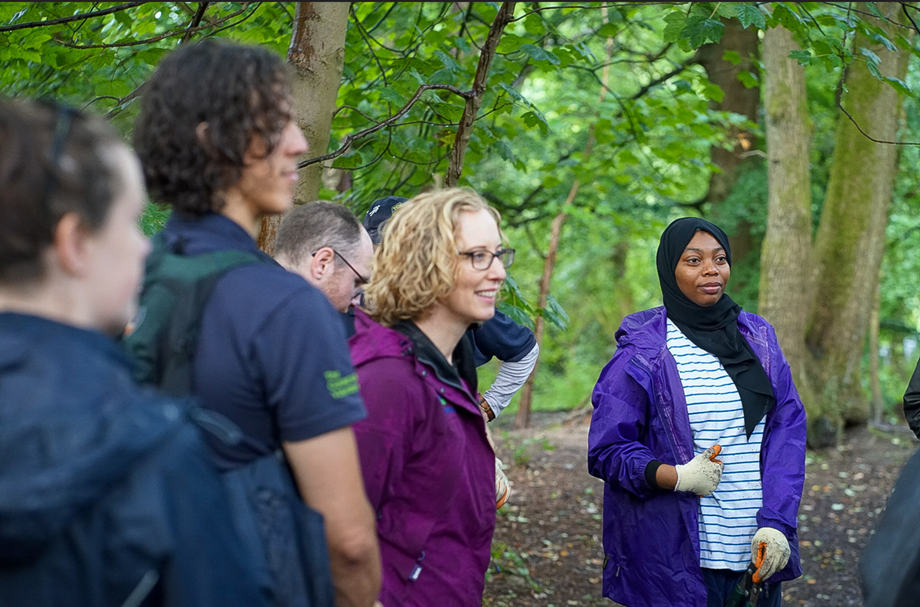 Lorna Slater, Minister for Green Skills, Circular Economy and Biodiversity, said:
"It was inspiring to meet the volunteers and staff from The Conservation Volunteers at Dawsholm park and hear about the work they are doing to remove invasive non-native species from the park and Kelvin walkway.
"This dedicated and enthusiastic group has made a real difference to improve the area not only for local wildlife but also for people's use and enjoyment.
"Community actions such as these in green spaces across Scotland will be critical if we are to reach our ambitious targets to halt the loss of nature by 2030 and restore it by 2045. I would encourage anyone who is interested in making a real difference to their area by helping to restore nature to visit their website and become a volunteer."
TCV works in partnership with NatureScot and Scottish Government to connect people with nature; creating positive outcomes for Scotland's greenspaces, biodiversity, individuals and communities. TCV volunteers transform hundreds of greenspaces across Scotland for the benefit of nature and local communities.
Debbie Adams, TCV Acting Chief Executive said: "I was delighted we could show the Minister the important role that volunteers play in improving green spaces for people and for biodiversity. Last year our regular TCV volunteers gave over 17,000 days of their time to projects in Scotland making positive contributions for nature and to their own lives. It was great that the Minister was able to see that effort first-hand and hearing her thank our hard-working volunteers for their work was really appreciated.
"In a time of scarce resources, the value of multiple outcomes gained from these activities cannot be under-estimated. These projects generate positive health outcomes, on physical and mental health, community benefits as well as much-needed outcomes for the environment and biodiversity. It is a really effective use of resources."
Keep up to date with the latest news and activities from The Conservation Volunteers by following on Twitter, Facebook, LinkedIn and Instagram. You can also sign up to receive our Greenzine newsletter for more ways to get involved.