It was with great sadness that we learnt of the recent passing away of Lady Dufferin. She has been a great friend and supporter to The Conservation Volunteers for over 35 years. A fantastic lady with a passion for the arts, the environment, and people, who will be greatly missed by many.
A combination of practical volunteer projects at Clandeboye Estate in 1984, clearing Rhododendron in the woodlands, started the relationship between TCV and Lady Dufferin and soon lead on to Clandeboye Estate resources and buildings being made available to TCV.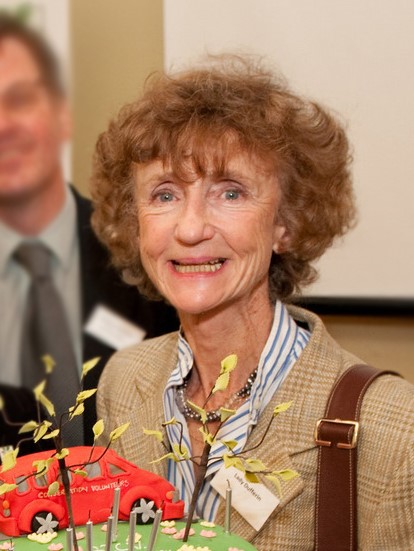 Derelict buildings in the Clandeboye Courtyard were renovated in 1987 to create Dendron Lodge, which provided a base for TCV training events, working holidays and projects in County Down. In the same year Lady Dufferin invited TCV to move its Tree Nursery project to the four-acre walled garden at Clandeboye Estate.
TCV are forever grateful for this generous support, enabling us to grow over 1.5 million native trees from seed and planted on many sites across Northern Ireland including schools, farms, nature reserves and community projects.
Click here to read more about TCV and Clandeboye achievements – produced for our 25th anniversary in Northern Ireland.
TCV Tree Nursery staff and volunteers have very fond memories of Lady Dufferin popping into the nursery to chat. She had a genuine interest in our volunteers and chatted comfortably with people from different nationalities and social backgrounds, taking time to get to know them and listening to their volunteering stories.
In addition to this Lady Dufferin was a TCV Vice President for over 30 years, representing our organisation with her strong motivation and drive for enhancing biodiversity and environmental education. Lady Dufferin was in her element, hosting and attending many TCV events and networking and generating support for her life passions – an energy which she had in abundance.
TCV will be forever indebted to the generosity of Lady Dufferin and would like to extend our heartfelt condolences to her family and friends at this sad time.