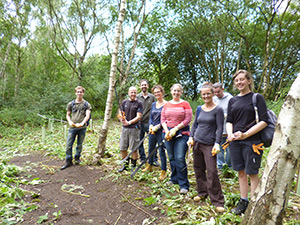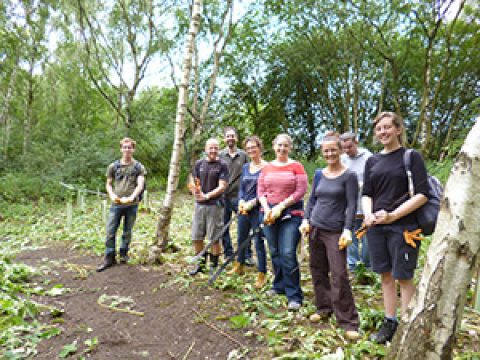 At TCV we are experienced and committed to working with businesses and their employees to achieve increased social, economic and environmental benefit.
Here in the North our Employee Action Days are bespoke and enjoyable team-building projects which give your team the opportunity to carry out practical conservation and environmental work to improve green spaces in your local community. This programme of activity connects your team with the community you work in, and is perfect way to build team dynamics and staff morale.
Get in touch to organise your corporate volunteering day
Please email corporate-enquiries@tcv.org.uk to find out more.
How will you benefit?
Corporate volunteering has been shown to:
Increase employee commitment, morale and motivation as employee volunteers have fun outdoors and make a difference to the environment
Enhance the skills and self-confidence of employees as they take on new challenges and learn unusual new skills
Encourage team building and communication of employees as they work together in a fresh new environment on a 'level playing field'
Create beneficial publicity and networks with potential partners and clients
Improve business green credentials and help meet CSR objectives
What will we be doing?
Projects take place across Greater Manchester, Merseyside and North Cheshire. Activities range from creating habitats such as ponds or wildlife meadows for threatened species, improving access to neglected public green spaces by building new paths and steps, learning traditional skills such as coppicing or hedgelaying, or creating spaces for communities to grow food.
Throughout the day, the volunteers will be able to choose from a range of tasks requiring various skills and fitness levels. They will receive appropriate training and learn new skills. Working at their own pace in teams outside of the working environment, they will be able to build new synergies with their co-workers as well as identify their own strengths and skills. The group and individual will receive a satisfying challenge as well as the sense of accomplishment from achieving the tasks. They will come back energised and with the satisfaction of having made a significant contribution.
What does it cost?
As a charity we are committed to full cost recovery and we will work together to your requirements and budgets.
Costs include:
Trained volunteer support officers to lead your day – great care is taken to ensure that all employees and volunteers have a safe, inclusive and enjoyable experience
Project planning and set-up costs
Full risk assessment and insurance
Provision of tools and safety equipment