Our Citizen Science project 'HogWatch Scotland' is funded by The British Hedgehog Preservation Society until April 2023 to monitor hedgehog populations and create suitable habitat. It aims to understand more about the declining species in Scotland by conducting torchlight surveys, a variety of events and training courses, working with schools and implementing hedgehog friendly changes in the landscape. Our Hedges for Hogs campaign to plant and connect habitat has to date planted over 1,500 native hedge plants. This extended project through the whole country follows the success of the 'Glasgow HogWatch' project across Glasgow and the West of Scotland.
We are supporting Hedgehog Street, a campaign by The People's Trust for Endangered Species and the British Hedgehog Preservation Society to recruit Hedgehog Champions and raise awareness of our prickly friends. To find out more about hedgehogs in the UK read the latest State of Britain's Hedgehogs Report here.

We are pleased to have been awarded a Digital Engagement Grant from the British Ecological Society to create a lending library of wildlife monitoring equipment including trail cameras and mammal footprint tunnels. HogWatch at Home offers you the chance to borrow these for up to four weeks. We are interested in your hedgehog sightings, but of course this is a wonderful opportunity to understand and watch all kinds of nocturnal wildlife in your garden.
Get Involved – in five easy steps
Volunteer on our Hedgehog Safari
Submit a sighting 
HogWatch at Home – Monitor in your own garden
Become a Hedgehog Champion
Take part in a hedgehog course
Volunteer
In coming months we hope to run hedgehog torchlight surveys in key locations in Central Scotland to map and monitor hedgehogs. This follows 4 successful surveys in Glasgow in 2019, although our surveys were then delayed due to the COVID pandemic. With the easing of restrictions please check back for details for the 2022 surveys, for which training is essential. In the meantime, please do take part in the Garden Survey (details further down) or submit a hedgehog sighting.
We are keen to hear from Primary School's across Scotland who would be interested in our 'Hedgehog Friendly School' package. We are currently working with 16 schools across Scotland. We offer a presentation, minibeast safari, hedgehog friendly school checklist, hedge planting for schools, mammal tunnel surveys and art & craft activities. Get in touch to register your interest – citizenscience-scotland@tcv.org.uk.
Submit a Sighting
When did you last see a hedgehog in Scotland? Hedgehog sightings are vital to this project. It is important to track hedgehog populations across Scotland and pass these on to the national databases so we can create a picture of hedgehog health in the UK. If you have recently seen a hedgehog or have one visit your garden please email three simple pieces of information to citizenscience-scotland@tcv.org.uk
Date
Location of hedgehog: postcode and address or grid reference
Status: alive/dead/roadkill
HogWatch at Home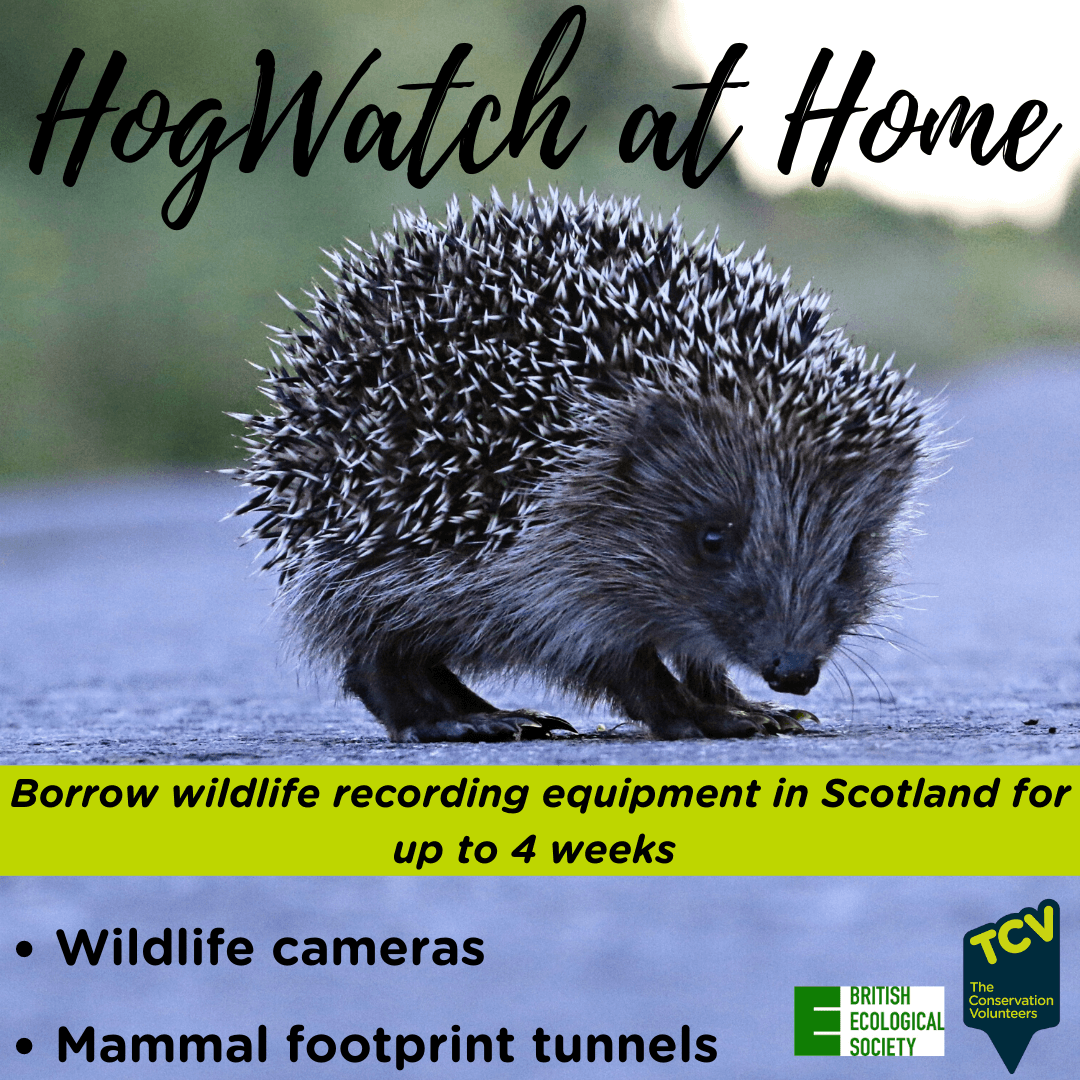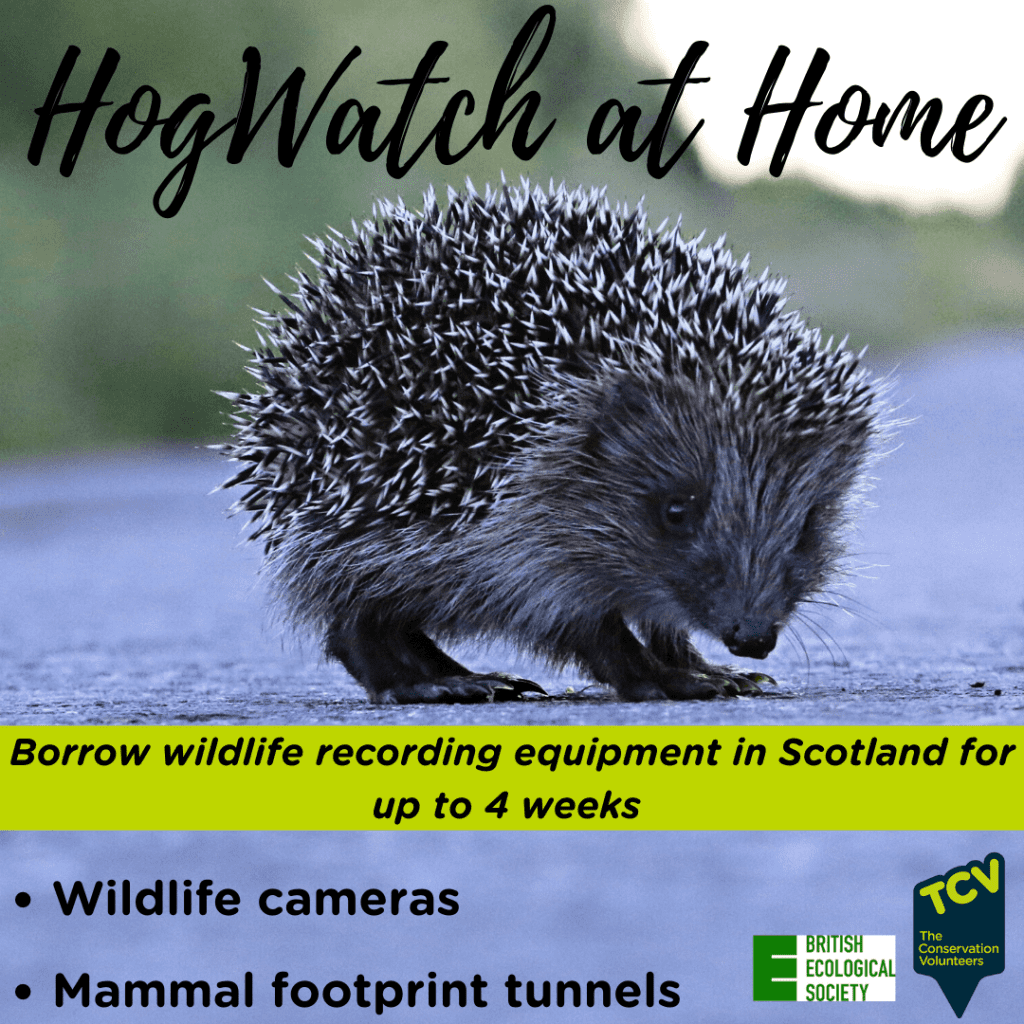 Our HogWatch at Home project aims to help communities and individuals engage with local wildlife. We are offering the chance to borrow monitoring equipment free of charge for up to four weeks. This digital engagement project is open to all ages and abilities. We want to hear from you if you have an exciting animal find which is captured on film in your garden. In this way you will also be contributing to hedgehog and wildlife records which help us understand more about garden wildlife.
Why not take a look at out 'Hogs at Home' educational activity pack for some ideas the whole family can take part in too! In partnership with Glasgow Science Centre we have some top tips on using or making a mammal footprint tunnel in your garden, plus a guided video.
Equipment
Infrared trail camera
Mammal footprint tunnel kit (with footprint identification guide, wildlife friendly ink pads and ground pegs)
Borrow for up to four weeks
Suitable for families, community groups, schools, allotment, resident associations. No age or ability limit
If you're interested in borrowing a mammal tunnel footprint kit and finding out if you have hedgehogs in your garden, please get in touch at citizenscience-scotland@tcv.org.uk for more details and to arrange collection of a kit from our Glasgow office.
Hedgehog Champion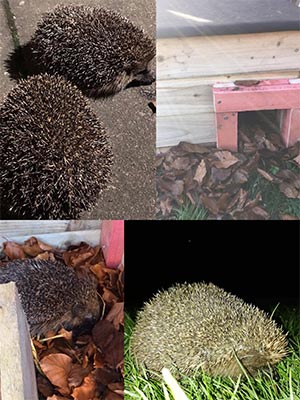 In support of the Hedgehog Street campaign, we want to help put Scottish hedgehogs on the map and we need your help to do so. If you want to ensure your local area has hedgehogs for generations to come you can help by signing up to become a Hedgehog Champion for free.
Over 30,000 have already done so, but we are lacking representation in Scotland! Through the HogWatch project we have over 50 new representatives for hedgehogs. Could you join them?
Hedgehog Street is a community for those with an enthusiasm for hedgehogs and will give you access to loads of free useful resources to help spread the word and to help you find out more about hedgehogs.
Hedgehog Training Courses
We have previously organised a variety of in-person and online presentations, workshops and training courses, which we intend doing so again later in 2022. Please keep an eye out for any future events on our TCV Eventbrite page . You can also watch the RSPB Mysterious Mammals Wild Webinar event with details about our project.
Why hedgehogs need your help?
Hedgehogs travel around one mile each night through local gardens and parks in order to find enough food and search for a mate. If you have a fully enclosed garden you might be getting in the way of their plans, and possibly even preventing love from blossoming!
Research has concluded that one of the main reasons why hedgehogs are declining in Britain is because our fences and walls are becoming more and more secure, reducing the amount of land available to them.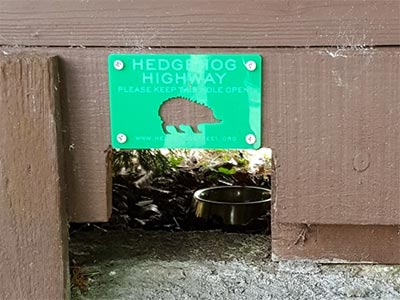 One of the easiest ways you can help is by making sure hedgehogs can pass freely through your garden and pledging to create a hole in your wall or fence. Around 13cm x 13cm is a perfect size, and too small for most pets. Encourage your neighbours to connect also, and help create hedgehog highways through urban areas of your town.
More information at hedgehogstreet.org
Hedgehog friendly gardens
Hedgehogs aren't particularly fussy but they do thrive best in a messy garden. Once you have connected up your garden with a 'Hedgehog Hole' there are some other simple changes which you could make. Here are a couple of key features which can help your local 'hogs'.
Log piles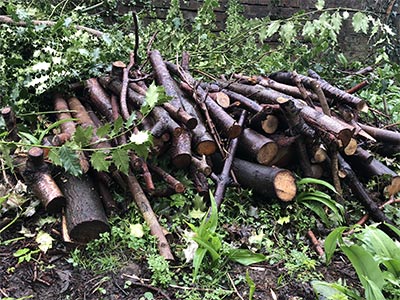 This is one of the best garden features for wildlife, especially the hedgehogs, plus it's easy to create. Log piles provide a safe, secure site for breeding or hibernating and offer a year-round food supply for hedgehogs as insects love deadwood.
Collect any old dead wood from your garden or ask the local park for permission to take some from their supply and pile it up in a quiet corner of your garden – the bigger, the better. As the wood rots down you can replenish the logs from time to time.
Leaf piles
Not only can leaf piles be used as a potential nesting site but they can also be used for bedding material for any other nest sites or hedgehog boxes in the surrounding area. Please be careful when tidying leaf piles as there may be a hog in residence!
Overgrown corner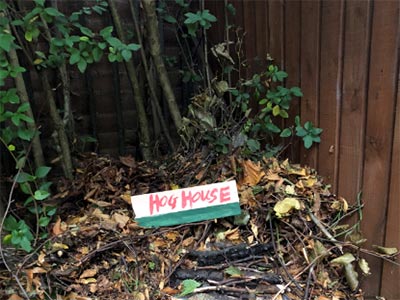 It is usual for most gardeners to have a big tidy once or twice a year. This can remove nesting or hibernation sites for hedgehogs, and reduce the number of insects in the garden (essential hog food). Pick a corner of your garden and leave it to go a bit mad, remember messy is good for hedgehogs!
Ponds
This hedgehog-friendly feature is often overlooked but every garden should have one! Hedgehogs will benefit from having a year-round water supply, and they will thrive on the added insects and amphibians that the pond will attract. Hedgehogs are excellent swimmers, but be sure to include a gently sloping edge in your pond for them to escape and prevent them from drowning.
Hedgehog homes
Whilst semi-natural features such as those listed above are much better nesting options for hedgehogs, they can and do use specially made hibernation homes, or 'hibernacula'. These can be created using wood, plastic boxes and other material and extensive guidance is found through the link below. Here's our TCV guide to creating a Hedgehog Hibernation Home, plus a guided video.
Plenty more fantastic ideas and further advice can be found on the Hedgehog Street website
Found an injured hedgehog?
If you have found a hedgehog you are concerned about please use gardening gloves to collect it, bring indoors and put in a high sided cardboard box with an old towel or fleece in the bottom for the hedgehog to hide under. Put the box somewhere quiet.
Fill a hot water bottle and wrap in a towel, place this at the bottom of the box to ensure a gentle heat comes through. Make sure the hedgehog can get off the hot water bottle if it becomes too warm. Always keep the water warm, if it becomes cold it will chill the hedgehog and do more harm than good. If the hedgehog is bleeding, avoid using a hot water bottle as this will increase the bleeding.
Offer meaty cat or dog food and freshwater and for further advice call Hessilhead Wildlife Rescue Centre on 01505 502415 or the Scottish SPCA on 03000 999 999. You can watch a tour of the Hedgehog Hospital at Hessilhead here.
Contact
Follow us on social media for updates and highlights:
Facebook: TCV Scotland
Instagram: @tcvscotland
Twitter: @TCVScotland
For more information, to volunteer, submit sightings and register your interest in our equipment loan scheme, please contact:
Eilidh Call TCV Hedgehog Project Officer
Unit M1, Rosemount Business Park
143 Charles Steet
Glasgow
G21 2QA