Swarm – a beautiful creative project hosted at Skelton Grange
Walk inside a 'hive' of 50,000 bees
19th August – 16th September 2017
A celebratory exhibition and installation at Skelton Grange Environment Centre
Skelton Grange Environment Centre in Leeds celebrated its 25th birthday in 2017 with artistic flair! Skelton Grange is a popular community and education hub managed by The Conservation Volunteers charity. Just two miles south of Leeds centre, the beautiful Skelton Grange eco-building is set in a 10 acre nature reserve reclaimed from a formerly industrial site. The centre has large, natural-lit spaces looking out onto a fruit orchard and vegetable gardens, apiary, ponds, woodland and wildflower meadows. This has achieved over 25 years by, and for the Leeds community, connecting more than 150,000 people with their local environment and its story.
The Swarm exhibition and installations have been inspired by bees, wildflowers and our natural environment, using materials reflecting Leeds' industrial heritage.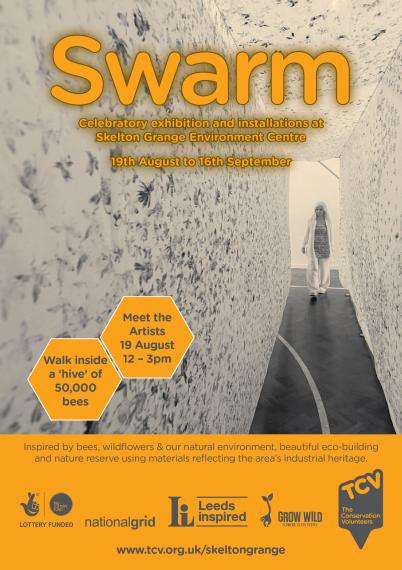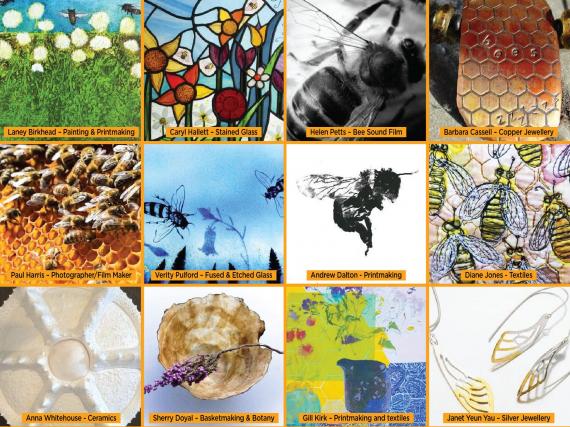 Laney Birkhead's inspirational Swarm installation formed the heart of the exhibition, and visitors could walk inside a 'hive' of 50,000 hand printed bees. A documentary film produced by Paul Harris was also screened, telling the story of how hundreds of people from all over Yorkshire helped print the 50,000 bees, and turn them into an art installation.
The event also featured new permanent willow, wood, ceramic and beeswax artworks made for Skelton Grange with support from Leeds Inspired and Grow Wild. These new artworks have been made by Leeds schools and community groups, and include a ceramic wildflower meadow inspired by the Tower of London poppies, carved spoons made of wood harvested from the Skelton Grange nature area, and a record of the site's wildflowers through the seasons preserved in natural beeswax.
Visitors also enjoyed beautiful art and craft work created by the Swarm collective of twelve local artists and makers in response to the plight of the honeybee and other pollinators – their range of prints, glass, jewellery, prints, film, ceramics and textiles are truly inspiring to see. Interesting pieces to listen to will include the Be One soundscape from the 'Hive' exhibition at Kew Gardens, featuring sounds of the beehive.
Find out more about the Swarm collective of artists:
Laney Birkhead – Painter, Printmaker
laneybirkhead.com
Barbara Cassell – Copper Jewellery
www.barbaracassell.co.uk
Andrew Dalton – Printmaking
www.andrew-dalton.com
Sherry Doyal – Basket Making
www.tanacetum.co.uk
Caryl Hallett – Stained Glass
www.carylhallettstainedglass.co.uk
Diane Jones – Embroidered Pictures
dianejonestextiles.com
Paul Harris – Photography/ Film Making
www.paulharrisphotography.com
www.vimeo.com/phpProductions
Gill Kirk – Printmaking, Mixed Media Collages & Textiles
www.facebook.com/gill.kirk2
Helen Petts – Bee Sound Film
www.helenpetts.com
Verity Pulford – Fused and Etched Glass
www.veritypulford.com
Anna Whitehouse – Ceramics
www.anna-whitehouse.co.uk
Janet Yeun Yau – Silver Jewellery
www.yeunjewellery.co.uk