The Conservation Volunteers have considerable experience in delivering successful employee action days, and can offer a range of practical opportunities for teams of 6 – 40 people. These opportunities can make a real difference to a local community project, as well as supporting your Corporate Social Responsibility objectives and providing networking opportunities for staff.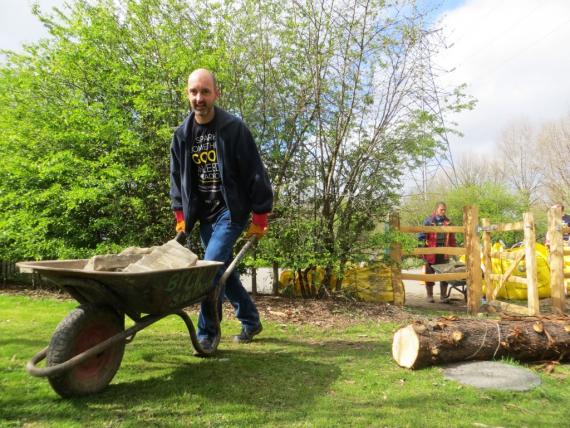 Employee Action Days at Skelton Grange
Your team can carry out valuable work to support the development of the site at Skelton Grange, a valuable urban reserve for wildlife and an exciting and varied green space for children and other visitors to the site.
You will work alongside trained leaders from our experienced site management team. They will support your team through the work, providing training and guidance, and explaining the long term value and context of the work in our wider site management plan. Our leaders will always aim to provide a fun and enjoyable work site, within a framework of safety, with a range of tasks available to suit differing levels of ability and practical experience.
We are based on a site in South Leeds, just 2 miles from Leeds City Centre and with excellent transport links to the M1 and M62. Most tasks take place in our wildlife and education area, although teams have also carried out painting and display work within our sustainable environmental centre building as well.
Recent tasks that teams have carried out include:
Constructing a giant spider shaped flower bed for sensory plants
Installing a green roof on an outdoor shelter at the centre
Tree planting to create a new area of woodland
Habitat management work on our ponds, meadows and hedgerows
Meeting rooms and away day opportunities
It is possible to arrange a two-part event, combining a part day's practical work with a meeting housed within our award winning sustainable building. Please contact us for more information on this option.
Team Building and other opportunities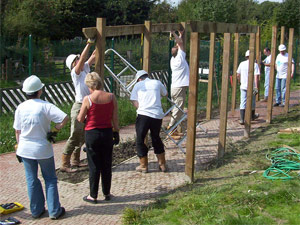 We are also able to offer more unusual events that can support team building and networking opportunities based within our wildlife area. We can run training in bushcraft skills such as fire lighting, outdoor cooking or green woodwork. Our experience is that campfire based activities such as these provide stimulation, creativity, lots of opportunities for communication and reflection – and they are also lots of fun!
Opportunities elsewhere
The Conservation Volunteers operate all around the country, so if you are looking for an opportunity elsewhere in West Yorkshire, or even further afield, we should be able to help! Please contact the Corporate Partnerships Team on 01302 388 837 or email corporate-enquiries@tcv.org.uk to find out more.
Costing & Logistics
Our standard Employee Action Days can be run for your team at a cost of £50 per person. This includes all leadership, training, support, and safety equipment for the day, as well as hot drinks and biscuits to keep people going on the day! Lunch can also be provided for an additional £10 per person.
Please contact us for current tasks and opportunities on the site. We can be flexible in our event planning to accommodate the needs of your team – please get in touch if you would like to discuss these options.
Organising the day
We are experienced in working with a diverse range of organisations, in the private, Government and third sectors, and will assist with planning and logistics to ensure that your team have a fun and rewarding day.
This includes:
Option of a site visit beforehand to discuss the project, discuss timetabling for the day and ensure that it will meet the requirements of all involved.
Full risk assessment will be provided for all activities, and insurance and health and safety provision, including first aiders, will be in place for all tasks.
All logistics for the day, including tools and equipment organised in advance.
Clear joining instructions, including directions and a timetable for the day, provided for all volunteers.
Facilitating the day to ensure it runs smoothly and provides a memorable experience for those involved.
A chance to explore the wildlife area at Skelton Grange alongside one of our team, to see how your work will contribute to this volunteer centred site.
Catering can be provided if required. Please contact us in advance to arrange.
We are also happy to recognise the efforts of your team on the day by photographing activities, both for your own records or for internal publicity and local media recognition. We are also happy to support this by writing a press release for local media if appropriate.
If you would like to make a booking or discuss your options please drop us an email or give us a call.