Employee Action Days give your team the opportunity to carry out practical conservation and environmental work to improve green spaces in the Yorkshire community. This programme of activity connects your team with the community you work in, and is perfect way to build team dynamics and staff morale.
We have a number of locations in which you can bring your staff together for a day out.
Leeds – Hollybush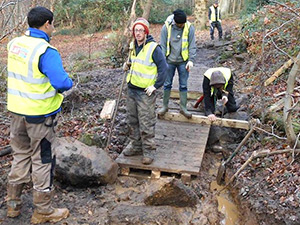 Hollybush Conservation Centre in west Leeds is an inspirational environmental volunteering centre and involves people in managing green spaces across Leeds and beyond. They work with hundreds of people each year to look after their own green places whilst benefiting their emotional, physical and social well-being. Your team can join us on a range of projects benefiting the Leeds environment and communities, including tree planting, creating footpaths and developing school wildlife gardens.
To find out more please contact Col Powell on c.powell@tcv.org.uk or telephone 0113 274 4864
Leeds – Skelton Grange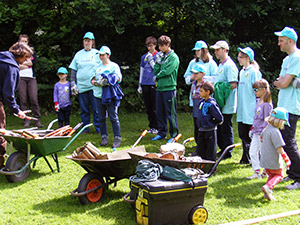 Skelton Grange Environment Centre in south Leeds is a 10 acre nature area and beautiful eco-building. It welcomes over 5000 children and adults a year to take part in environmental education and play activities, and supports volunteers to lead education sessions, conservation and biodiversity projects. Your staff can support us in managing our woodlands, ponds and vegetable gardens, and can also use our building and pizza oven for team meetings and fun!
To find out more please contact Toby Roberts on T.Roberts@tcv.org.uk or telephone 0113 2430815
York, Humberside & East Yorkshire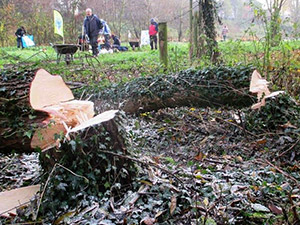 Our offices based in York and Hull carry out many interesting conservation tasks throughout our beautiful region, and run youth and food growing projects, as well as a Green Gym to improve people's health & fitness. You can support our work to care for natural environments in urban and rural locations, which may include traditional woodland techniques such as coppicing, or footpath and boardwalk construction and habitat management.
To find out more please contact Ian Jakulis on I.Jakulis@tcv.org.uk or telephone 07843 069568
What teams have said
As a team building event being involved with TCV was an excellent way to support an activity and for our team to get together. Thank you on behalf of Balfour Beatty for this opportunity
Very helpful, friendly and I fully understood the aims. Really enjoyed the day, and I think its amazing what you do.

RBS
What it costs
To ensure the financial sustainability of all our activities, we have to recover the costs of delivering any event. This means that we are able to continue our other great work with people and communities, transforming their health, prospects and outdoor places for the long term. These costs include:
Trained staff and volunteer officers to lead your day – great care is taken to ensure that your team members have a safe, inclusive and enjoyable experience
Project planning and set-up costs
Full risk assessment and insurance
Provision of tools and safety equipment
Please contact the staff above to discuss costs – it may be possible to negotiate on these if your company can provide skilled construction or engineering staff for instance or support the project in other ways such as providing materials. With enough notice we can also look to raise funds from other sources to bring a project together!
If you would like to find out about TCV's Employee Action days in other regions or to set up a national partnership, please contact the Corporate Partnerships Team at corporate-enquiries@tcv.org.uk to find out more.