The Conservation Volunteers offer a programme of free training and support to unemployed people, to help them gain skills and qualifications and move on to employment or further training. The Training for Employment Programme is funded by European Social Fund and Department for the Economy.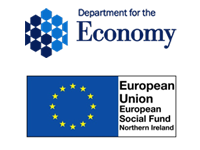 We offer this programme in two main ways, through a programme of volunteering and training with TCV's own projects or through outreach projects where TCV staff visit a community group on a weekly basis and provide training to a group at a venue close to where they live.
We help people gain skills relevant to both the land-based sector and many other sorts of employment.
The horticulture and land-based sector is a big employer and employment opportunities include:
Gardening
Parks and open spaces
Grounds maintenance
Greenkeeping and golf course management
Sports turf and sports fields
Garden centres
Landscape contractors
Plant nurseries
Private gardens and estates
There are also many jobs in horticulture which have quite low entry requirements and many seasonal jobs for the summer months. This makes it easier for you to get a first job and then move up to better paid and more complex roles.
Training for Employment
Are you unemployed and aged 16 or over? Would you like to work in the great outdoors? We are looking for people seeking to gain the practical experience, skills and qualifications to pursue a career in horticulture, conservation or land management. Based at one of our offices in Belfast, Bangor, Coleraine, L/Derry and also through outreach groups we will help you to increase your employment prospects through practical action and training.
Qualifications you can gain
We offer a range of vocational qualifications and short courses including:
Level 1 Award and Certificate in Practical Horticulture
First Aid certificate
Construction Skills Register Card (CSR) training
Introductory Health & Safety Certificate
Machinery use certificates
Other support we can provide
Practical work experience on different horticultural and environmental projects
On-site training
Job search support and training
Help with curriculum vitae and job applications
We will pay all relevant registration and assessment fees
Provide all relevant personal protective equipment 
We may provide some expenses for travel and lunch
Self-employment
Length of programme
Most participants agree to attend a programme which is often around 12 weeks in length and will involve several days each week.
Further information
For further information on training programmes or to arrange a meeting to discuss the options further contact:
This programme is possible due to funding from The European Social Fund and Department for the Economy.