Join TCV for your Employee Action Day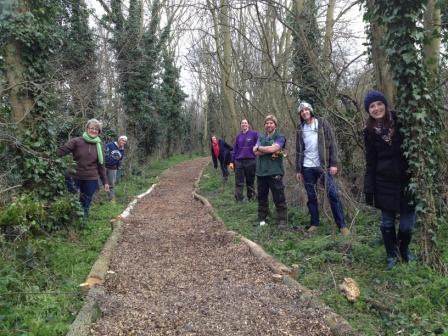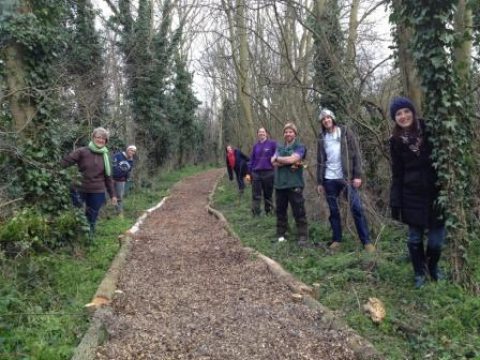 An Employee Action Day is a bespoke and exciting team-building project, planned and delivered for you at your choice of location across London or the South East. Employer Supported Volunteering enables your team to carry out hands-on practical conservation and environmental work, to improve green spaces for biodiversity and benefit your community.
For further information about opportunities in your area click on the links on the right of this page for local office information and contacts, or contact corporate-volunteering-london@tcv.org.uk
A downloadable leaflet on Employee Action Days with The Conservation Volunteers is available here
There are also other ways you can work with TCV by sponsoring a Green Gym or an apprenticeship scheme, please see here.
How will you benefit?
Corporate volunteering has been shown to:
Increase employee commitment, morale and motivation as employee volunteers have fun outdoors and make a difference to the environment
Enhance the skills and self-confidence of employees as they take on new challenges and learn unusual new skills
Encourage team building and communication of employees as they work together in a fresh new environment on a 'level playing field'
Create beneficial publicity and networks with potential partners and clients
Improve business green credentials and help meet CSR objectives
"...sincere thanks again for such a fun and rewarding day – we had a few aches yesterday, but nothing too bad, which is reassuring! Please pass on my thanks to the whole team from TCV as well, particularly from "Team Pond"!"

Hayley, Cancer Research UK
Why do we need you?
Our committed staff, volunteer leaders, community groups and volunteers often lack the tools, materials, support and investment necessary to reclaim and protect London's green spaces. As a result many of these green spaces are closed to the public, and are not supporting their potential for wildlife and biodiversity.
Quite simply, without your support we could not work with and inspire the vast numbers of people we do, manage the many green spaces we already do, or aspire to reclaim the many hundreds of others in London that are not actively managed for nature conservation.
Where do you come in?
Through employee volunteering your team, employees and support can make a massive difference to communities where most needed, practical work takes place on sites ranging from the most beautiful locations in the capital, to those that are most deprived.
Employer Supported Volunteering connects your team with the community you work in and provides a unique opportunity to build team dynamics and staff morale.
What projects are on offer?
With locations across London, projects range from creating habitats such as ponds or wildlife meadows for threatened species, improving access to neglected public green spaces by building new paths and steps, learning traditional skills such as coppicing or hedgelaying, or creating spaces for communities to grow food.
"I really enjoyed the day, really felt a sense of achievement and giving something back."

Gabriel, RBS
Throughout the day, the volunteers will be able to choose from a range of tasks requiring various skills and fitness levels. They will receive appropriate training and learn new skills. Working at their own pace in teams outside of the working environment, they will be able to build new synergies with their co-workers as well as identify their own strengths and skills. The group and individual will receive a satisfying challenge as well as the sense of accomplishment from achieving the tasks. They will come back energised and with the satisfaction of having made a significant contribution.
"Everyone really enjoyed it. I think it was the perfect balance between variety and substance so everyone had a good sense of achievement by the end. Looking forward to the next one!"

Tom, JP Morgan
Why choose The Conservation Volunteers?
With over 50 years of experience in organising and leading practical conservation tasks you can be sure of a rewarding experience. The Conservation Volunteers offer a bespoke service from identifying a suitable project through to organising and leading the day, ensuring the environmental and community benefit is maximised.
Our fully trained leaders will arrange your day, organising the work, tools and equipment, provide environmental expertise and of course tick all health and safety boxes by providing first aid cover, risk assessments and insurance.
" We chose to have our volunteering day with TCV as it gave the office the opportunity to be outdoors and work as a team. TCV were absolutely fantastic in helping us to organise the day. It was a great team activity and we also learned a lot from the local TCV volunteers, who explained the importance of the task to increase biodiversity by the river. We would definitely recommend TCV for large or small groups. Thank you once again for making our volunteering day a fun and successful event."

Joyce Murekio, HR Specialist – OPEN X
How to start organising your day
For further information about opportunities in your area click on the links on the right of this page for local office infomation and contacts, or contact corporate-volunteering-london@tcv.org.uk