To help anyone who wants to gain the knowledge and skills to improve their environment, we run a wide variety of training.
Training is available in a wide range of subjects including different practical skills, habitat management skills, people management skills and wider environmental knowledge. There are also many opportunities to gain accreditation through training.
We can offer:
Biodiversity Training to Better Manage Northern Ireland's Natural Heritage
The Conservation Volunteers, with support from the Heritage Lottery Fund (HLF), is running a three-year programme of training in the skills to understand and manage habitats in the best possible way for the benefit of biodiversity.
This will include:
The identification of species and habitats
Planning improvements to enhance biodiversity
The practical skills to undertake the habitat management work in a sensitive way
Training the trainer
Most events are FREE for anyone who manages land in anyway; farmers, council staff, rangers, volunteers.
Specialised training is available in a wide range of subjects and will be delivered throughout Northern Ireland.
TCV holds an NCFE Investing in Quality (IIQ) Licence. This allows us to write our own courses to meet the specific needs of our learners and the courses are accredited by NCFE, demonstrating quality and rigor. However these courses are "unregulated" and not nationally recognised qualifications, in the way that a longer regulated qualification would be. Participants on many of our practical courses, for example, coppicing or hedgelaying, can achieve a certificate of achievement issued directly by NCFE. The certificate is evidence of the knowledge and skills gained by completing the course.
Training for the individual
For somebody wanting to learn more about the environment, for either their hobby or as a way of advancing their career, there are numerous opportunities to attend one of our short courses or to become involved in voluntary work with The Conservation Volunteers.
Training to meet the needs of organisations and groups
Any of the training and accreditation opportunities listed here can be delivered to meet the specific needs of other organisations such as business, community groups or training providers. Most of our courses can be run at a venue to suit the needs of the participants. It is also possible to deliver programmes tailored to meet the specific needs and time requirements of the participant group.
Accreditation and recognised training
The Conservation Volunteers in Northern Ireland provides training and assessment opportunities accredited by the following awarding bodies:
City & Guilds
Chartered Institute of Environmental Health
NCFE
Employment programmes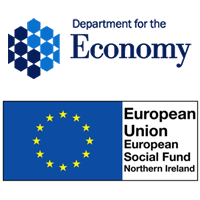 Unemployed, employed young people and employers! The Conservation Volunteers is offering places on the training programmes Training for Success and Training for Employment.
So, if you are unemployed, employed or have just left school and you want to work outdoors, there should be something for you. Employers will have the opportunity to develop a workforce with the specific skills to drive their business forward.
Find out about our employment programmes
Contact Us
For further information on any of the training opportunities listed here, please contact us.
Address:
Beech House
159 Ravenhill Road
Belfast
BT6 0BP
Telephone: 028 9064 5169
Email: CVNI-Training@tcv.org.uk