This blog is part two of a series. Click here for part one.
The Conservation Volunteers (TCV) are pioneering the Miyawaki approach to forest planting with Barking & Dagenham Council and thanks to 32,000 trees being donated to the project by Natwest Group. The Parsloes Park collaborative project (also involving Kings College London, Thames Chase Community Forest, SUGI and Wild Urban Spaces) will be the largest Miyawaki project to date in all of Europe.
"The Conservation Volunteers is a UK charity that connects people and green spaces, through activities such as tree planting, to tackle the climate and ecological emergency and provide lasting outcomes for people, communities and nature. We're proud to be a part of this fantastic partnership which will employ both traditional and innovative new tree planting methods at Parsloes Park, a valuable local green space."
Darren York – Chief Executive, The Conservation Volunteers
The Parsloes Park – Forest of Thanks and Remembrance aims to combine remembrance with an appreciation for all the hard work frontline workers have delivered and are continuing to do for the borough and its residents during the Covid-19 pandemic. As well as being an area for relaxation and socialising, the park also supports a wildlife area, playground and multiple sport and leisure facilities which are all well used by the local community.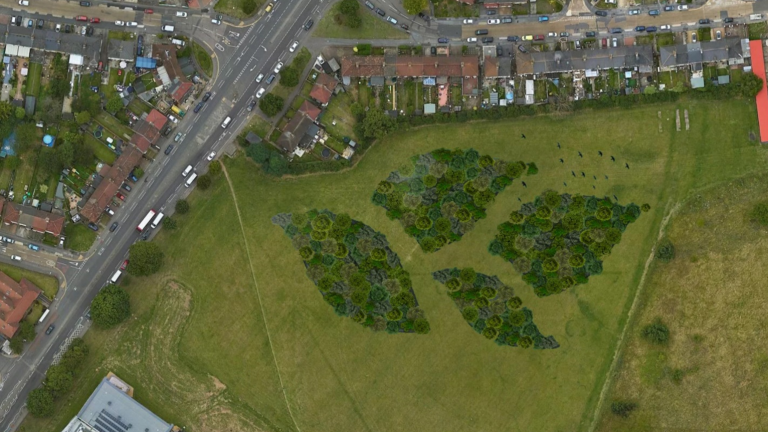 This new Miyawaki forest aims to bring further wildlife to the area for the benefit of the community and the project also supports the borough's wider commitment to their Tree City of the World status, their Inclusive Growth Strategy and to the Parks and Open Spaces Strategy.
But what's most impressive is the variety of trees going into the planting…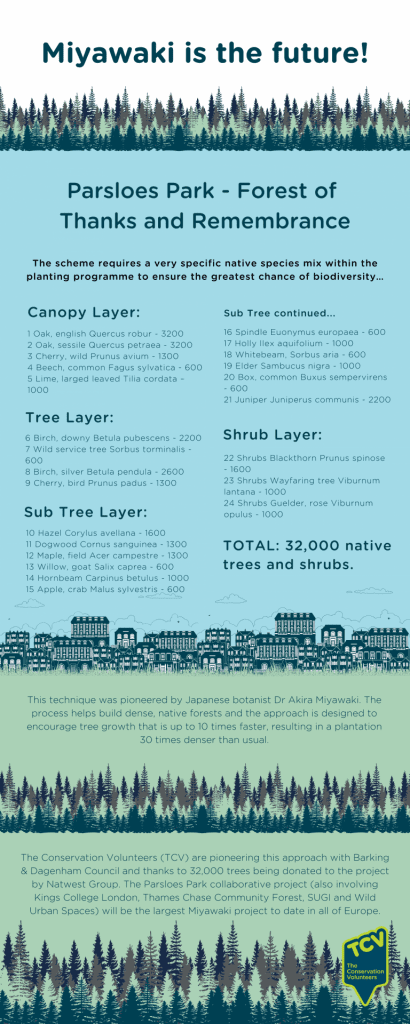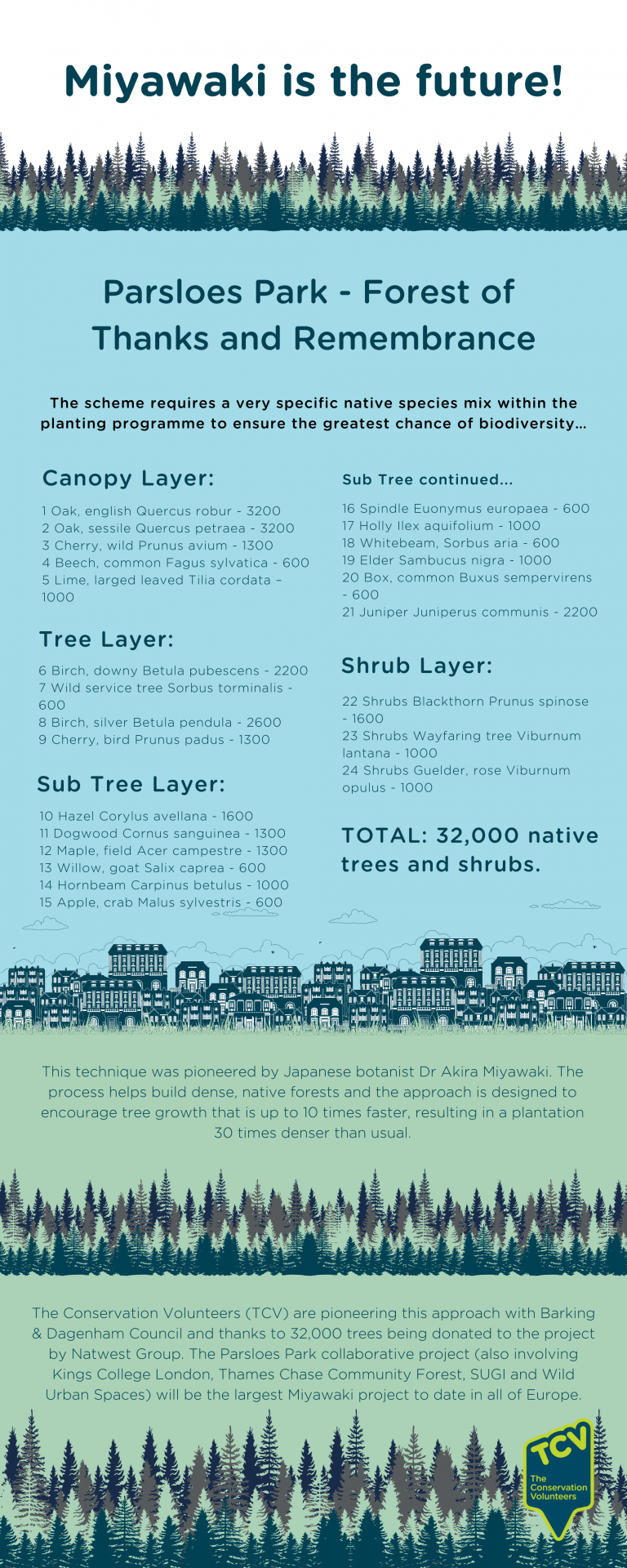 The current site is mown grassland. With all these new native trees the project hopes to increase the species diversity of the area, for the community, for biodiversity and to help combat the global issue of climate change.

Just four years after planting, the 'Forest of Thanks' could deliver benefits including:
Absorbing 24,000 kg of carbon: up to 30 times better absorption compared to other tree-planting schemes
A huge increase in biodiversity
Processing 1,500,000 litres of rain
Improving air quality by reducing polluting floating particulates by up to 10%
Up to 30 times better noise reduction compared to other tree-planting schemes
When completed, the 'Forest of Thanks' will be the largest Miyawaki Forest in the UK and Europe.

We'd like to say a huge thanks to our partners for their help and support getting this pioneering project up and running. We hope to bring further updates as the project takes shape, so watch this space for updates!
Next up in this blog series…
The Forest of Thanks and Opportunity
If you'd like to find out more about how you can get involved to support the work of The Conservation Volunteers, visit: https://www.tcv.org.uk