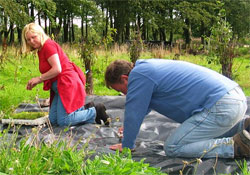 The Saturday Green Gym gives the general public an opportunity to get fit, relieve stress and enjoy sociable work outdoors whilst making a visible difference to the local environment.
Work is carried out in the greater Belfast area and includes managing woodland, planting trees and shrubs, collecting wildflower seeds and clearing invasive species. The work enhances gardens and green spaces as well as carrying out valuable tasks for the preservation of biodiversity and native species.
The group has visited sites in East Belfast, the Mater Hospital garden, a local primary school as well as a site on the Glen Road where there has been a community garden developed out of a bit of waste ground previously used for fly-tipping.
People should meet at our headquarters at 159 Ravenhill Road, Belfast, BT6 0BP at 9.30am (on the corner of North Parade at the south end of Ormeau Park). We head off at 9.45am and return about 2pm depending on the task (an email mailing list and calendar of events is used to allow participants to plan in advance for tasks).
Please bring lunch and plenty to drink and dress appropriately for the outdoors – bring waterproofs (we know how quickly the weather can change!), sturdy outdoor boots and plenty of enthusiasm! No previous knowledge is necessary as training is given on the day. No fixed time commitment is required, participants may turn up every week, once every six months or on a one-off basis, the choice is entirely yours.
For more information on any aspect of the Saturday Green Gym please get in touch with Mary Hamilton in Belfast on 028 9064 5169 or email M.Hamilton@tcv.org.uk where she will be more than happy to talk you through a typical day and answer any questions.