To help anyone who wants to gain the knowledge and skills to improve their environment, we run a wide variety of training.
Training is available in a wide range of subjects including different practical skills, habitat management skills, people management skills and wider environmental knowledge. There are also many opportunities to gain accreditation through training.
We can offer:
Training for the individual
For somebody wanting to learn more about the environment, for either their hobby or as a way of advancing their career, there are numerous opportunities to attend one of our short courses or to become involved in voluntary work with The Conservation Volunteers.
Training to meet the needs of organisations and groups
Any of the training and accreditation opportunities listed here can be delivered to meet the specific needs of other organisations such as business, community groups or training providers. Most of our courses can be run at a venue to suit the needs of the participants. It is also possible to deliver programmes tailored to meet the specific needs and time requirements of the participant group.
Accreditation and recognised training
The Conservation Volunteers in Northern Ireland provides training and assessment opportunities accredited by the following awarding bodies:
City & Guilds
Chartered Institute of Environmental Health
NCFE
Employment programmes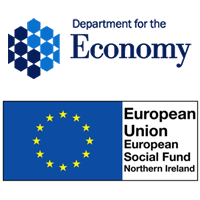 The Training for Employment Programme is funded by European Social Fund and Department for the Economy and provides a programme of free training and support to unemployed people, to help them gain skills and qualifications and move on to employment or further training.
Find out about our employment programmes
Contact us
For further information on any of the training opportunities listed here, please contact us.
Address:
Beech House
159 Ravenhill Road
Belfast
BT6 0BP
Telephone: 028 9064 5169
Email: CVNI-Training@tcv.org.uk