Meet the next generation of practical conservationists making an impact for wildlife, climate and communities.
The Conservation Volunteers (TCV) WildSkills programme is a traineeship, providing young people with barriers to employment a real opportunity to kick-start exciting and rewarding outdoor careers. This year, the programme is being supported by players of People's Postcode Lottery.


Trainees are immersed in environmental conservation sector roles, developing highly sought-after skills in three of TCV's main workstreams; practical conservation, community engagement and increasing biodiversity.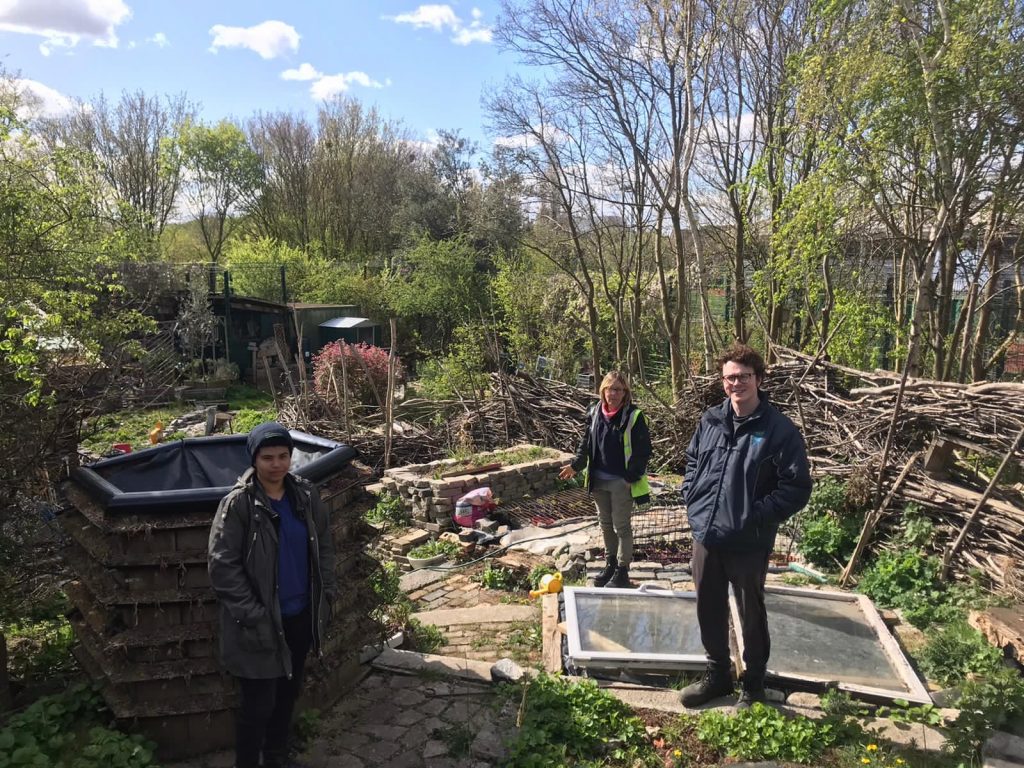 The need for environmental conservation
We all depend on nature for food, water, and shelter. A healthy environment helps to control disease, sustain nutrient cycles and maintain oxygen production. It also provides us with opportunities for leisure, employment and recuperation, all of which can improve our overall health and well-being.
"Our economies, livelihoods and well-being all depend on our most precious asset: Nature."
Source: The Dasgupta Review
And yet we are facing some *ahem* obstacles, to overcome together:
Biodiversity: "The health of the ecosystems on which we and other species depend is deteriorating more rapidly than ever. We are eroding the very foundations of economies, livelihoods, food security, health and quality of life worldwide."
Robert Watson, Chair of the Intergovernmental Science-Policy Platform on Biodiversity and Ecosystem Services (IBPES)
Climate: "The climate crisis represents a clear and present danger to people and our planet. Its real-world consequences are now all too visible."
Alok Sharma, UK COP26 President
Whilst not forgetting…
Employment: "Young People Face Unemployment "Crisis" As 88% Of Job Losses Affect Under 35s"
Eleanor Langford, Political Reporter
So, the timing of these traineeships couldn't be more crucial for the health of our ecosystems and the health of ourselves.
The WildSkills traineeships involve practical action taken at a local level.

Conservation career paths
It's thanks to players of People's Postcode Lottery that TCV is able to provide these groundbreaking (excuse the pun) opportunities for 16-29 year olds, who face some form of barrier to employment.
"My barriers to work have been health issues but this gives me a chance to gain some confidence and become used to working with people."
Kate, Wildskills Trainee, Greater London
The WildSkills trainees will be immersed in a wide range of TCV activities, shadowing and supporting Senior Project Officers, whilst rolling their sleeves up and getting stuck in to develop valuable transferable skills to kickstart their outdoor careers:
Practical Conservation – habitat creation, path construction, invasive species removal and wildflower meadow creation.

Biodiversity – developing knowledge of local flora and fauna whilst improving habitats for these species, wildlife recording and citizen science projects.

Community Engagement – working with local communities, supporting events and marketing and gaining real experience of delivering sessions.
"I'm looking forward to leading volunteer groups. I like working with teams, and being able to share with others how they can do their bit to protect and enhance their local nature reserve is really exciting."
Elliott, TCV WildSkills Trainee, South East London
Participants will each have individual training plans and, where there's a need, TCV will support trainees to develop skills in literacy, numeracy, ICT, communications, interpersonal, and public relations.
Once their traineeships are completed, they will have the expertise, experience, and confidence to move on to interviews and jobs either within TCV or with other committed environmental conservation organisations, such as CPRE, The Wildlife Trusts, The Woodland Trust, RSPB, The National Trust and others.

So, who are TCV's WildSkills 2021 trainees?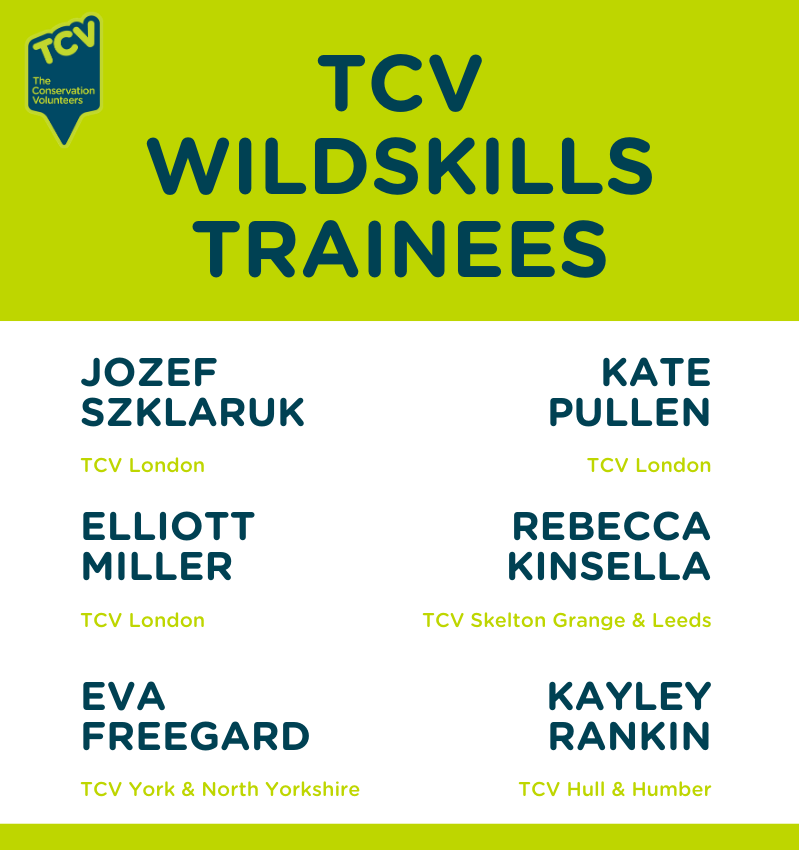 Our next generation of environmental heroes and conservationists are based in Yorkshire and London, undertaking a variety of exciting projects.
Already the trainees have got stuck into planting trees, which is a big focus of TCV, to combat climate change and facilitate local communities to make their difference.
As well as the practical tasks, our trainees are looking forward to learning specific skills to land them their dream job in the environmental sector…
---
"I've always been fascinated by nature, and I want to play a part in protecting and enhancing it.
"TCV's traineeship gives me an opportunity to get structured, practical experience in urban conservation. The programme over the year is jam packed with practical habitat management, workshops with wildlife experts, and sessions with the public."
Elliott, TCV WildSkills Trainee, South East London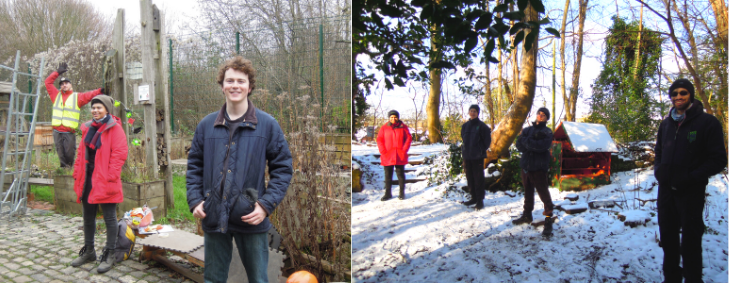 Elliot is interested in UK biodiversity and hopes to develop knowledge of UK fauna; doing deep dives on native invertebrates, amphibians and birds, how they interact with local ecosystems and what we can do to help them thrive in London.
Elliot sums up his drive for applying to WildSkills and his future goals: "The public mood on the climate and biodiversity crises is changing, and I think conservationists – and others in the environmental movement – need to capitalise on community support and advocate for more ambitious responses to these challenges. I'd love to combine my practical urban conservation experience at TCV with my policy experience as a civil servant to push for more ambitious and connected ecosystem recovery across the UK. I'm so grateful to be getting a solid foundation in practical conservation from the WildSkills traineeship to help lay the foundations for that goal."
---
"I have already learnt a lot in the short time I have been here. I hope to gain more knowledge of native wildlife and plants on the job as well as gain inspiration from my practical work to bring to my personal artwork."
Kate, TCV WildSkills Trainee, Greater London
Applying to WildSkills for an introduction to the world of ecological management, Kate has an ambition to gain an ecology-based job and would love to work at the Natural History Museum. Kate had easy access to parks and green spaces growing up, which encouraged a love of nature and being outdoors. This led to studying geography, focusing on the physical and environmental aspects. Kate wants to further understand what kind of habitats encourage certain species to live there and how a range of habitats are managed during their time with TCV, then go on to employment in ecology.
Kate will enjoy working with volunteers, "Giving local people a sense of accomplishment when they come and do jobs at TCV sites."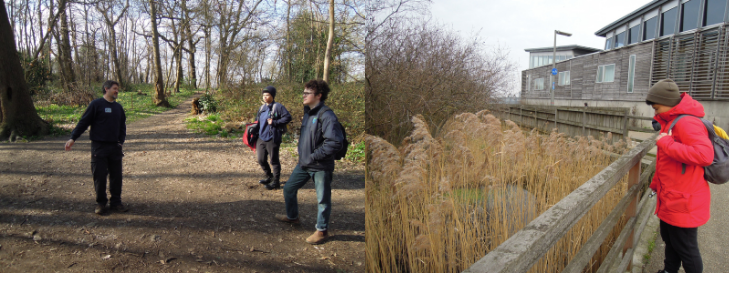 ---
Kayley has already been a regular volunteer with TCV since 2017, as well as with other organisations, to get practical experience and develop her understanding of different habitats with the aim to get into the Conservation sector. With a BSc in Zoology too, Kayley is looking to develop niche skills, such as dry-stone walling, and an increased range of practical skills she has not yet come across, for example, big-scale residential projects and reed planting. Using opportunities in Citizen Science, she'd like to improve her ID skills on birds, insects and trees.
Kayley is also keen to take advantage of networking opportunities in the industry and speak to like-minded people. A big part of the traineeship is developing local community engagement and Kayley hopes to improve these 'people' skills, which we know are important for employment.
Kayley has also started to add to the 50 million trees ambition across Northern England as part of the collaborative Northern Forest Project.
---
Eva and Rebecca are part of the team planting 19,000 trees to create woodland areas on a former colliery spoil heap in Rossington.
Developing personal skills is also a goal for Rebecca, who is looking forward to attending the leadership courses to enable her to competently lead and manage groups by the end of her traineeship. She is also keen to understand how to plan and deliver education events.
As well as improving skills in wildlife identification, especially in botany, Eva would like to gain licenses to use tools often required in practical conservation and get an insight into project planning. Her traineeship will complement the knowledge she is gaining through completing a Masters degree in Biodiversity and Conservation.
---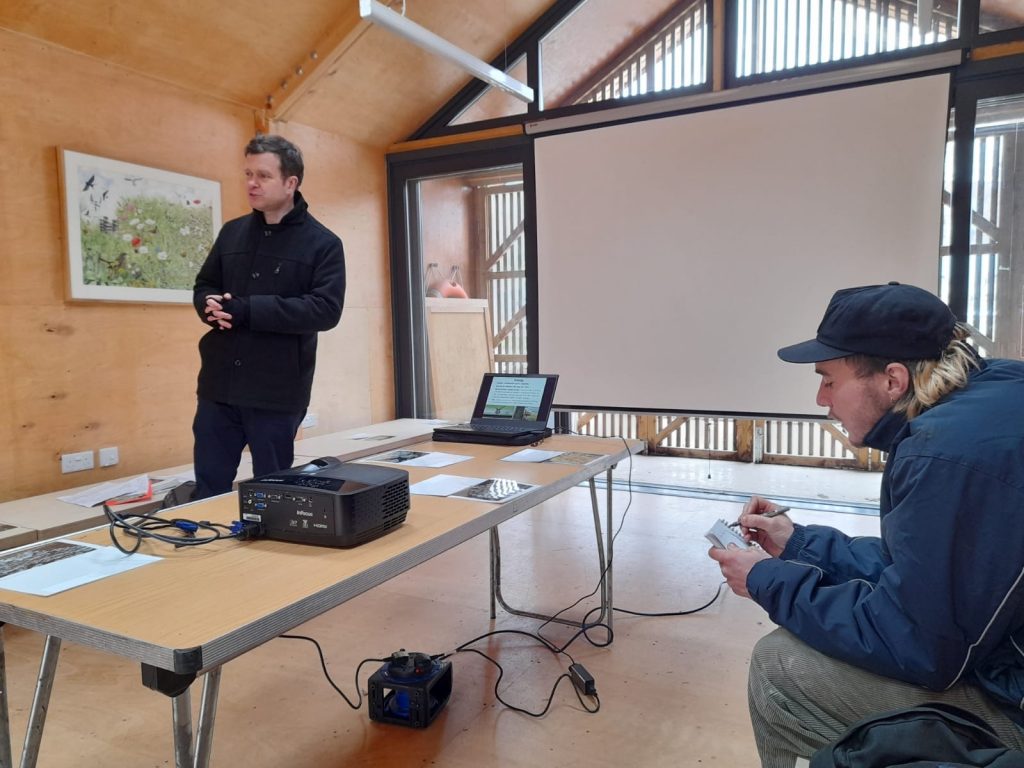 "It's been a real confidence booster to be accepted onto this traineeship and I'm really pushing myself to be my best I can be.
"I get to do what I love every day"
Jozef, TCV WildSkills Trainee, London
After volunteering, putting on his own workshops, teaching in schools, setting up teaching blogs to inspire others, Jozef is full of ideas and energy to work full time in nature.
He also wants to teach people things that he finds interesting throughout his traineeship and has been documenting his time with his brilliant drawings. Jozef finds reading and taking in information in a traditional way difficult and wants his drawings to make the information he is sharing accessible to others who prefer learning visually. He also hopes that our readers will be entertained while they learn!
"Me and my co-trainees are getting on really well … I feel like we're already really good mates. We all have different strengths and help each other out when we can. I feel really lucky and supported … I've got so many ideas and lots of energy to take full advantage of this year"

---
What our young conservationists do in their spare time
From Jozef's drawings above to Rebecca's love of houseplants (as a proud owner of 30! Her favourites being her Maranta leuconeura and bonsai trees), TCV's WildSkills trainees have a varied range of hobbies and interests outside of the (outdoor) classroom.
Kate is a fan of art and loves prog and metal music. Music has always been a big part of Rebecca's life with a grade 8 in singing and flute and is currently teaching herself how to play piano.

As well as learning about wildlife, Jozef enjoys woodworking, old punk music and skateboarding.
Eva demonstrates her creative spirit:
"I taught myself how to embroider in the first lockdown and have been upcycling clothes and creating (often nature-inspired) designs ever since. I have a definite arty side, and this is currently my chosen creative outlet.
"I absolutely love to cook but hate following recipes. Almost everything I make is completely freestyled, but it seems to work out best for me that way. I love taking a standard meal and reinventing it, whether that is making it vegetarian or giving it a new spin from another type of cuisine."
Kayley likes to get stuck into anything she can! Her hobbies include tennis, horse riding, biking and she used to competitively swim for North Lincolnshire. Read Kayley's blog here: Let loose on your WILD side
The conservation chronicles…
Watch this space for further WildSkills updates!
We'll be featuring blog entries to show what the trainees have been achieving – for themselves, their community and for the environment.
Keep up to date with the latest news and activities from The Conservation Volunteers by following on Twitter, Facebook, LinkedIn and Instagram. You can also sign up to receive our Greenzine newsletter for more ways to get involved.