Everyone deserves to have nature in their lives, which is why TCV's regional teams across the UK, create safe, welcoming spaces for people who face barriers to accessing green space, especially those who could benefit most. We make our activities relevant and accessible for the communities in which we work. This is one of our strategic goals and we have countless examples of our regional teams making it happen! Here, we highlight one our great projects in Manchester aimed at those with learning disabilities.
Over the past few years, TCV Manchester have worked closely in partnership with organisations that support adults and young people with learning disabilities. These partnership projects help people with learning disabilities, who many times do not usually have access to the outdoors and nature, to spend time in nature, volunteer in their local community and contribute to increasing nature and biodiversity.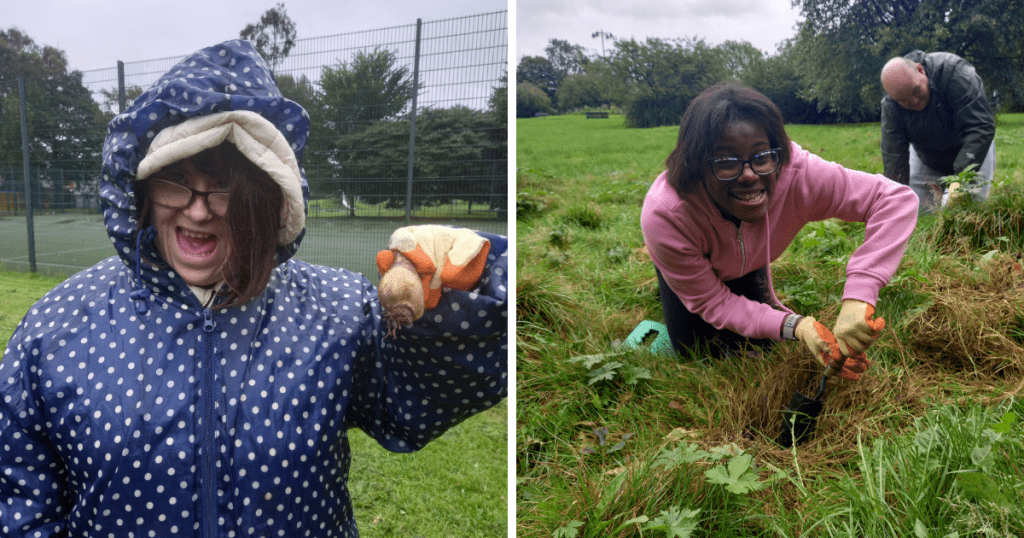 I like flowers so it's nice to be planting them for next Spring.
Ange, Participant
Centred around planting 750 wildflower bulbs in three Trafford-area parks, this project worked with disability groups including Trafford One2One, Trafford Choices and Gorse Hill Studios. Volunteers were able to make these parks more beautiful and joyful places to be, while also learning about wildflowers, the growing process and pollinators. They were also able to practice the physical skills of using a trowel and bending up and down to plant the bulbs – something that isn't always easy for them.
Despite the rain, TCV Manchester earned rave reviews:
I wasn't sure everyone in the group would enjoy it, but every single person has gotten involved and have had a great time! We use this park for walks regularly so it will be awesome to be able to see the difference we have made when the flowers come up, and they can take pride in that.
Katie, Support Staff
It's good to make places nice.
Dan, Participant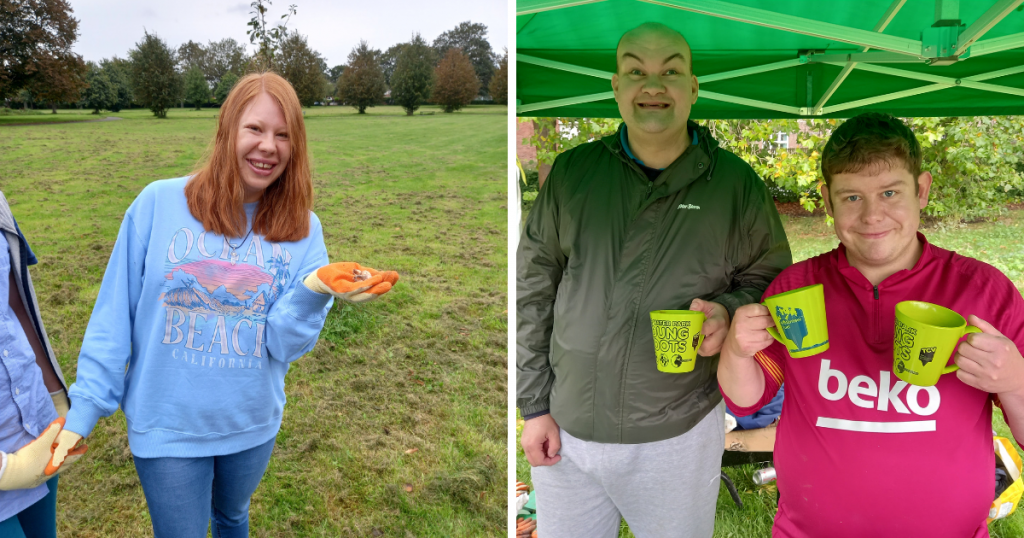 If you or someone you know would benefit from an activity like this, we have lots more going on across the UK. Find opportunities here. Otherwise, if you would like to donate to our mission of connecting people with green spaces, please do so here.