The events of 2020 have highlighted the importance of being outdoors to people's mental and physical health.
Many people found solace in taking walks in their local natural environment and escaping the unnerving and unprecedented reality the world was slowly adjusting to.
It allowed people to recognise how social, economic, and environmental factors affect our health.

Medication alone would have been unlikely to provide a sustainable improvement to the levels of anxiety around the world. People and their community were at the centre of getting through these times successfully.
It is this idea of people and community that is at the centre of social prescribing. Patients who have long-term conditions, need support with their mental health, are lonely or isolated, or who have complex social needs which affect their wellbeing create a personalised treatment plan with their link worker.
This plan focuses on what matters to them, and that might be a dose of nature, which is where TCV comes in.
Green social prescribing
Social prescribing works by enabling all local agencies to refer people to a link worker. Read more about how social prescribing works here.
There are a vast range of programmes that link workers can prescribe to people under the social prescribing umbrella, one of those being green prescribing.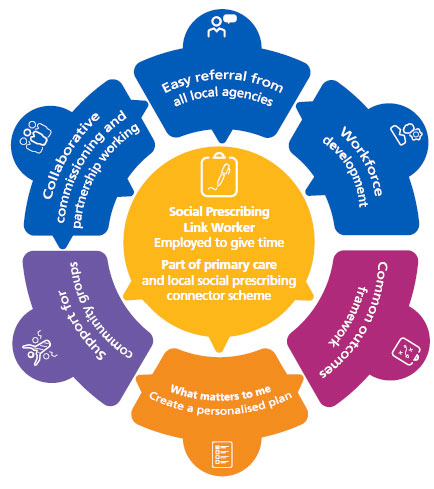 Green social prescribing links people to nature-based programmes and activities such as TCV's Green Gym, health walks, community gardening and food-growing projects.
"The Conservation Volunteers have given me a reason to get up in the morning and keep myself active and healthy while putting something back into my local community."

Pat, TCV Green Gym volunteer.
A link worker may prescribe someone struggling with social isolation to their local Green Gym, which are fun and free outdoor sessions that focus on health and fitness with a practical conservation project.
By encouraging a person struggling with social isolation to take part in an activity that not only benefits their mental and physical health but their community too, they build a sense of belonging and make friends along the way.

"For me, the social and community aspects of volunteering have been the most notable. Years of isolation had severely blunted my ability to interact with people socially, but Green Gym has provided a safe environment for me to relearn the skills I'd lost."

Mark, TCV Green Gym Volunteer
Social prescribing and TCV
The positive impacts of connecting with nature and connecting with your local community are why link workers encourage green social prescribing for patients.
"There are very powerful, multi-sensory stimulation from being in contact with nature. We get that from the sounds of the birds; visually and aesthetically from the different textures, the different colours, the feel of the soil, the feel of the different plants, the smells that are constantly around us."

Dianne Keys, TCV Operations Leader – Northern Ireland.
With programmes such as Green Gym and our work in social prescribing , TCV looks forward to developing green prescribing as part of a healthcare revolution that continues to have a positive and significant impact on the healthcare sector.